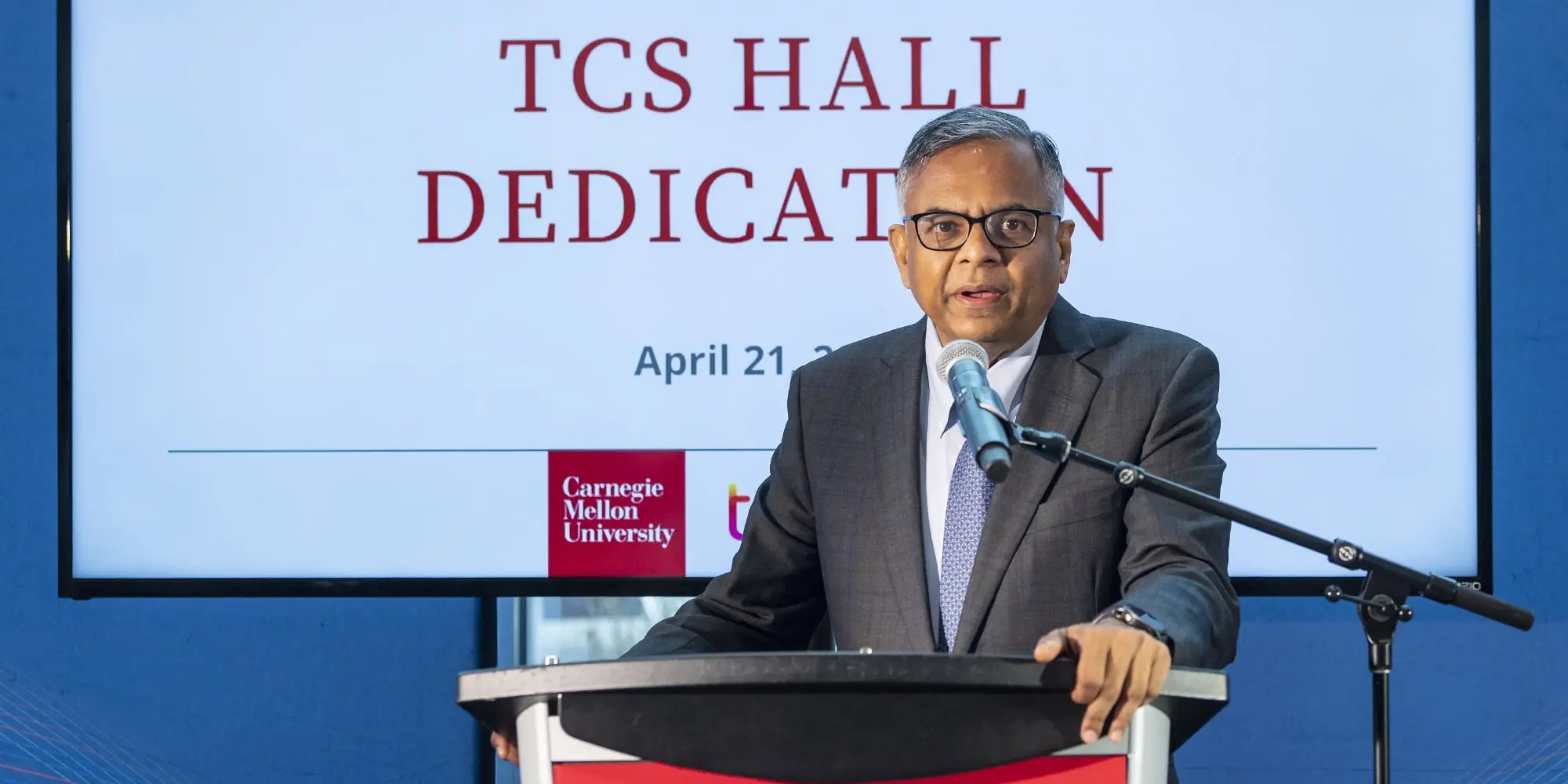 April 22, 2022
Carnegie Mellon University's New TCS Hall Opens
Media Inquiries

Name

Peter Kerwin

Title

University Communications & Marketing
A rainy Pittsburgh spring day could not dampen the spirit of innovation and collaboration that filled Carnegie Mellon University's new TCS Hall at its dedication on Thursday, April 21.
The building, located on Forbes Avenue on CMU's Oakland campus, played host to university leadership, faculty and students, representatives from Tata Consultancy Services, and state and local government officials who gathered to celebrate the impact of the partnership between CMU and TCS.
"Collaboration between universities and industry is key to addressing the pressing global challenges that face our society," said CMU President Farnam Jahanian(opens in new window) in a statement. "We are grateful to TCS for its exceptional philanthropy that has made possible this dynamic new facility. TCS Hall serves as a training ground for CMU students as well as a nexus of collaboration for partners across the innovation ecosystem. This is the latest chapter of our ongoing partnership to drive innovation and entrepreneurship at the leading edge of technology, science and society."
The new 90,000-square-foot building is LEED Gold-certified(opens in new window) for energy efficiency and sustainability. It is designed to drive collaboration and innovation around technology, computation and data, both inside the university community and with external partners.
TCS Hall was made possible by an unprecedented $35 million grant in 2015 from TCS, the global IT services, consulting and business solution firm. The gift was the largest industry and international donation in CMU history at the time. Along with the new building, TCS provided support for fellowships and scholarships, which to date have benefited 17 students. TCS has also provided invaluable mentorship to more than 20 student capstone projects.
"Today, we celebrate the physical expression of this partnership by dedicating TCS Hall," James H. Garrett Jr.(opens in new window), CMU provost and chief academic officer, said in his opening remarks. "We are so grateful for our fruitful partnership with TCS, which has done so much for the CMU and Pittsburgh communities, and for industry partners around the world."
Tata Sons Chairman Natarajan Chandrasekaran speaks during the grand opening of Carnegie Mellon University's TCS Hall.
Today, CMU dedicated the new TCS Hall, made possible by an extraordinary $35M gift from @TCS.@CMUProvost welcomed dignitaries, including @GovernorTomWolf and Tata Sons Chair Natarajan Chandrasekaran, as we officially opened the space for collaboration and innovation. pic.twitter.com/CtMIBJtzoh

— Carnegie Mellon University (@CarnegieMellon) April 21, 2022

The ribbon-cutting included (pictured left to right) CMU alumnus and Allegheny County Executive Rich Fitzgerald, TCS North America Chair Suresh Muthuswami, CMU Board of Trustees Vice Chair Anne Molloy, Chairman Chandrasekaran, Provost Garrett, Governor of Pennsylvania Tom Wolf, TCS CEO Rajesh Gopinathan, Dean of the School of Computer Science Martial Hebert, Rep. Dan Frankel and TCS North America Chair (retired) Surya Kant.
Tata Sons Chairman Natarajan Chandrasekaran, who oversees the holding company of more than 100 Tata operating companies with annual revenues of more than $100 billion, also addressed the crowd. He emphasized that innovation cannot be accomplished by any single individual or corporation and praised CMU students for their boldness, openness and willingness to try the unexpected.
"It [TCS Hall] is a dream come true," he said. "I think it's only the beginning. There is much more to be done. Because all of us know the world's problems are very complex and technology is evolving very rapidly. Technology is going to be the driver to solve the business problems of today and tomorrow."
Within TCS Hall, some of the brightest minds in software engineering, statistics and data science, and quantitative finance are hard at work. The building houses CMU's highly ranked program in computational finance(opens in new window), expanded space for the cutting-edge Institute for Software Research(opens in new window) and the new Center for Business Engagement(opens in new window), a central hub for partnerships between university and outside businesses and organizations.
The building's top floor is home to TCS Pace Port Pittsburgh(opens in new window), an advanced research and co-creation center that is TCS's fourth such global center. TCS Pace Port Pittsburgh focuses on innovation in the manufacturing and utilities sector, providing enterprises with new ways to tap into the Internet of Things and latest advances in artificial intelligence from TCS Research. The day's events began with a ribbon-cutting and demonstrations from Pace Port clients and partners.
"This is a great day," Governor Wolf said, congratulating CMU and TCS for their long partnership, which has sparked innovation and investment across Pittsburgh and Pennsylvania. "This state-of-the-art building is a new chapter for both Tata Consultancy Group and Carnegie Mellon University and an exciting new chapter for CMU students. This partnership builds on the history of collaboration and innovation in the Pittsburgh region."
CMU began construction on TCS Hall in 2017, and the building was finished on time in 2020. The dedication of the building was delayed due to the COVID-19 pandemic.
Tata Consultancy Services' gift was one of the earliest commitments to Make Possible: The Campaign for Carnegie Mellon University(opens in new window). The multiyear effort aims to raise $2 billion in private philanthropy to support CMU's strategic priorities across the university and its seven colleges and schools. To date, more than 56,000 supporters have contributed more than $1.86 billion in support of the university.
Mural Sends Good Vibes Your Way
Elizabeth Chodos, left, with Artist Stephanie Dinkins.
Walk into TCS Hall and you'll find "Good Thoughts, Good Words, Good Deeds." That's the title of a new 44-feet long, 8-feet tall mural by artist Stephanie Dinkins in the lobby of TCS Hall. It's the latest public art piece on campus selected by Carnegie Mellon's Public Art Curator Elizabeth Chodos and the Public Art Committee.
"The project seeks to be a daily reminder that people creating the technological ecosystems underpinning the systems people rely on have a responsibility to imagine and create automated systems that value, honor, support and sustain the common good," Dinkins said in her project proposal to CMU.