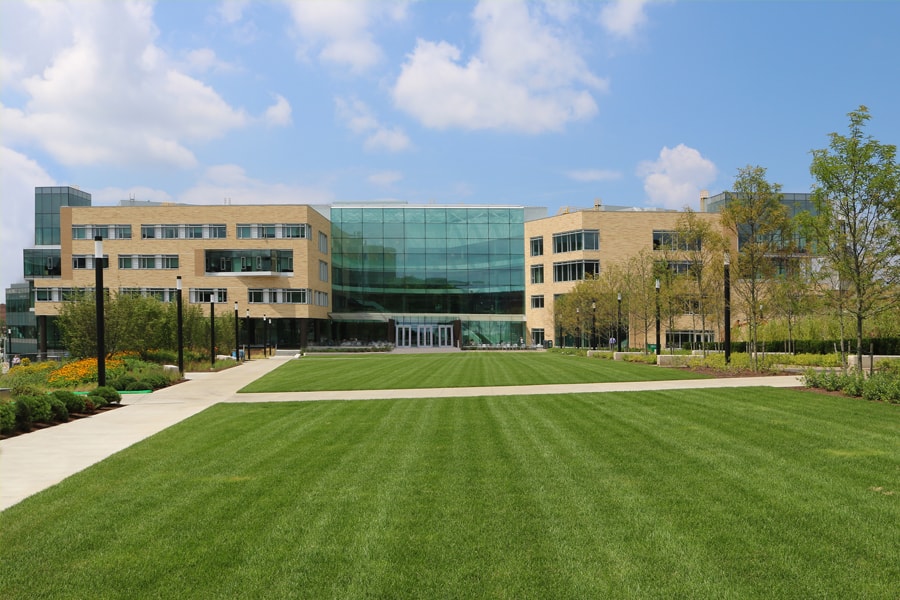 September 12, 2018
Carnegie Mellon Community Celebrates Opening of Tepper Quad
David A. Tepper Quadrangle marks the start of new vision for business school
By Jason Maderer maderer(through)cmu.edu
Media Inquiries
Jason Maderer
Marketing & Communications
Julia Mattera
Marketing & Communications
Carnegie Mellon University will open its largest building on campus on Thursday, Sept. 13, reflecting a new model of higher education that connects teaching, learning and innovation. The 315,000-square-foot David A. Tepper Quadrangle will serve as the new home of the Tepper School of Business while intersecting with the other six  Carnegie Mellon colleges and schools.
This campus hub will promote an enhanced ecosystem of cross-campus collaboration. Business students in the Tepper Quad will learn from management researchers and faculty, while interacting and networking alongside engineers, computer scientists, roboticists and other interdisciplinary peers.
The $201 million, five-story building was made possible by a $67 million lead gift from David Tepper's charitable foundation. Tepper, who earned his MBA from Carnegie Mellon in 1982, has donated more than $125 million to the university, including $55 million to name and endow the business school.
"The Tepper Quad plays to Carnegie Mellon's greatest strength — our willingness to break down silos and bring diverse minds together for cross-cutting learning and research," said CMU President Farnam Jahanian. "This building not only allows us to reimagine business education and research, it also serves as a place where all members of our community can create, innovate and explore in a culture of connection and collaboration. It says a lot about who we are as an institution — and where we are going."
Tepper School of Business classrooms and offices occupy the majority of the building. Of the 24 classrooms, eight are for master's degree programs, another eight are for undergraduate programs, and two are reserved for the Ph.D. program.
"This building is more than just a new home for the Tepper School. Every aspect of the building has been carefully designed to enhance the collaboration and innovation that the Tepper School and Carnegie Mellon are known for," said Robert Dammon, dean of the Tepper School of Business. "Today's business leaders must address challenges with creative and interdisciplinary approaches. By encouraging collaboration across disciplines, as the design of this building does, we can continue to educate and prepare our students for the future demands of business."
More than 1,200 alumni, parents, corporations, foundations and friends of the university made gifts in support of the Tepper Quad, including notable gifts to name many of the marquee community spaces, classrooms and Tepper School programs and offices.

Among them is the new home of the Swartz Center for Entrepreneurship. The 15,000-square foot facility will bring together entrepreneurial resources from across the university to produce technology-driven startups that will impact Pittsburgh, the region and beyond. The Swartz Center was established by a $31 million gift from Jim ('66) and Susan Swartz. 
About 1,200 students participate in entrepreneurial coursework or experiences annually at CMU. This entrepreneurial culture fuels connections between CMU and more than 1,000 companies across industries such as robotics, software and health care. 
Visitors to CMU will enjoy an enhanced experience in the new David and Susan Coulter Welcome Center on the first floor of the Tepper Quad. Visitors can sign up for campus tours and speak to undergraduate admission staff. The adjacent Simmons Auditorium is the largest gathering space on CMU's campus, able to hold more than 600 people. The ground floor also includes a 7,500-square foot fitness center.
The second-floor Rohr Commons features a 2,825-square-foot food court. The floor serves as the main entrance to the building and is nearly 65,000 square feet.
Select additional spaces in the building include the Eberly Center for Teaching Excellence and Educational Innovation, which fosters development of new education technologies. The Askwith Kenner Global Languages and Cultures Room is an interactive learning space devoted to the study of modern languages and digital humanities.
The Tepper Quad is located near the intersection of Forbes and Morewood Avenues. Thursday's grand opening ceremony completes a three-year construction project on the site of a former parking lot. A new parking garage is in the basement of the building.
The architectural firm Moore Ruble and Yudell purposely sculpted the Tepper Quad with no corridors, fostering an atmosphere of interconnectedness and collaboration. The design emphasizes open space. With 82,000 square feet of exterior glass, 85 percent of the building has access to natural light.
As part of the grand opening, the Tepper Quad will host its first conference on Friday. INTERSECT@CMU: The Future of Business, Technology, and Society will feature discussions and panels with national experts on artificial intelligence (AI), blockchain and smart technology, and business. The inaugural cross-campus conference is presented by the Tepper School of Business.
Learn more about the Tepper Quad.