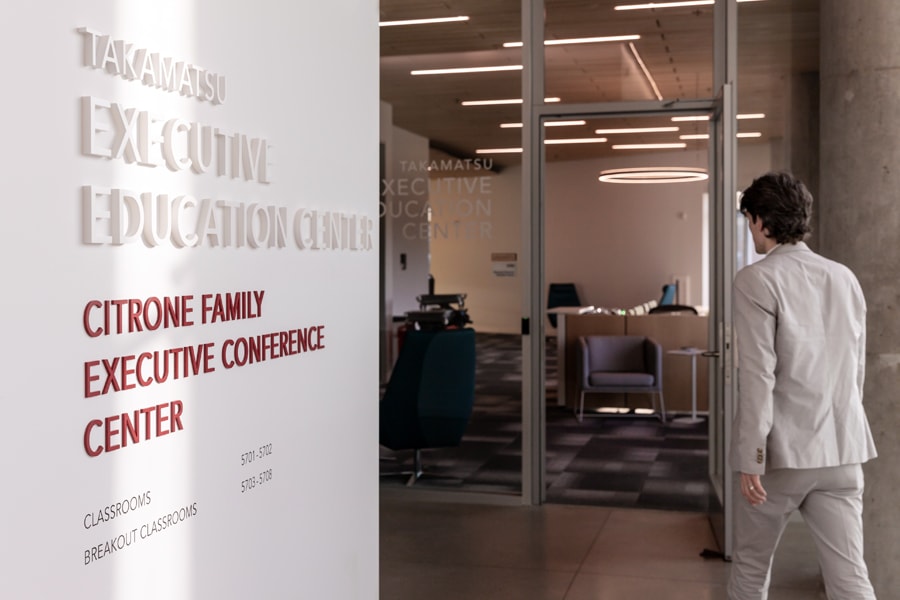 September 17, 2018
Executive Education Expands Programming With New Tepper Quad Space
With a brand new space in the new Tepper building, Carnegie Mellon University Executive Education has an added opportunity to offer more of its leadership, innovation, and analytics training programs to business leaders. The Takamatsu Executive Education Center, supported by a generous donation from Takehisa Takamatsu (MSIA 1989), former President of Lone Star Japan Acquisitions, is located on the fifth floor of the Tepper School of Business building.
"These spaces have been specifically designed so that Executive Education can continue to provide our world-class education programs with premium event space and state-of-the-art technology," said Maria Taylor, Executive Director of Executive Education.
The new location includes two classrooms dedicated for Executive Education activities, including the Carnegie Bosch Institute Classroom, funded by a gift from the Bosch Group. The classrooms are outfitted with custom technology, planned with the assistance of Carnegie Mellon's Eberly Center for Teaching Excellence and Educational Innovation that supports instruction and curriculum design, similar to classrooms throughout the business school building.
"Technology-enhanced classrooms give us the opportunity to explore new models of teaching as our understanding of how learning works, grows and changes into the future," Taylor said.
The fifth floor space also includes a large commons area for receptions and other events, as well as five dedicated breakout rooms — two more than was available in Posner Hall, where Executive Education occupied a portion of the third floor completed in 2000 following a gift from Robert Bosch GmbH in support of executive education programs.
Executive Education offerings taking place at the Tepper building through summer 2019 include the following:
Carnegie Mellon Leadership and Negotiation Academy for Women — designed to help build negotiating skills through executive coaching and peer collaboration.
Women on the Rise: Leadership for Emerging Women — designed to enhance negotiating and leadership skills for women seeking to grow their careers.
Leadership as a Daily Challenge — designed to teach business leaders how to drive change in their organization and develop their teams.
Leading Innovation: Creating a Dynamic Organization — designed to help participants develop a mindset for innovation to keep ahead of changing market demands.
Analytics and Decision-Making: Unlock the Power of Data —designed to teach leaders analytical tools and techniques to use data to drive decisions.
Executive Leadership Academy — designed to prepare African-American business leaders to navigate their career paths.