June 19, 2014
Press Release: Pittsburgh Civic Leader Richard Simmons Donates $7.5 Million to Carnegie Mellon
Contact:
Ken Walters / 412-268-1151/
walters1@andrew.cmu.edu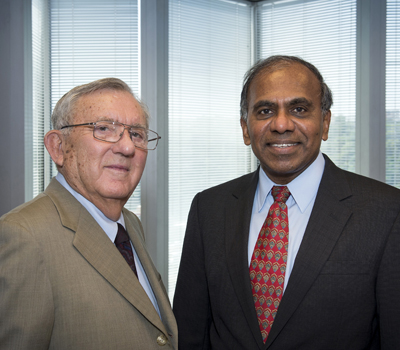 PITTSBURGH—Richard P. Simmons, the Pittsburgh civic leader and philanthropist, has announced a $7.5 million gift to Carnegie Mellon University to support a state-of-the-art auditorium to be built on the university's future
David A. Tepper Quadrangle
.
The Simmons Auditorium is planned to be the largest auditorium space at Carnegie Mellon. It will expand the university's capacity to host major speakers and events, and will be divisible to accommodate classes and other educational programs for the entire university.
"We are very grateful to Dick and Ginny Simmons for this generous gift," said Carnegie Mellon President Subra Suresh. "This auditorium will be a spectacular space that will anchor the Tepper Quad's multidisciplinary purposes as the center for major conferences, speeches, classes and performances. It fills an enormous need for CMU and Pittsburgh."
Suresh held the Richard P. Simmons Endowed Chair in Materials Science and Engineering at the Massachusetts Institute of Technology from 1993 to 2002.
"As a beneficiary of Dick's earlier philanthropy, I can attest to the importance of his vision and thoughtful approach to making such gifts," Suresh said. "This project brings together his many interests in business and the arts, and his passion for supporting the growth of innovation and ideas in the city. I know that the entire CMU community will be deeply appreciative of his far-sighted generosity."
Simmons received an honorary Doctor of Science and Technology degree from the university in 2012.  He also has endowed a professorship at Carnegie Mellon's
Tepper School of Business
, which is currently held by Nobel-Prize winning economist Finn E. Kydland. 
Simmons, chairman emeritus of Allegheny Technologies Inc., has enjoyed a career marked by decades of success in the turbulent steel industry. He joined Allegheny Ludlum in 1953, then left to assume management positions at Republic Steel Corp. and Latrobe Steel Co. He returned to Allegheny Ludlum in 1968 and moved steadily up the ranks to become company president. In 1980, Simmons led a group of other managers and investors in the purchase of Allegheny Ludlum. The company grew into one of the most successful specialty steel makers.
In 1996, Allegheny Ludlum and Teledyne Inc. combined to become Allegheny Technologies Inc. Simmons served as the new company's chairman of the board, president and chief executive officer until his retirement in 2000. He also is a former director of Joy Manufacturing, US Airways Inc., PNC Bank Corp. and Consolidated Natural Gas Co. He also has been a strong backer of venture capital startups in western Pennsylvania.
In addition to his success as a leader, Simmons has distinguished himself as an engineer. He was elected to the National Academy of Engineering in 1998 and received the Benjamin F. Fairless Award of the American Institute of Mining, Metallurgical and Petroleum Engineers in 1989. The Engineering Society of Western Pennsylvania has recognized Simmons with the William Metcalf Award for outstanding engineering achievement.
Simmons is chairman of the board and a life trustee of the Pittsburgh Symphony Orchestra. He is a past chairman and executive committee member of the Allegheny Conference on Community Development and past chairman of the United Way of Allegheny County.
###

Richard Simmons' gift will support a state-of-the-art auditorium to be built on the university's future David A. Tepper Quadrangle. Pictured above are Simmons (left) and CMU President Subra Suresh.