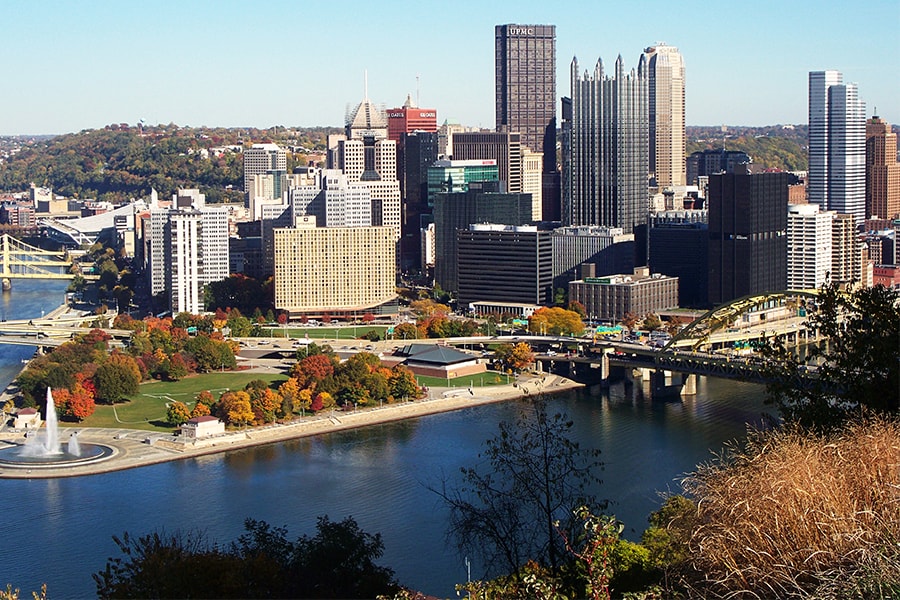 September 12, 2018
Tepper Quad Positions Region for Greater Economic Growth
By Abby Simmons abbysimmons(through)cmu.edu
Media Inquiries
Julie Mattera
Marketing & Communications
Jason Maderer
Marketing & Communications
As innovations from Carnegie Mellon University continue to transform the Pittsburgh region into a tech hub that attracts top talent and spurs development, the opening of the David A. Tepper Quadrangle positions the region for even greater impact.
"The Tepper Quad recognizes and celebrates the central role of universities as engines of new discovery, innovation and economic development," said CMU President Farnam Jahanian. "With the built-in resources of the Swartz Center, it helps entrepreneurs from across campus conceive, launch, and lead in new endeavors. By incubating cutting-edge ideas at the intersection of business, technology and society, the Tepper Quad will spark economic development in the region and help cement Pittsburgh as the destination of choice for innovators and entrepreneurs."
The Tepper building's grand opening is set for Sept. 13-14.
Pittsburgh native David Tepper, founder of one of the world's most successful hedge funds and lead donor for the Tepper Quad, sought to create a space to inspire interaction within and beyond the academic realms of Carnegie Mellon.
"Space can limit you in how things are done. This space will not," Tepper said. "This building will add to the vitality of the university and the region, integrating different academic disciplines at the center of campus."

Tepper School of Business Dean Robert Dammon said the Tepper Quad will help CMU take innovations from labs and classrooms into the global marketplace.
"The Tepper Quad extends beyond the business school. It's a collaborative, interdisciplinary hub focused on solving problems that really matter to the world," Dammon said.
Economic Impact
Carnegie Mellon and the Tepper School's rise in reputation has had spillover effects for the region. The university provides an annual $2.5 billion economic benefit to the Pittsburgh region, according to a 2017 study, "Impact from Innovation: Carnegie Mellon University's Role as a Local and Global Economic Engine." CMU directly or indirectly helped to create 148 startup companies between 2012 and 2016, and many continue to call Pittsburgh home.
CMU's culture of innovation, solving real-world problems and interdisciplinary research attracts top talent to the region. Pittsburgh's startup-friendly environment, reasonable cost of living, and arts and cultural scene have helped turn the tide on retention.
"There is a powerful symbiotic relationship between CMU and the region," Jahanian said. "Pittsburgh has benefited immensely from the activity of its universities, while CMU needs the region to flourish in order to realize its ambitions."
A 2017 Brookings Institution report noted the Pittsburgh region's per capita university research and development spending was nearly two and one-half times the national average. CMU's close proximity to the University of Pittsburgh and the University of Pittsburgh Medical Center has provided an optimal environment for collaboration, and opportunities exist to build on the region's strengths in advanced manufacturing and autonomous systems.
"Pittsburgh's economic transformation would not have been possible without the innovation emerging from the region's universities," said Pittsburgh Mayor William Peduto. "Carnegie Mellon's strengths in technology and autonomy have attracted major investments to the region, and the city's unique partnership with CMU has established Pittsburgh as a living laboratory for improving urban infrastructure."
The university's partnerships with more than 350 corporations are critical to the region's growth, as many seek opportunities for location on or near Carnegie Mellon's main campus to capitalize on its talent and emerging innovation.
Since its opening in 2005, Carnegie Mellon's Robert Mehrabian Collaborative Innovation Center (CIC) has housed some of the biggest names in technical innovation including Google, Apple and Intel. Google's Pittsburgh Office rapidly grew and became an anchor tenant in East Liberty's Bakery Square redevelopment.
Facebook recently announced it will open an artificial intelligence research lab in Pittsburgh to expand its research activities with academic communities.
Tech Transfer Transforms Pittsburgh
CMU startups and other entrepreneurial ventures also have set up headquarters in Pittsburgh, with many clustering in the city's Strip District and Lawrenceville neighborhoods. "Robotics Row," as it's now called, is breathing new life into former warehouses and factory buildings along the Allegheny River.
One of those companies is Argo AI, an artificial intelligence firm launched by CMU alumni and former staff of the National Robotics Engineering Center. Last year, Ford Motor Co. announced a plan to invest $1 billion over five years in the startup to develop a self-driving system for an autonomous vehicle slated for deployment in 2021.
"While we're applying the latest techniques in computer vision and machine learning to the work we're doing every day, some of the most advanced research is being done at the university level. That's why it's critical to stay connected to the academic community, so we can cultivate the young minds that will help us bring cutting-edge work out of the lab and into the real world," said Argo AI CEO Bryan Salesky.
Argo AI tapped Robotics Institute faculty members Simon Lucey and Deva Ramanan through a university partnership that provides research funding for CMU students. As staff scientists at Argo AI, Lucey and Ramanan are advancing the way autonomous vehicles see and interpret the world around them and better predict road user behavior.
Only blocks away, CMU spinoff Wombat Security Technologies addresses the human element in cybersecurity by providing organizations with information security awareness and training software to teach their employees more secure behavior. In early 2018, Proofpoint Inc. acquired the company for $225 million.
Three members of CMU's CyLab Security and Privacy Institute — Lorrie Faith Cranor, FORE Systems Professor of computer science and engineering and public policy; Norman Sadeh, professor of computer science; and Jason Hong, associate professor of computer science — worked with CMU's Center for Technology Transfer and Enterprise Creation (CTTEC) to spin out their research into Wombat.
CMU has been ranked among the top 10 U.S. universities for technology transfer by the Milken Institute. Since 2005, CTTEC has served more than 5,700 inventors and filed more than 2,100 patents.
While attracting significant investments from sources outside of the region, Argo AI and Wombat have maintained their headquarters in Pittsburgh. They've also expanded. Argo AI has offices in Dearborn, Michigan; Cranbury, New Jersey; and the San Francisco Bay area; and Wombat has opened offices in Denver and London.
Students Seek Out CMU's Startup Culture
Situated at the center of Carnegie Mellon's campus, the Tepper Quad embraces a new model for interconnected research, teaching and learning.
The Swartz Center for Entrepreneurship, a network of CMU programs that help create commercial ventures from cutting-edge research innovations and promising ideas, is located on the Tepper Quad building's third floor. Created in 2015 with a $31 million gift from alumnus and venture capitalist James R. Swartz and his wife, Susan, the center helps students, faculty, staff and alumni tap into the university's "innovation ecosystem." It also connects members of the campus community with national and local entrepreneurial resources.
"The future of business is in the hands of entrepreneurs, and this program creates campus-wide exposure to entrepreneurship. It's not just about building technical companies or startups," Swartz said. "It's about helping students learn a way of life that's going to serve them well in the future."

Courtney Williamson, who earned her doctorate in organizational behavior and theory from CMU in 2016, founded AbiliLife in 2014 to create back braces for the elderly and patients with neurodegenerative disorders.

Courtney Williamson, CEO and founder of AbiliLife, located on Pittsburgh's North Side, launched her startup in 2014 while pursuing a Ph.D. in organizational behavior and theory at the Tepper School. She also was caregiver for her mother, who had Parkinson's disease for 25 years. As the disease progressed, her mother's deteriorating posture and balance made it difficult to walk or sit comfortably.
Unable to find a product to address this issue, Williamson connected with biomedical engineering students and developed Abililife's Calibrace+. The back brace, designed for patients with neurodegenerative disorders and the elderly, works by lifting the wearer's shoulders up and back, thereby giving the wearer support. Williamson turned to CMU's Project Olympus startup accelerator, now part of the Swartz Center, to connect with mentors, secure funding and launch her business. Her company's brace is now FDA-registered and covered by Medicare and private insurers.
While Williamson's company is improving quality of life for patients and caregivers, a graduate of the Tepper School's MBA program is working on a creative approach to address urban food security.
RoBotany co-founders Austin Webb and Daniel Seim graduated in 2017 with MBAs. Through their indoor vertical farming company, they are transforming modern agriculture with automated robotics and software analytics.
Austin Webb, along with his co-founders, launched RoBotany in 2016 to transform indoor vertical farming with automated robotics and software analytics. Webb said RoBotany's technology improves labor efficiency and crop output year-round, increasing the availability of hyper-local, better tasting produce to the surrounding community.
Through the Swartz Center, RoBotany sprouted its first crops on campus with its first prototype and now operates in a former steel mill on Pittsburgh's Southside. The company was named one of Inc. Magazine's Coolest College Startups in 2017. It also took first place at the Tepper School's McGinnis Venture Competition and the Allegheny Region CleanTech University Prize competition. RoBotany has leveraged the school's alumni network and other resources to raise over $13 million in funding.