November 14, 2013
Press Release: Carnegie Mellon Receives $67 Million Gift from David Tepper To Transform Pittsburgh Campus
Gift from CMU Alumnus Will Create New Tepper Quad, Strengthening Integration Among Programs
Contacts:
Ken Walters / 412-268-1511 /
walters1@andrew.cmu.edu
Mark Burd / 412-268-3486 /
mburd@andrew.cmu.edu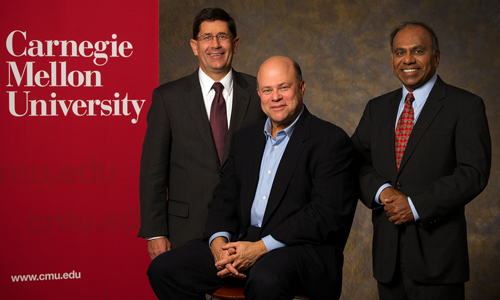 PITTSBURGH—Carnegie Mellon University has received a $67 million gift from the charitable foundation of CMU alumnus and renowned investor David A. Tepper (TPR'82) to create a major new academic hub that will further strengthen collaboration among CMU's schools and colleges. Tepper's gift will enable CMU to establish a new university gateway and interactive hub through the creation of the "David A. Tepper Quadrangle" and the construction of a 295,000 square-foot building that will be a new home for CMU's
Tepper School of Business
. It is both the largest gift from a CMU graduate and for a building project at CMU in the university's history.
The founder of Appaloosa Management, Tepper is extending his support of CMU at a time when bridging the gulf between technology, business and the sciences is critical to solving some of the world's most challenging issues.
"David Tepper is a visionary, both as a businessman and a philanthropist, and we are grateful for his generous support of the university and the business school that bears his name," said CMU President Subra Suresh. "Carnegie Mellon's culture is historically holistic, integrating research and learning among individual schools and academic disciplines. Our vision for the new Tepper Quadrangle builds on these strengths, creating new interdisciplinary interactions for learning and research and connecting innovation to the business community."
"I'm excited by President Suresh's and the university's vision to make CMU the foremost entrepreneurial academic institution in the nation," Tepper said. "CMU has a long history of providing the world with innovative thinkers and the establishment of a true hub for entrepreneurship will help create the next generation of global leaders. I'm particularly pleased to announce this gift on the day that CMU inaugurates President Suresh."
The Tepper Quadrangle is the first expansion of the university's north campus and will be located on a 4.5-acre site. It will be designed to facilitate high levels of cross-campus collaboration and bring together interdisciplinary initiatives, including entrepreneurship and technology-enhanced learning. It will also enable the university to leverage other highly ranked campus programs, such as business, engineering, computer science, energy, design and life sciences, to accelerate the transfer of new technologies into the marketplace, to create new integrated degree programs and to expand new research and education opportunities.
The Tepper Quadrangle represents an initial investment of $201 million by the university, which includes the new business school. The establishing gift by Tepper launches this expansion along Forbes Avenue in Pittsburgh's Oakland neighborhood and will include a new university welcome center. The facility will also include many quality of life enhancements for students and faculty, including larger and better classrooms, meeting and collaboration spaces and a fitness center and café.
"There are natural intersections between the business school and the research and teaching taking place at each of the seven schools and colleges at Carnegie Mellon," said Robert M. Dammon, dean of the Tepper School of Business. "The new home for the business school will enable us to enhance our undergraduate and graduate programs in business and economics, expand the possibilities for innovative research and interdisciplinary degrees, and allow us to offer a flexible technological framework that anticipates the needs of next-generation learning. The combined involvement of faculty, students, alumni and staff from across the CMU campus is a rare, powerful resource."
The gift announcement comes just days after CMU announced the
Simon Initiative
, a university-wide effort to accelerate the use of learning science and technology to improve student learning. More than 50 CMU faculty members are taking part in the initiative, which will harness CMU's decades of learning data and research to improve educational outcomes for students everywhere. CMU also announced this week that its faculty and students
created 36 startup companies this year
, a record for the university.
Tepper has committed more than $125 million in gifts to CMU in the past nine years. In 2004, he donated $55 million to Carnegie Mellon University to rename the Graduate School of Industrial Administration. He currently serves on the university's Board of Trustees and as a member of the Business Board of Advisors for the Tepper School of Business.
###
Pictured above is David Tepper (middle) flanked by CMU President Subra Suresh (right) and Tepper School of Business Dean Robert Dammon.