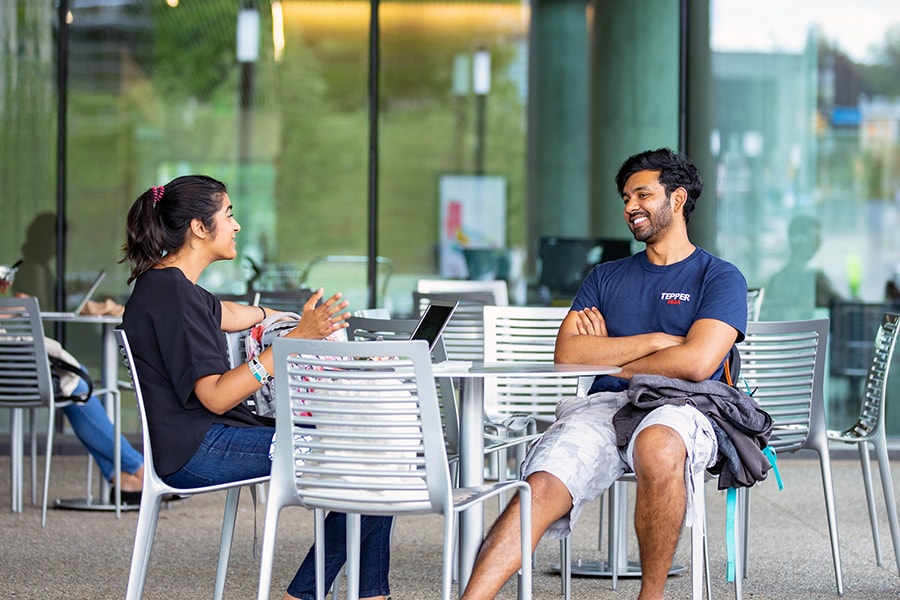 September 10, 2018
Gathering Places Create a Sense of Community at New Tepper Quad
It's lunchtime, and the Grand Atrium of the David A. Tepper Quadrangle is lively with activity — students clustered around tables, some feverishly working together on projects, others simply taking a break to connect with each other. The energy is electric.
The September 2018 opening of the Tepper Quad is providing students, faculty and staff with new places to gather, collaborate, eat, socialize, study and work out.
"This building brings our aspirations for the student experience to life in a visually stunning and forward-thinking way," says Elizabeth Vaughan, associate dean of student affairs and director of student leadership, involvement and civic engagement.
The Tepper Quad is quickly becoming a popular campus hub. Vaughan says, "We tried to create areas where students want to be, where they feel motivated and inspired."
On the first floor, near the David and Susan Coulter Welcome Center, a tiered stair-like area is intended for stretching out, so visitors can work in a space that is open and filled with natural light. CMU community members will find spots to work and interact throughout the Quad, whether it's on the patio, in one of the huddles of chairs on each floor or in a light-filled conference or study rooms that are strategically placed throughout the building.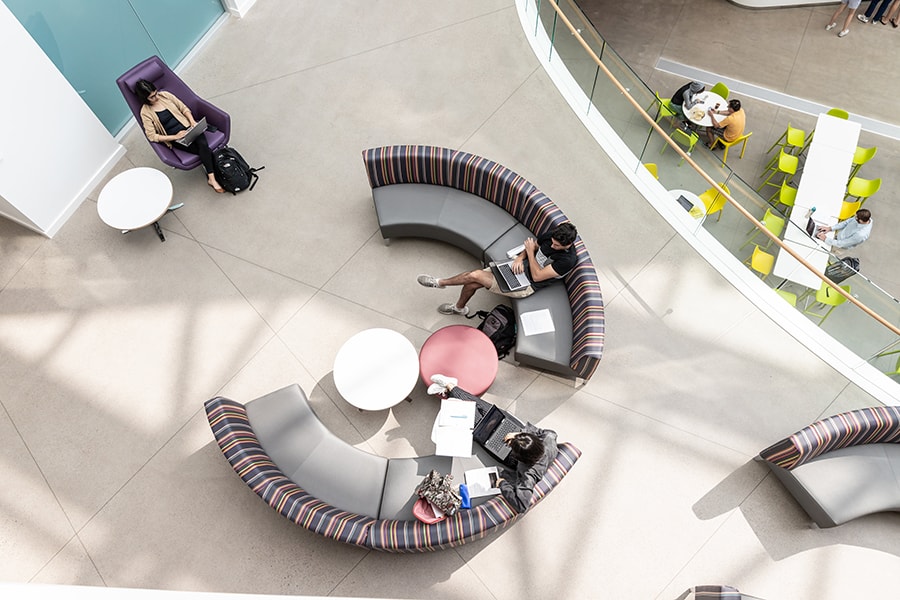 "The number one thing that students talk about is study space — not just where they can sit with a computer, but where they can come together in groups and collaborate," said Vaughan.
These new gathering spaces also echo the diversity of work spaces in society, with students collaborating and socializing across disciplines to solve a problem, develop a presentation, or cultivate ideas — and reflect the CMU culture.
But it's not about all work and no play — there is room for recreation and socialization throughout the Quad.
A centrally located fitness center offers equipment that faces outward, showcasing the university's commitment to the health and wellness of its community.
The Rohr Commons, named for CMU Board of Trustees Chair Jim Rohr, offers modern, fresh menus that include vegetarian and gluten-free options. Students and visitors will find choices from coffee to specialty burgers, grab-and-go sandwiches and salads.
"It's already so vibrant and full of life," Vaughan says, "it's hard to imagine how we operated without it."