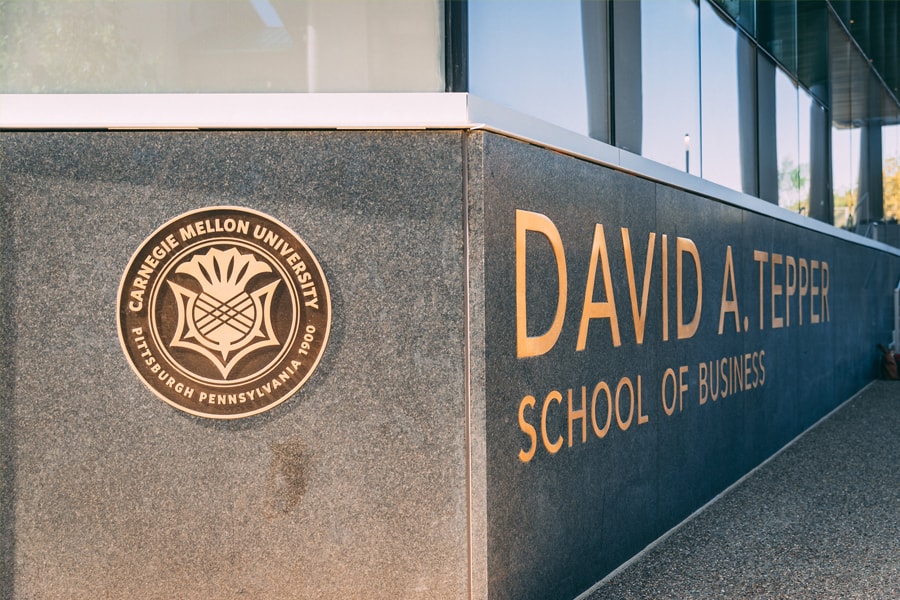 September 12, 2018
CMU Leads the Way With Business School of the Future
By Heidi Opdyke opdyke(through)andrew.cmu.edu
Media Inquiries
Julie Mattera
Marketing & Communications
Jason Maderer
Marketing & Communications
Carnegie Mellon University and the Tepper School of Business are transforming education through a new interconnected approach to teaching, learning and innovation in the new David A. Tepper Quadrangle. The Carnegie Mellon community will host a grand opening celebration of the Tepper Quad on Sept. 13-14.
The building's visionary design connects spaces, disciplines and people to create a new paradigm for learning.
"As the new home of the Tepper School of Business, the Tepper Quad brings business and entrepreneurship to the heart of campus, connecting the diverse strengths of our business school with CMU's other core areas of excellence, including computer science, engineering, social sciences and the arts," said CMU President Farnam Jahanian. "With this building serving as a vital connector and facilitator, we can continue to create new business models, new ventures, new collaborations and new opportunities to reshape our future."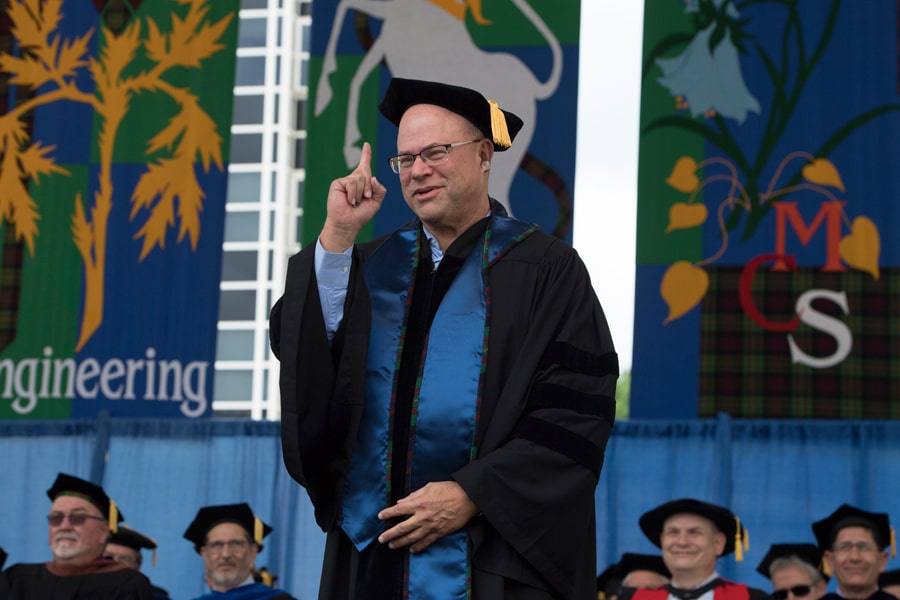 David Tepper delivered the keynote address at Carnegie Mellon University's Commencement in May.
Student Success
Alumnus and investor David Tepper, who received his MBA from CMU in 1982, has become the most generous alumnus in the university's history. He has donated a total of $125 million to Carnegie Mellon, including $55 million to name and endow the business school. His charitable foundation provided a lead gift of $67 million for the new Tepper Quad, a facility he said would focus on the next generation of students and teachers.
"The vision of education on the college and graduate school level is to bring all the schools together and have them interact," Tepper said at the groundbreaking ceremony in October 2015. "This is Carnegie Mellon not just talking the talk — we're going to walk the walk."
In May, Tepper delivered CMU's Commencement address in which he expressed his love and admiration for the university.
"This place gave me the tools I needed to be successful," said Tepper, who noted his desire to give back by providing for today's students as well as those who have yet to arrive at Carnegie Mellon.
"We don't know what tomorrow is going to bring, so we're going to have this incredibly vibrant building that is just not going to be built for today but that can change over time as business education changes and as the school changes," he said.
The 4.5-acre, 315,000-square-foot building was designed by Moore Ruble and Yudell. The $201 million glass and brick structure houses undergraduate and graduate business programs alongside the Swartz Center for Entrepreneurship and CMU's technology-enhanced learning initiatives, including the Simon Initiative. It sits at the front of the Pittsburgh campus signaling Carnegie Mellon's goal of elevating its business and entrepreneurial focus throughout its programs in technology, arts, public policy and the sciences.
"It a new paradigm. It's combining business with the STEM disciplines to give our students the kind of skillsets they will need in this rapidly changing, complex world of business that they will face in the 21st century," said Tepper School Dean Bob Dammon.
An Intertwined CMU Experience
The building is more than classrooms, office and meeting spaces. The Tepper Quad is home to Carnegie Mellon's David and Susan Coulter Welcome Center, a 600-seat flat floor auditorium, fitness center and the university's newest dining location, the Rohr Commons.
Moore Ruble and Yudell sculpted the Tepper Quad in such a way that the interconnectedness of the disciplines can come to life in new and unexpected ways.
"Throughout the building we have many more kinds of interaction spaces than you would typically have," said Architect Buzz Yudell. "So there are no corridors. There are spaces you move through that are also lounges, study areas, gathering and collaboration spaces. This same approach to creating community spaces occurs throughout the landscaped quad."
Interim Provost Laurie R. Weingart said the new building provides a home for undergraduate education in the business school.
"This is where undergraduate business students and economics students can come to work on class projects, study for class, meet with professors and advisors, and really live in the building and have their own home," said Weingart, the Richard M. and Margaret S. Cyert Professor of Organizational Behavior and Theory.
Ranked No. 6 by U.S. News and World Report for its undergraduate business program, Carnegie Mellon has redefined business education before.
Past and Present: A History of Change
Founded in 1949, the Tepper School transformed business education from its beginning through the creation of management science, also recognized as decision-making powered by analytics. CMU was the first school to integrate scientific methods into complex problem-solving. Today, some form of that original academic model is taught at every leading business school.
As one of the first universities to introduce entrepreneurial studies into its business school curriculum in the 1970s, Carnegie Mellon was once again an academic role model for thought and action.
Today, the Tepper Strategic Plan 2023 aims to disrupt management education and research, and transform industries and traditional business models by mastering advanced analytical approaches so vital in a global business environment.
Professor Bryan Routledge, co-chair of the Tepper Quad Committee, interviewed Swartz Center Executive Director Dave Mawhinney as part of a series on the Tepper Quad building process.
The Next Great Company
An estimated 1,200 students participate in entrepreneurial coursework annually at Carnegie Mellon, and more than 1,000 companies across industries such as robotics, software applications, energy, health care and finance have CMU ties. Additionally, at least $1 billion in sponsored research revenue over the past four years resulted in more than 2,500 patent filings, invention disclosures, licenses, options and other agreements through Carnegie Mellon entrepreneurship.
In 2016, the Swartz Center for Entrepreneurship launched with support from venture capitalist James R. Swartz, a 1966 graduate of the Tepper School, and his wife, Susan. The center is a system of programs and activities that offers entrepreneurship education, engagement, collaboration and opportunity.
"We are so excited about coming into this building. It is going to open up so many opportunities for our students, our faculty, our alumni," said Swartz Center Executive Director Dave Mawhinney. "We want to get those, hackers, hustlers and designers together to create those valuable companies."