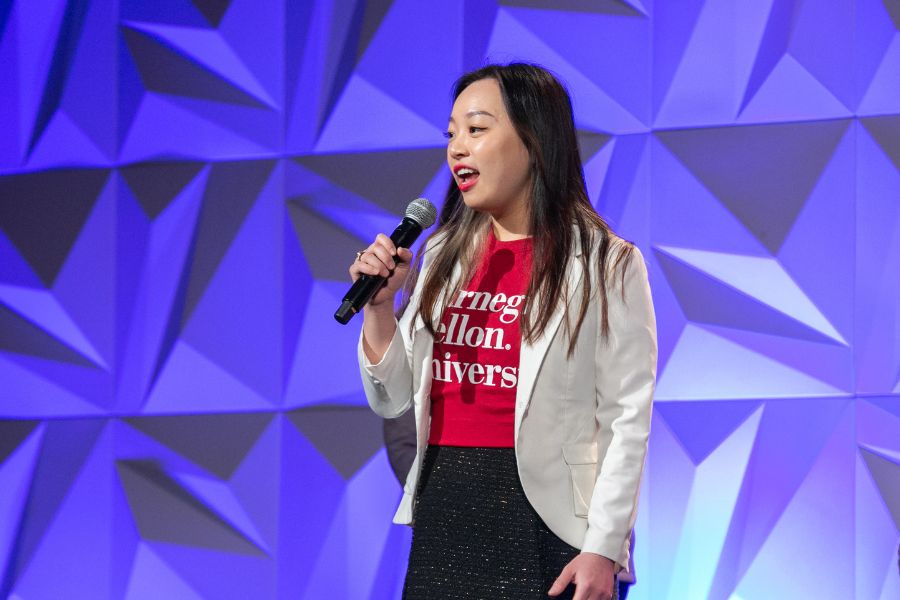 August 05, 2022
Weijia Yan Receives Generation Google Scholarship
Weijia Yan (MSIT-IS 2023) is the recipient of a Generation Google Scholarship and joins an elite community of 2,800 scholars receiving awards from Google.
By Ann Ritchie ann(through)lyonritchie.com
Weijia Yan (MSIT-IS 2023) is the recipient of a Generation Google Scholarship and joins an elite community of 2,800 scholars receiving awards from Google.   
The scholarship was established to help aspiring students pursuing computer science degrees to excel in technology and become leaders in the field. Students from traditionally underrepresented groups in technology, including women, Black/African American, Hispanic/Latinx, American Indian, Native Hawaiian/Pacific Islanders, are encouraged to apply. 
The award offers much-needed relief to Yan and her family who suffered a series of financial hardships in the past few years. "I knew I wanted to pursue a master's degree, but I wasn't sure how I would afford it," Yan said.  
Scholarship recipients have demonstrated "a passion for technology, academic excellence, and have proven themselves as exceptional leaders and role models." Yan has been a shining example of these qualities during her graduate and undergraduate studies. 
Since joining the INI, Yan has sought out extracurricular activities such as participating in Women@INI student organization and applying for conference scholarships to attend the Women in Cybersecurity conference (WiCyS).  
As an undergrad at Texas A&M University, Yan did not hesitate to join events outside of the classroom to meet with faculty and peers. Her professor Martin Carlisle, a former INI faculty member, introduced her to information security and opportunities to advance her studies at CMU. Self-assured in her interests, Yan bravely turned down recommendations from family to become a lawyer in favor of a cybersecurity career. 
"I explored the field as a sophomore and I never looked back!" Yan said.  
Driven to learn all she could about her new passion, Yan eventually founded the Texas A&M Chapter of Women in Cybersecurity. She graduated magna cum laude from Texas A&M University in December 2021, earning a bachelor's degree in management information systems with a minor in cybersecurity. She received an (ISC)² Undergraduate Scholarship to support the completion of her senior year.  
Yan continues to find inspiration through people she meets.  
"Everyone I am meeting at the INI comes with his or her own stories. I love how the INI challenges me to become my best self. I love the professors who teach with great passion," Yan said. 
Professors Hanan Hibshi, Joann Peca and David Varodayan have been strong role models for their careers in cybersecurity. She is also deeply appreciative of Jennifer Spirer, for tirelessly answering her questions as a prospective student, and Christa Jones, for going above and beyond to support her interests in attending cybersecurity conferences like WiCyS. Her fellow students are dear to her heart. 
"The peers whom I have met at the INI are super supportive. Each one of them brings a story of their own, unique in their own way, but we all connect through information security," Yan said. "We have this really tight-knit group. When you get to know them, you would be impressed by how much knowledge they have, but they are also humble at the same time. It's mind-blowing that we're all friends and amazing that I can share classes with them." 
Yan met information security alumnae Tyelisa Shields and Devika Devarakond who have supported her career interests. The INI's Alumni and Student Intern Connection program connected her to Shields, who provided mentoring and encouraged Yan to attend the RSA conference in San Francisco.  
Yan is completing an information security internship this summer in California and plans to look for a full-time position in information security after she graduates in 2023. She hopes to help others who are in underrepresented groups to pursue careers in information security.