November 22, 2022
INI Director Joins U.S. Delegation to Greece
By Ann Lyon Ritchie
Media Inquiries
Carnegie Mellon University's Dena Haritos Tsamitis, director of the Information Networking Institute (INI) and the Barbara Lazarus Professor of Information Networking, was invited by the Greek minister of education and religious affairs, Niki Kerameus, to join a delegation of the International Academic Partnership Program - Greece (IAPP – Greece) to explore areas of collaboration with 24 Greek public universities.
The U.S. delegation was led by Lee Satterfield, assistant secretary, Bureau of Educational and Cultural Affairs, U.S. Department of State. IAPP-Greece is a partnership between the Greek Ministry, U.S. Embassy and Institute of International Education.
Haritos Tsamitis, a trustee of the American College of Greece (ACG), met Kerameus and George J. Tsunis, U.S. ambassador to Greece, through her interests in transnational partnerships in higher education and was extended a special invitation to join IAPP-Greece.
Through the program, Haritos Tsamitis collaborated with the U.S. delegates, government and university leaders, and other participants to engage in discussions, align mutual goals and identify their shared needs. As lead delegate to the National Technical University of Athens (NTUA), a leading Greek university, she participated on a panel to facilitate discussion among her fellow delegates and NTUA leadership, including Rector Andreas G. Boudouvis, on potential opportunities for collaboration. The program culminated in an event at the presidential mansion where she met the first female President of Greece, Mrs. Katerina Sakellaropoulou.
"IAPP-Greece was a great opportunity to build upon existing collaborations, make important connections, and begin to develop new initiatives. The INI offers a unique understanding of transnational partnerships between the U.S. and Greece thanks in part to our nine-year experience offering  CMU's Master of Science in Information Networking program in Athens, Greece – the first ever CMU degree program offered abroad in its entirety," Haritos Tsamitis said.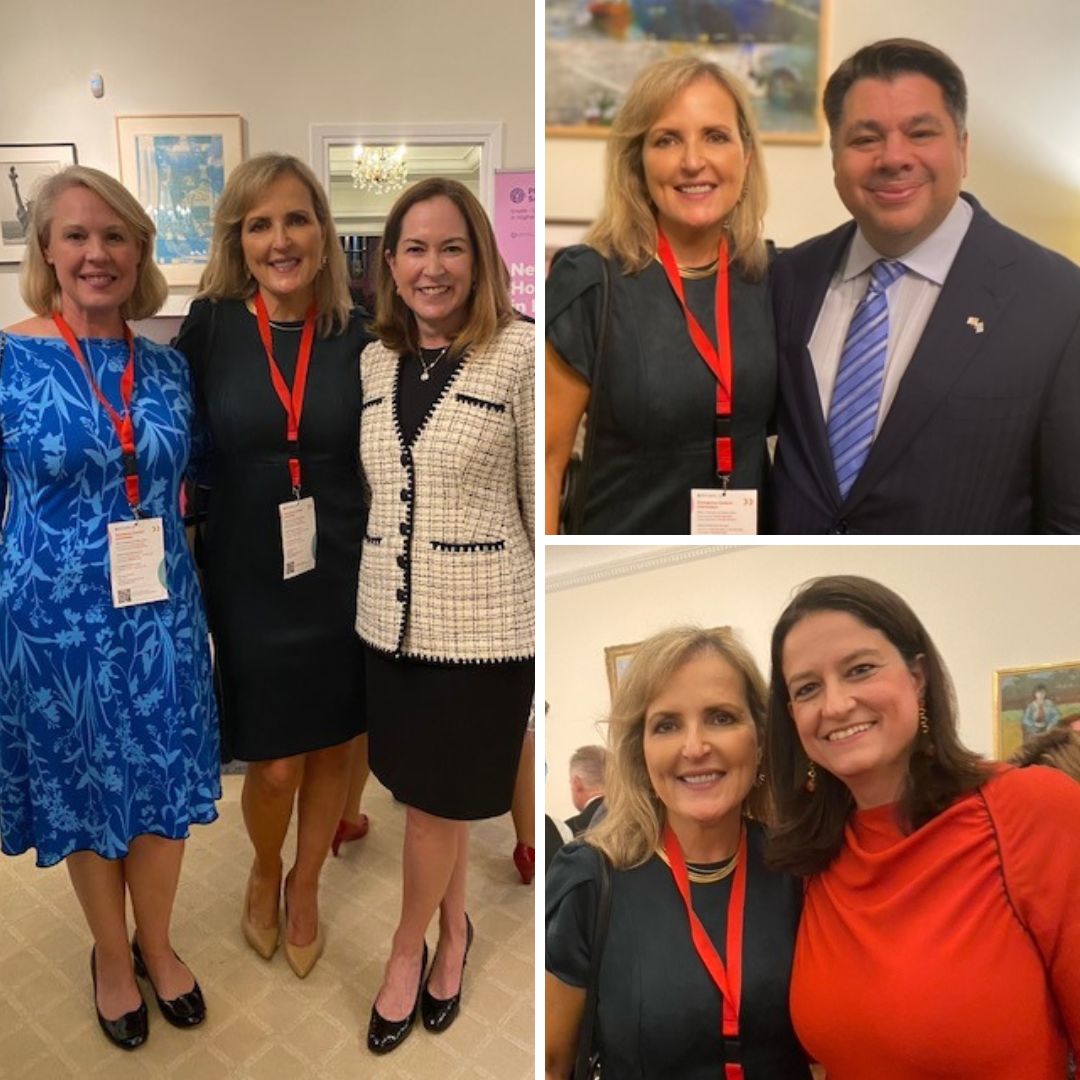 Collage with IIE President Sarah Ilchman at left and U.S. Department of State's Lee Satterfield, at right (left panel); with U.S. Ambassador to Greece, George J. Tsunis (top right); and with Greek Ministry of Education and Religion's Niki Kremeus (bottom right).
From 2002 to 2011, the INI offered a program with Athens Information Technology (AIT) for graduate students in information networking. The program in Athens graduated 126 CMU alumni. Haritos Tsamitis spearheaded programs in Greece, Portugal and Japan over the past twenty years that have helped CMU expand an international reach and strengthen its influence as a global research university.
Looking ahead, Haritos Tsamitis will continue conversations on potential programs and partnerships. In conjunction with an ACG board of trustees meeting in March, she will attend an event on "education as a pillar of growth and U.S.-Greece cooperation." The event, hosted by ACG in collaboration with The American-Hellenic Chamber of Commerce with support from the Embassy of Greece in Washington, D.C., occurs at a time of growing interest in Greece from U.S. universities and investors.