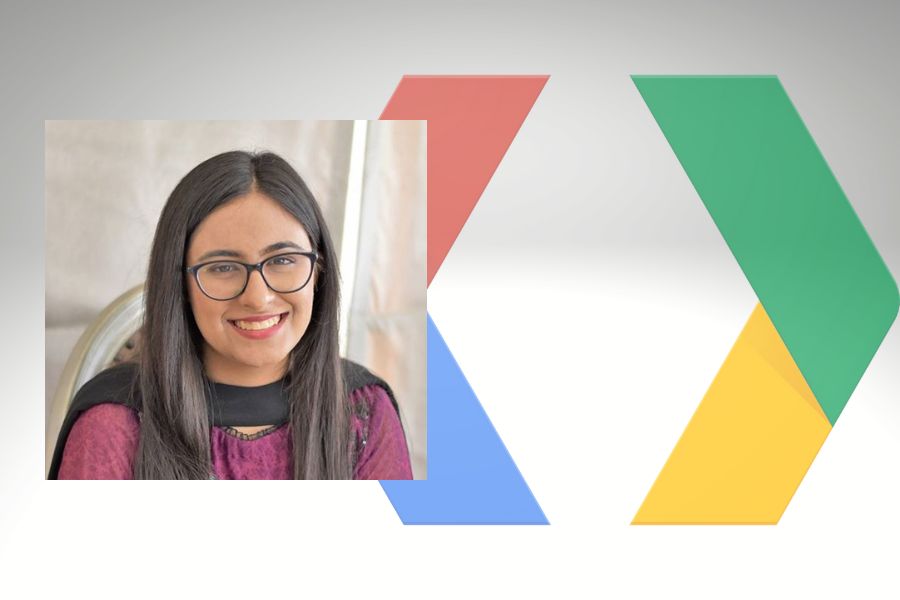 August 04, 2022
INI Student Selected to Lead Google Developer Student Club
By Ann Ritchie ann(through)lyonritchie.com
INI's Anusheh Mustafeez spearheaded efforts for a Google Developer Student Club (GDSC) at Carnegie Mellon University's Pittsburgh campus. The new student organization will kick off in the 2022-2023 school year, with the INI's Dr. Mohamed Farag as faculty advisor. 
Google Developer Student Clubs are community groups for students interested in Google developer technologies. Mustafeez applied and has been selected to be the club's first lead. Learn more about the new organization through the interview with Mustafeez that follows. 
Why did you want to get involved in GDSC? 
Anusheh Mustafeez (AM): "I am involved with GDSC because I feel it would be the perfect platform to link the limitless talent CMU holds with exciting opportunities Google technologies have to offer. 
"Personally, I find nurturing a community working towards a common goal liberating and wholesome. During my undergraduate degree, there was a stark gender imbalance in my department, which had detrimental effects on every female computer science student's learning experience. To overcome this, I founded LUMS Women in Computing, a student-run organization that empowers women in STEM.  
"I am also leading an initiative called GradApp Lab, which mentors young Pakistanis through graduate school applications. Furthermore, I formed informal social media groups for students to network during the Covid lockdown and was part of my school's equity and diversity committee. Through these efforts, I have created a strong network of people whom I look up to and who look up to me. As a GDSC lead, I want to expand my network further and have a positive impact within and outside of CMU. I am committed to creating impact around me and becoming a GDSC lead seems like an ideal opportunity to do so." 
How will CMU students benefit from getting involved? 
AM: "A Google Developer's Student Club would allow CMU students to not only solve pressing real-world problems using Google technologies but also make new friendships within and beyond CMU.  
"Our classes teach us a lot of hands-on technical skills but through a GDSC, we could additionally learn important and transferable soft skills. Workshops and talks by Googlers would help students grow professionally by understanding how to apply concepts we learn at school to actual use cases. Since similar clubs are spread across the globe, CMU students would now have access to amazing events being organized by GDSC leads from other universities as well.  
"Participating in the annual Solution Challenge would also be exciting. The challenge pushes students to solve one or more of the United Nations 17 Sustainable Development Goals using Google technology. Thus, GDSC would equip CMU students with the professional development they need to jumpstart their careers while making the world a better place." 
What will your duties be as the first lead? 
AM: "My duties as the first lead would be to set the stage for the club's success. My first goal would be to form a strong team of people who are committed to community building. GDSC needs people who dream big and don't see giving up as an option. We would love to have people from all backgrounds and walks of life. A diverse team would allow GDSC to have a variety of perspectives when solving any problems that come our way. 
"My next course of action would be to sit down with my team and make a plan for the coming academic year. We would identify the gaps that GDSC could fill for the average CMU student before we hit the ground running. As a GDSC lead, my role would be to communicate with my team, Google and the CMU admin to ensure our events are executed smoothly and successfully benefitting as many people as possible." 
What have you enjoyed about the INI and CMU so far?  
AM: "Although I have only spent a single semester at the INI, I feel it has added a great deal to my learning.  
"The technical and rigorous coursework has tested me to the fullest but I have enjoyed it thoroughly. Moreover, the faculty and course staff have always been accommodating, leaving no stone unturned in ensuring students get the most out of their classes.  
"Before coming to the INI, I was unsure if security was for me, but now I am confident this field has a lot to offer. However my favorite thing about the INI is the people. The department is one big happy family where the administration, faculty and students are all committed to achieving excellence through collaboration and innovation. At the INI, I know help is just a call away and so it is safe to say our hearts are definitely in the network!" 
—