Tapia 2019 | San Diego, CA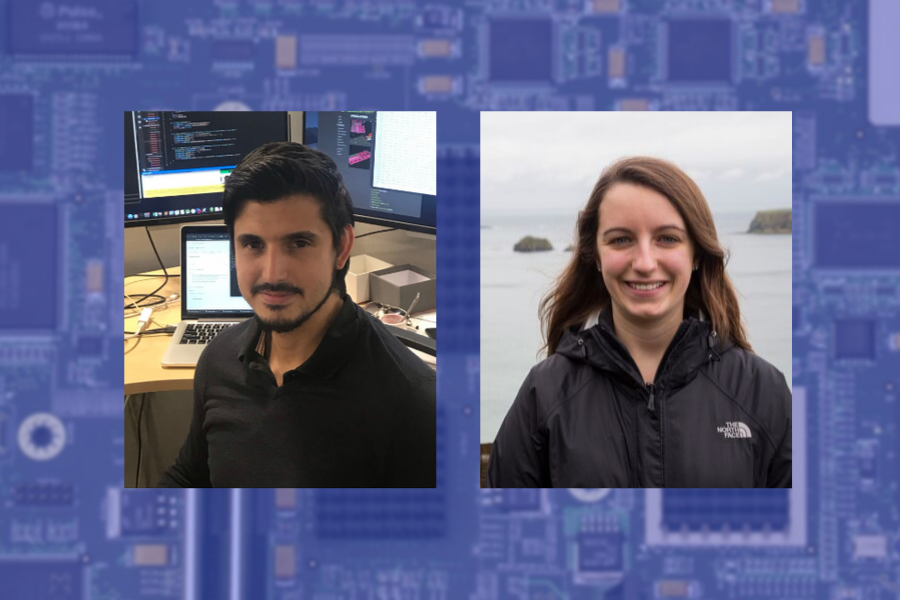 September 06, 2019
Celebrating diversity in computing at Tapia 2019
The INI is a proud sponsor of the 2019 Tapia conference. MSIS students Samuel Sabogal Pardo and Erica Braunschweig will attend and INI director Dr. Dena Haritos Tsamitis will present on impostor syndrome.
By Deana Lorenzo dlorenzo(through)andrew.cmu.edu
Fulbrighter. Information Security Consultant. Software Engineer. Machine Learning and Artificial Intelligence Enthusiast. Lover of edX and Coursera.
These are just a few of the titles that describe Samuel Sabogal Pardo (MS30). He is also a science communicator and professor of cybersecurity in his native Colombia. Now, Sabogal Pardo can add another title to his already impressive resume, as a second-year graduate student completing the M.S. in Information Security (MSIS) at the Information Networking Institute (INI).
In addition to receiving a prestigious Fulbright scholarship to study in the United States, Sabogal Pardo was also awarded a scholarship to attend the ACM Richard Tapia Conference in San Diego in September, which is aimed at celebrating and promoting diversity in the computer science fields.
The INI is a bronze sponsor of Tapia 2019. Fellow MSIS student Erica Braunschweig is also attending, and INI director Dr. Dena Haritos Tsamitis will lead a workshop on overcoming impostor syndrome. 
Snap Out of It: Overcoming Impostor Syndrome and Leveraging Your Value Proposition
Speaker: Dr. Dena Haritos Tsamitis
Friday, September 20, 2019, 2:30-3:30 p.m. 
ACM Richard Tapia Conference, San Diego B


Have you ever felt like a fraud at your school or job, despite your accomplishments? Success should build confidence, not shake it, but it can be an ongoing struggle for many women and underrepresented minorities in STEM. In fact, most of your peers have likely experienced self-doubt – feeling like an impostor – at some point in their education and careers. Research shows that nearly 70% of people have experienced "impostor syndrome," a psychological phenomenon in which individuals doubt their accomplishments and fear being exposed as a fraud. Dr. Dena Haritos Tsamitis developed strategies to shatter impostor syndrome through research, coaching and her experience working with graduate students at Carnegie Mellon University. In this workshop, participants will learn how to customize actionable strategies to overcome impostor syndrome and then craft and leverage their personal value proposition as part of a successful career strategy. Learn More
We caught up with Samuel, who has recently finished his internship with NCC Group in Chicago, to learn more about his experience with the INI thus far, and what his plans are for the future.
What drew you to Carnegie Mellon and the INI?
I decided to study at the INI because it is considered by many to be the best cybersecurity education. When I got here, it exceeded my high expectations. Every minute invested in the INI is gold.
What do you like most about the MSIS program?
While interning at NCC Group, I got to do ethical hacking for clients that are some of the biggest tech companies in the world. Thanks to what I learned at the INI, I was able to impress my employer. The MSIS program gives us a unique knowledge that allows us to succeed in industry—I love that.
Tell us a little more about your experience as a Fulbright scholar.
Being a Fulbright scholar is a beautiful experience. The Fulbright scholarship was created after the Second World War to promote peace and understanding through educational exchange. Now it is known to be the most prestigious scholarship in the world, so we gladly carry the responsibility to bring the best from our native countries to the USA. When I return to Latin America, I intend to promote picoCTF, CMU's cybersecurity competition. Through this I can extend the reach of the INI and benefit Latin America to help in the accomplishment of the Fulbright ideals.
Congratulations on your scholarship to attend the Tapia Conference in September! What are you hoping to gain from the experience?
I am looking forward to obtaining the new ideas from leaders in the Tapia Conference and bring them back to the INI. Additionally, the conference is a great opportunity to create connections, not only for me, but for my classmates and professors.
Conferences such as Tapia are essential to establish communications between leaders in industry and other academic institutions. Moreover, the Tapia Conference reminds us that diversity is the key to evolution.
What are your plans after graduation?
After I graduate, I plan to keep working as an Information Security Consultant for a startup I initiated. Additionally, I have one initiative for massive open learning of my own: it is a science communication show about computer science called "Bits - revelación virtual", in which I am the host and main writer, and work with a great team of animators. Initiatives such as the "picoCTF" and "Bits" will help to make people passionate about technical areas to benefit society.
Anything else you'd like to share?
I would like to share one paragraph I made for the essay to apply to the Tapia Conference:
"Carnegie Mellon is the last steel factory of Pittsburgh, they say. I thought that meant it was just a tough place. My current interpretation is different. We, the students, are the raw material that is put into high temperature fire, and suddenly into cold water, experiencing strong feelings. The professors are the blacksmiths that even burn their own hands in the process, with the hope of transmuting us into the strongest steel."
What drew you to Carnegie Mellon and the INI?
While I completed my undergraduate degree in computer science, I struggled to find a specific technical field I was interested in, so I did internships in a wide variety of fields. I did a co-op in an information security position and found my calling, so I decided to obtain the best information security education I could find. I knew CMU and the INI had a stellar reputation, so I decided to apply.
What do you like most about the MSIS program?
While graduate education can be very theoretical, courses at the INI are applied. The hands-on nature of the classes greatly increased my technical skills and prepared me to succeed in industry. While it's great to be taught how to do something, it's even better to be thrown into the fire and actually have to do it yourself.
Tell us a little more about your experience as a CyberCorps Scholarship for Service (SFS) recipient.
Being an SFS student has been the opportunity of a lifetime. It's the reason I'm able to pursue a world-class education, and it has enabled me to broaden my horizons at conferences such as the Tapia Conference. I look forward to working for the U.S. government in return upon finishing my degree.
What are you hoping to gain from the Tapia Conference?
I'm looking forward to celebrating diversity in computing and hope to learn techniques for getting women more interested and involved in computing and information security. I'm also excited to meet people from all different walks of life and forge new relationships. For me, conferences are all about gaining a new perspective, so I look forward to learning from the various speakers and attendees.
Anything else you'd like to share?
The INI does a fantastic job of supporting diversity and inclusion through efforts such as the Women@INI (WINI) student organization. WINI is an excellent source of support and makes the INI feel like not just a place to get work done, but a home.
Meet the INI at Tapia 2019!
Loading...