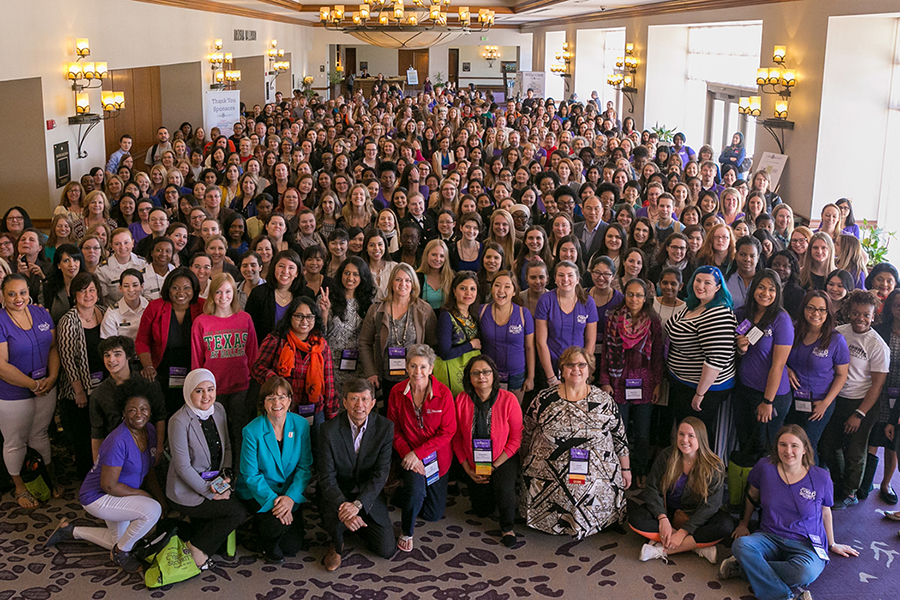 March 23, 2018
INI student scholarship recipients attend Women in Cybersecurity Conference (WiCyS)
By Jessica Corry jcorry(through)andrew.cmu.edu
INI returns to WiCyS as a platinum sponsor 
Twelve Information Networking Institute (INI) security students are headed to Chicago, IL for the Women in Cybersecurity (WiCyS) Conference 2018 from March 22-24. The INI has sponsored WiCyS since 2014 and is returning this year as a platinum sponsor.
"I am confident our students will discover a community of engagement, encouragement and support for women in cybersecurity at WiCyS," said Dena Haritos Tsamitis, director of the INI. "Tackling diversity challenges in the cybersecurity field has never been more important and attendees of this conference will walk away feeling inspired and prepared for success."
That is exactly what Peiyao Zhou, a bicoastal information security student, is hoping to gain at WiCyS 2018.
"I want to see the power of women in security and try to make the future picture of myself in my mind more vivid," Zhou said.
WiCyS 2018 is being held in Chicago, IL and brings together nearly 1,000 students, faculty, researchers and professionals in cybersecurity to network, mentor and share knowledge and experience.
The INI students are attending WiCyS 2018 through a combination of conference funding and scholarships provided by the INI and Carnegie Mellon's Software Engineering Institute (SEI):
Janvi Jatakia
Karthika Brakaspathy
Xinchen Wang
Jamie Thorpe
Ginger Yu
Peiyao Zhou
Sudarshana Bhavani
Carolina Zarate*
Aditi Jannu
Vidya Gopalakrishnan
Alin Nagraj
Meenakshy Balachandran 
Second-year student Bhavani is most looking forward to meeting other women in cybersecurity and learning about the transition from being a student with organizations like Women@INI (WINI) to count on for support, to being a female employee in companies without a similar structured support system in place.
Other students hope to talk with security experts about their research projects, find out new techniques in web security and learn how to advance women in cybersecurity.
"I hope to gain knowledge about both cybersecurity topics and feminism in cybersecurity, because I've been wondering as a WINI officer what my fellow officers and I could be doing better to stimulate interest in and encourage activism towards gender equality in the field," explained Yu, a first-year information security student.
She is also interested in MITRE's session on building a home lab for malware analysis. "It's really relevant to what I'm doing for my Introduction to Software Reverse Engineering class right now - disassembling and analyzing Neverquest, a banking trojan, which I definitely don't want running loose on any of my machines," she added.
Members of the INI's admissions and career services teams are also attending WiCyS and will be available at Booth 1105 in the Career and Graduate School fair to answer questions about the INI's programs in information networking, security and mobility.
"I'm interested to hear from all the speakers at the conference, but I'm actually also really excited to spend time at the INI booth," said Thorpe, a first-year information security student. "I think it'll be fun to talk to other people about my experience in this program so far."
Our Advice for Getting the Most Out of WiCyS 2018:
Download the Whova app for conference schedule, impromptu meet-ups, connecting with other attendees, and more! 
"Network. As much as possible. It's a platform where you could meet some of most skillful and talented women in tech. You never know: you could find a potential mentor in someone or you might end up mentoring someone yourself, after the conference." – Vidya Gopalakrishnan (MS28), 2018 WiCyS Scholar
"Attend the workshops, tech talks, panels and learn all that you can but also don't forget to talk to each other, meet new people, learn from each other and let yourself be inspired." – Saralee Kunlong (MS22), YP℠ (formerly Yellow Pages)
Practice self-care. Make sure you are setting aside time for snacks and meals, plus drink lots of water!
"One thing everyone should bring with them: confidence and tons of resumes." – Arushi Grover (MS27), WhatsApp
ATTENDING WiCyS 2018? VISIT THE INI AT BOOTH 1105 TO LEARN MORE ABOUT OUR GRADUATE PROGRAMS IN INFORMATION NETWORKING, SECURITY AND MOBILITY AT CARNEGIE MELLON UNIVERSITY.
* Carolina Zarate is a student in the INI's integrated master's program, currently in her senior year in CMU's School of Computer Science.