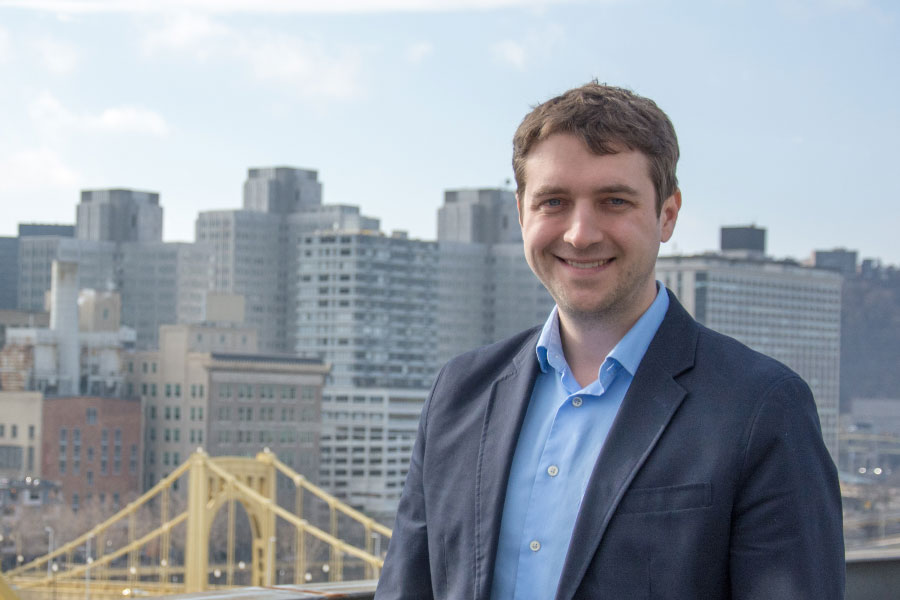 June 30, 2017
Ryan Shaw, alumnus and Arconic CISO, to speak at INI graduation ceremony
By Jessica Corry jcorry(through)andrew.cmu.edu
Ryan Shaw (MS21) will deliver the keynote speech at the Information Networking Institute's (INI) graduation ceremony on Sunday, May 21.
Six years ago, he was on the other side of the podium listening to alumnus Hooman Radfar (MS14) deliver the 2011 diploma ceremony address. Radfar closed his speech with Mahatma Gandhi's quote "be the change you want to see in the world," and Shaw has done just that. 
"In just a few short years, Ryan has transformed from a bright graduate student into a talented, C-level executive who, to my delight, has remained deeply connected to the INI," said INI director Dena Haritos Tsamitis. "Our new graduates have much to learn from Ryan, he's an incredible role model with the unique perspective of knowing exactly what it's like to be in their shoes."
Shaw is the recipient of the 2011 INI Leadership Award, in honor of his initiative, motivation, academic excellence and overall outstanding leadership qualities. After graduation, Shaw supported federal customers as a forensic software engineer at Carnegie Mellon's CERT® before joining Alcoa in 2013, where he led the company's incident response team and served as manager of security, policy and architecture. Today, he is the Chief Information Security Officer (CISO) at Arconic.
"I am incredibly honored to participate at such an important moment in so many students' lives," said Shaw. "I look forward to speaking with the graduates and hearing about their unique post-INI opportunities!"
A 2011 graduate of the INI's Master of Science in Information Security and Technology Management program, now known as the Master of Science in Information Security (MSIS), Shaw considers the INI to be a pivotal point in his academic and professional development.
"The INI successfully balanced technical and interdisciplinary courses that set my career up for success," Shaw said. "Whether I would be responsible for technical deliverables, leading a team, or making critical business decisions, the INI ensured that I would be ready."
Beyond introducing Shaw to his future career, the INI also played a very important role in his personal life: he met his wife, Vicky Theodoreli (MS21), at the INI's 20th year celebration lunch.
"We both moved to attend the INI, so we were able to make friends, explore Pittsburgh, and even hunt for jobs together," said Shaw. "It was certainly a bonding experience!"
After marrying in August 2013, the couple settled in Pittsburgh for careers in the Steel City's booming tech ecosystem.
Get to know Shaw before the ceremony by connecting on LinkedIn.