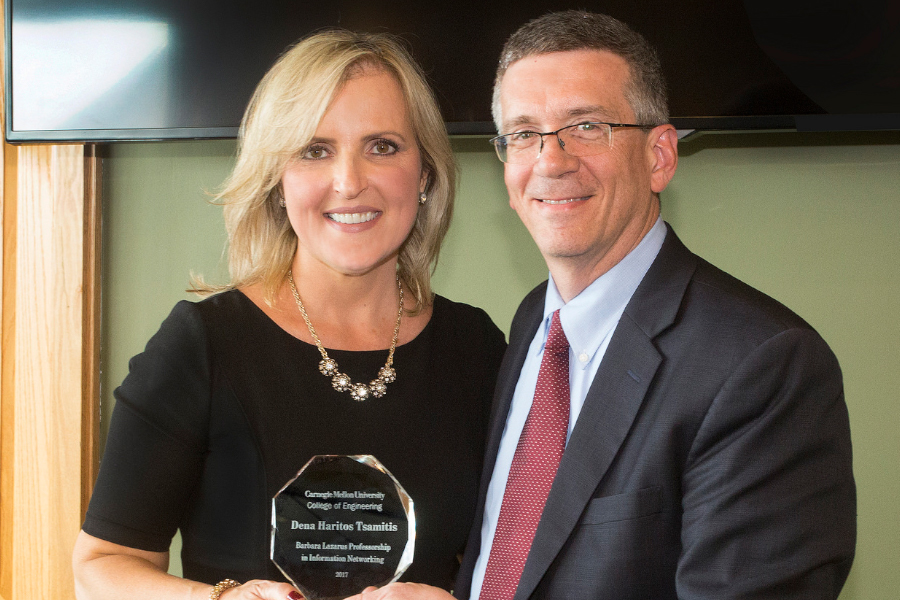 June 02, 2017
INI Director Receives Barbara Lazarus Professorship
By Jessica Corry jcorry(through)andrew.cmu.edu
Media Inquiries
Christa Jones
Director of Marketing and Communications
Dena Haritos Tsamitis
, director of the Information Networking Institute (INI), is the first recipient of the newly established
 Barbara Lazarus Professorship in Information Networking.
She was honored at a reception on April 20 hosted by the College of Engineering Dean James H. Garrett Jr., with Provost Farnam Jahanian, university leadership, staff, faculty, students, alumni,  family and special guest Valerie Plame in attendance.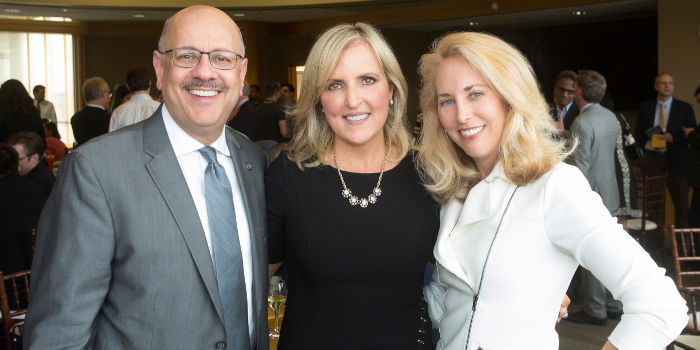 "One of CMU's greatest strengths is the caliber of our people," said Dean Garrett. "It is my pleasure to celebrate the achievements of our friend and colleague Dena as she receives this incredible honor named after another legendary CMU woman."
Honoring the Legacy of Barbara Lazarus
Carnegie Mellon created the professorship to celebrate the legacy of Barbara Lazarus, associate provost for academic affairs, teacher, scholar and beloved member of the university community from 1985 to 2003. Her husband, Marvin Sirbu, who is the INI's founder and a professor of engineering and public policy, attended the reception with the Sirbu and Lazarus families.
"When Barbara and I came to Carnegie Mellon in 1985, she already had a reputation for her work encouraging women to consider non-traditional occupations," said Sirbu. He sees Barbara's commitment to promoting equality and inclusion reflected in Tsamitis, who has over a decade of work fostering diversity at the INI while nurturing the lives and careers of many students along the way.
"Barbara Lazarus was an early champion of the belief that culture matters. I am inspired by her example and incredibly honored to receive this professorship in her name," said Tsamitis. "I hope that your family can take pride in Barbara's continued influence on students, alumni and faculty of Carnegie Mellon."
Joyce Brocaglia, CEO of Alta Associates and founder of the Executive Women's Forum (EWF), praised Tsamitis for her dedication to students and passion for inspiring women. In 2007, Brocaglia and Tsamitis created a partnership that offers an annual INI-EWF fellowship for one remarkable young woman to study information security.
Every spring, after sharing the good news with the selected fellowship recipient, Brocaglia talks one-on-one with the individual about why they should attend the INI. The real reason is not the university, the amazing professors, the remarkable program or the beautiful campus, she explains, but because of Tsamitis.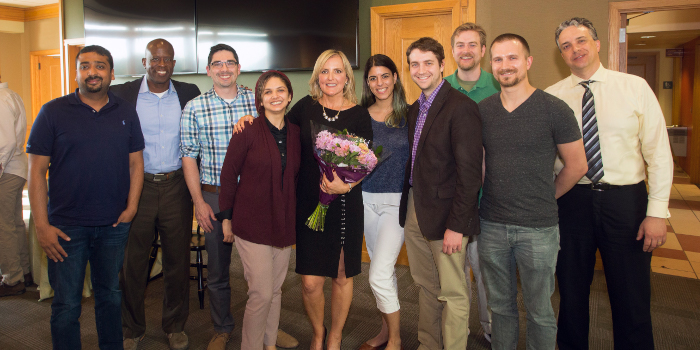 "For INI students, Dena is their lifeline, their person, the one they can turn to celebrate their successes, discuss challenges, grieve over losses and look to for guidance," said Brocaglia. Tsamitis' daughter Eleni O'Brien echoed this sentiment and shared her admiration for her mother's journey to becoming director of the INI.
"My mom was a one-woman show with little support," O'Brien said of her childhood. "But she was pursuing passions and ambitions that would not only lead to a fulfilling career but also one that affords her the platform to inspire and positively influence the lives of so many."
In short, Tsamitis is a real-life superwoman.
"What is so amazing about Dena is not just the fact she's able to do it all, but that she does it with such grace. She gives of herself constantly and she does it for the sheer pleasure of seeing her students succeed," added Brocaglia.
This is the second time Tsamitis has earned a recognition honoring Lazarus' legacy. In 2012, she received the university's Barbara Lazarus Award for Graduate Student and Junior Faculty Mentoring for her work with women and underrepresented minorities and her commitment to creating a culture that supports all.
Inspirational is a word that came up in each speaker's remarks describing Tsamitis, and within two weeks of the celebration she became a source of inspiration for someone a little closer to home.
In her closing remarks, Tsamitis' daughter Eleni shared that her own daughter would be born the following month.
"I look forward to raising her with the values and virtues that my mom has instilled in me in the hopes that she will be inspired to carry the torch forward," said O'Brien.