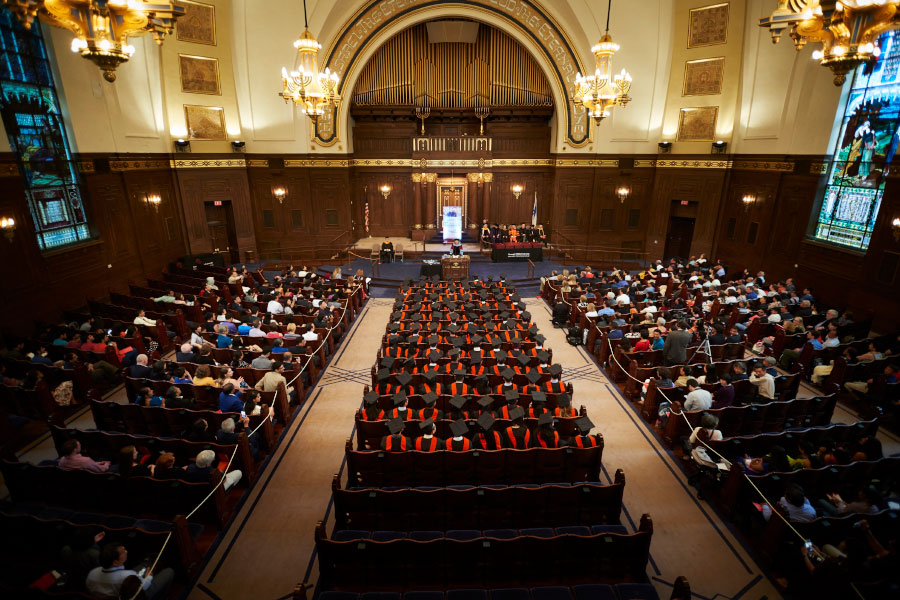 June 27, 2017
2017 INI Diploma Ceremony
2017 INI Diploma Ceremony
By Jessica Corry jcorry(through)andrew.cmu.edu
Be Persistent and Adjust Your Sails

On Sunday, May 21, 2017, the 127 graduates of the Information Networking Institute (INI) celebrated the conclusion of many years of hard work and dedication to earn a master's degree.
Armed with a degree from Carnegie Mellon University (CMU), the MS27 class is diving headfirst into careers at Adobe, Airbnb, Amazon, Apple, MITRE, Salesforce, SAP Labs, United States Air Force, Visa, VMWare and WhatsApp, to name a few.
"Graduates, your passion and drive brought you to the INI. It fueled those late nights and tough exams, pushing you to work harder, study longer and aspire to greatness," said Dena Haritos Tsamitis, director of the INI. "Today marks that very special moment when your passion pays off – you now hold a degree from one of the most prestigious universities in the world."
Tsamitis introduced INI alumnus Ryan Shaw (MS21) as the keynote speaker, praising him as a role model who went from graduate student to talented, C-level executive in just a few short years.
Today, Shaw is the Chief Information Security Officer (CISO) at Arconic and he attributes his success to two traits: persistence and the ability to adjust his sails.
Shaw began his remarks with the story of legendary golfer Gary Player. In response to an onlooker's suggestion that the golfer's abilities were purely luck, Gary famously replied, "The harder I practice, the luckier I get."
"You are not here today because of luck, you are here because of your hard work and your practice," said Shaw, comparing their studies at the INI to Gary's first million swings on the way to becoming an expert golfer. "I urge you to have the persistence to continue to practice even harder than you already have, and life will give you your dreams," he added.
With a nod to his wife's Greek heritage and her country's love of the sea, Shaw drew from the old adage "You cannot change the wind, but you can adjust the sails" for his next piece of advice. It is one which has guided his career choices since graduating from the INI in 2011, including accepting a management position at Alcoa and later assuming the role of CISO at Arconic.
"From the moment you receive your diploma, continue to practice your very hardest and don't be afraid to adjust your own sails," Shaw said. "Do this and I promise you life's winds will seem to be blowing you in the right direction, almost as if you are lucky."
Several graduates were recognized with student awards for their exemplary work:
Outstanding Student Service Award for Teaching Assistant – Adwiteeya Agrawal
"Last fall, we did not need a PhD student to direct the other five TAs—Adwiteeya's level of maturity and excellence was such that we had no reservation whatsoever tasking him with that role," said Professor Nicolas Christin. "He repaid us by delivering an outstanding service as a Teaching Assistant."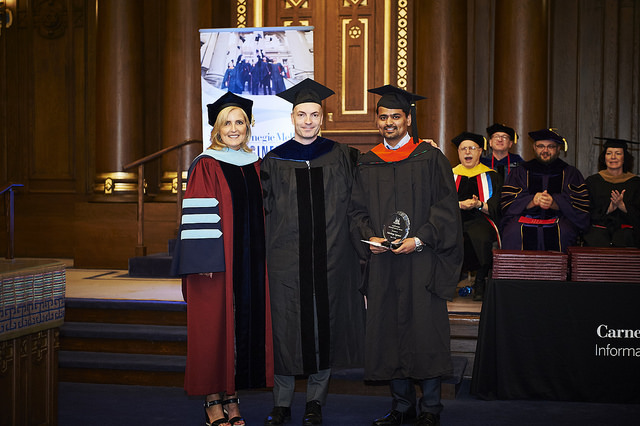 Outstanding Student Service Award for Research Assistant – Manideep Konakandla
"Manideep's contributions towards finding vulnerabilities in container technologies and suggesting patches have helped millions of users who are early adaptors of the technology but are skeptical about its security," said Professor Limin Jia. "Manideep undoubtedly helped raise the profile of CMU and INI."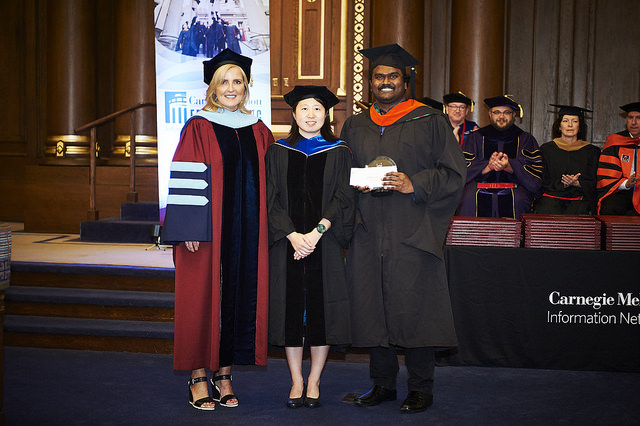 INI Leadership Award – Jennifer Burns
"As a leader, Jen is a master of leading by example. She never judges and treats everyone with respect," said Professor Limin Jia. "Her calm and resolved demeanor has encouraged her fellow students and teammates to rise to the occasion in the face of challenges. Students look up to Jen and seek her guidance. Jen has inspired others to work their hardest and be the best version of themselves."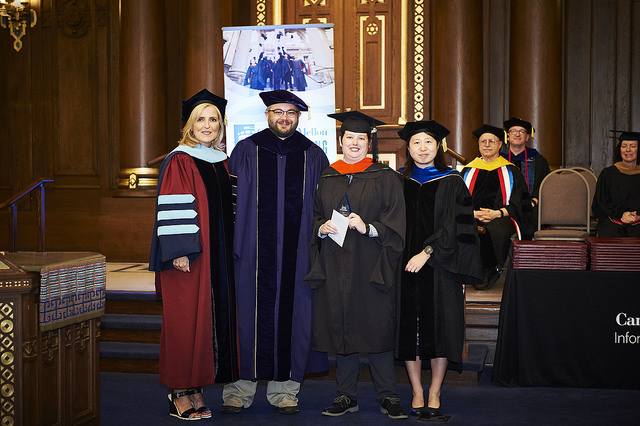 Innocent Habiyaremye Memorial Award – Melanie Rich-Wittrig
"She cares about other students and always wants to make sure they get as much out of their experience at CMU as she does, if not more," said Professor Patrick Tague. "All of the students know her, respect her, and love what she does for the INI."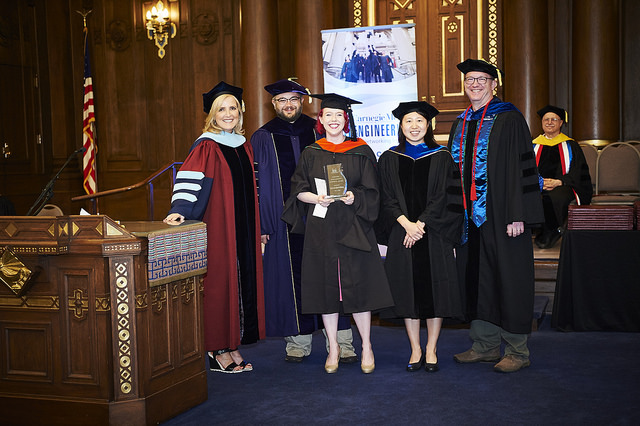 The graduation ceremony took place at 4:00 PM on May 21, 2017 at Rodef Shalom, located on 5th Avenue in Oakland. 127 students graduated from the M.S. in Information Networking (MSIN), M.S. in Information Security (MSIS), Pittsburgh-Silicon Valley M.S. in Information Technology (MSIT-Information Security, MSIT-Mobility, and MSIT-Software Management), and Kobe M.S. in Information Technology (MSIT-IS) programs.
About Ryan Shaw
Ryan is the Chief Information Security Officer of Arconic, a lightweight metals engineering and manufacturing company. His primary duties include managing cyber-security risk, leading the global incident response team, raising awareness of modern threats, overseeing regulatory compliance activities, and acting as an agent of change. His engineering, technical, and managerial experience enables him to stay in touch with daily risks while simultaneously sponsoring strategic security needs at an executive level.
Throughout his career, Ryan has held a range of roles such as Forensic Software Engineer and Adjunct Faculty at Carnegie Mellon University. He has supported federal law enforcement both as an employee and contractor, and has taken that cross-sector experience to improve his interaction with customers. Ryan has been the recipient of multiple leadership awards, including the INI Leadership Award and IEEE Student Branch Student Leader of the Year. In his spare time, Ryan programs and studies embedded electronics, performs ethical penetration testing, and flies drones.
Ryan received his Master's from Carnegie Mellon University in Information Security and Technology Management. He holds a B.S in Computer Science and Information Systems, with a focus in digital forensics, from Stockton University.