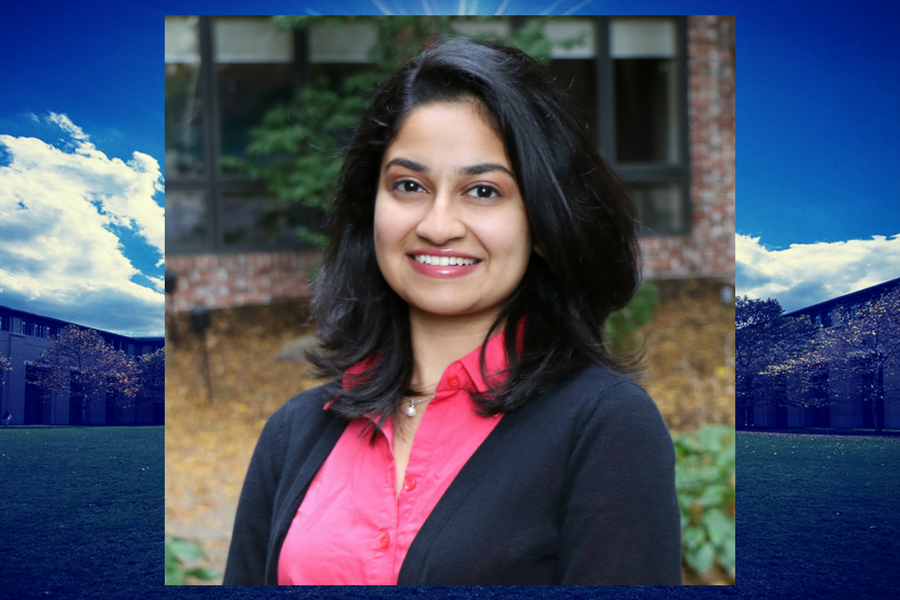 October 23, 2017
Nishchala Tangirala receives tenth EWF INI Fellowship to study information security
By Jessica Corry jcorry(through)andrew.cmu.edu
In the wake of major security breaches at Yahoo and Equifax, Nishchala Tangirala is committed to protecting global citizens from these ever-evolving cyber threats. Through a full-tuition fellowship awarded jointly by Carnegie Mellon University (CMU)'s Information Networking Institute (INI) and the Executive Women's Forum on Information Security, Risk Management and Privacy (EWF), Tangirala is one step closer to realizing her dreams of becoming a Chief Information Security Officer.
Tangirala's education is made possible through a partnership between the INI and EWF, sponsored by Alta Associates, that offers fellowships to underrepresented minority and female graduate students. By supporting full tuition costs, the EWF INI Fellowship eases the financial burden of a Carnegie Mellon master's degree and increases the diversity of the student body and the field of information security. 
At the 15th Annual EWF National Conference on October 24-26, Tangirala will be recognized as the fellowship's tenth recipient and celebrated alongside the nine previous recipients, many of whom are now working at major companies such as Microsoft, Apple, Google, Facebook, Palo Alto Networks, Red Hat and Ernst & Young. ​
"With a projected shortage of qualified cybersecurity professionals looming on the horizon, tackling the field's diversity challenges has never been more important," said Dena Haritos Tsamitis, director of the INI and member of the EWF Board of Advisors. "Over the past decade, INI and EWF have developed the next generation of women leaders, each of whom has an inherent desire to pay it forward by supporting opportunities for others in their community."
Founded in 2002, the EWF is the largest member organization serving emerging leaders and influential female executives in the security, risk management and privacy field. In addition to financial assistance, fellows gain access to the EWF community of mentors who have reached executive levels in their careers. This intense level support has helped to lift these scholars toward success.
"As the EWF celebrates its 10th anniversary of partnering with INI, we are thrilled to be awarding a scholarship to Nishchala Tangirala," said Joyce Brocaglia, founder of EWF and CEO of Alta Associates. "The EWF's mission is to engage, develop and advance women leaders and as such we are looking forward to having Nishchala join our community."
During her undergraduate studies at the University of Nebraska, Tangirala interned with Union Pacific and ConAgra and learned firsthand the importance of protecting businesses from security risks. Yet it is the recent consumer security breaches that inspired her passion to create a secure and happy cyberspace for each and every global citizen.
"The INI is the perfect platform for me to realize my dreams of becoming a security expert," said Tangirala, noting the program's technical curriculum, specialization in information security and experienced faculty. "But for this generosity bestowed on me, it would not have been possible for me to pursue my master's degree at my dream university, Carnegie Mellon, and at the best department, the INI!"
Read the full PR Newswire release.
---
About the Information Networking Institute
The Information Networking Institute (INI) at Carnegie Mellon University (CMU) educates and develops engineers through technical, interdisciplinary master's degree programs in information networking, security, and mobility that incorporate business and policy perspectives. Founded in 1989, it is an integral part of the College of Engineering, and a collaboration of the School of Computer Science, the Tepper School of Business and the H. John Heinz III College.
About the Executive Women's Forum on Information Security, Risk Management & Privacy:
Founded in 2002, the Executive Women's Forum on Information Security, Risk Management & Privacy (EWF) is the largest member organization serving women leaders as well as the most prominent and influential women in Information Security, Cybersecurity, IT Risk Management, Governance Risk & Compliance and Privacy. The EWF's mission is to advance women in our field through leadership development, education and the creation of trusted relationships. The EWF achieves this goal by facilitating programs and events throughout the year including a National Conference, regional meetings, leadership development programs and interaction with global thought leaders through an online community. For more information visit,  www.ewf-usa.com. 
About the EWF INI Fellowship
The Information Networking Institute (INI) partners with the Executive Women's Forum (EWF), sponsored by Alta Associates, to offer a full scholarship to an incoming INI student. Alta Associates is a premier executive recruitment firm specializing in Information Security, IT Audit, Risk Management and Privacy. This scholarship was first offered in the Fall 2007 to support a student from a historically underrepresented population. Awardees, known as EWF INI Fellows, receive a full scholarship and have the opportunity to be mentored by an EWF participant who is at a senior level in the information security field. For more information, click here.