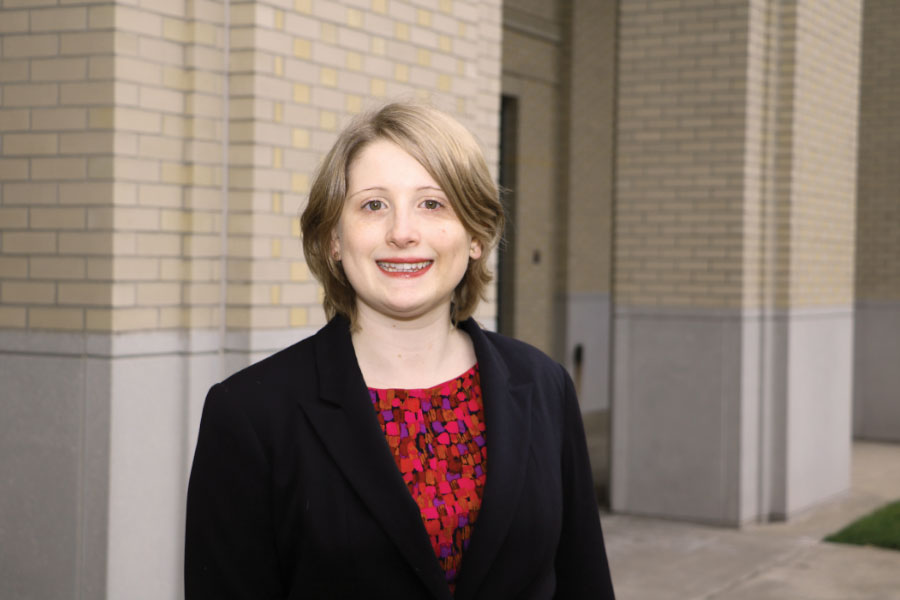 January 31, 2017
Caitlin Hanley receives INI-EWF Fellowship to study information security
By Jessica Corry jcorry(through)andrew.cmu.edu
Caitlin Hanley was first exposed to cybercrime during a high school exchange program in Germany. All it took was a few Internet searches while prepping for an English class presentation about chocolate. After wrapping up her research, Hanley was horrified to discover her computer had been infected with a virus.
"After many hours of frustration, I realized that I could not defeat the virus with my computer skills and knowledge," she said. "The experience sparked a desire to learn how computers work and how they can break."
Hanley is currently a Master of Science in Information Security (MSIS) student at the Information Networking Institute (INI), where she is learning the exact skills she lacked when she got her first computer virus.
Her education at Carnegie Mellon University (CMU) is made possible through a full-tuition fellowship provided jointly by the INI and Executive Women's Forum (EWF). After 10 successful years, the partnership between the EWF and the INI has been renewed and will continue to develop students like Hanley into leaders in information security and privacy.
"We are thrilled to have Caitlin as our EWF Fellow," said Joyce Brocaglia, EWF Founder and CEO Alta Associates. "The EWF is committed to developing the next generation of women leaders in cybersecurity and we look forward to mentoring and supporting Caitlin throughout her education and career."
During her junior year at the University of Alabama, Hanley interned at the Joint Electronic Crimes Task Force (JECTF) and worked alongside law enforcement on a digital investigations team. The experience sparked Hanley's interest in a digital forensics career, and she chose the INI largely because of its Cyber Forensics and Incident Response Track (CyFir).
"Our partnership with EWF is just one facet of the INI's commitment to creating a nurturing and inspiring environment that promotes and celebrates gender and cultural equality," said Dena Haritos Tsamitis, director of the INI. "Caitlin is an exceptionally promising student and this opportunity gives her the chance to fulfill her potential in the field of information security."
Receiving the INI-EWF Fellowship made attending Carnegie Mellon a reality and moved Hanley one step closer to achieving her dream of becoming a Chief Information Security Officer (CISO).
"I hope to learn which security policies work, how criminals are evolving and what can be done to secure sensitive information," she said. "In this field, I want to go from retrieving and analyzing evidence after an incident has occurred to leading a team that prevents digital intrusions from happening."
In October 2016, Hanley attended the annual EWF conference with previous INI-EWF Fellows. She described it as an amazing experience meeting such a diverse and talented group of women leaders in technology.
"Through talking with the women of EWF, I saw how unique their perspectives on information security were," she said. "We can learn so much from each other if we take the time to listen. Together, we can do great things!"
The INI-EWF Fellows over the past 10 years are:
2007 – Amy Rambhia, MSISTM (now MSIS), Senior Program Manager at Microsoft
2008 – Tyelisa Shields, MSIT-Information Security, Program Risk Manager at Apple
2009 – Krystal Ying, MSIT-Information Security, Middleware Consultant for Red Hat
2011 – Dolly Karaba, MSIT-Information Security, Cybersecurity Advisor at EY
2011 – Tara Darbyshire Fellowship, Jonida Cali, MSIT-Software Management, VMware
2012 – Erye Hernandez, MSISTM (now MSIS), Senior Malware Researcher at FireEye
2013 – Grace Kihumba, MSIT-Mobility, Google
2014 ­– Hana Habib Qudsi, MSIT-Information Security, PhD Student at Carnegie Mellon's Institute for Software Research (ISR)
2015 – Melanie Rich-Wittrig, Current MSIS Student
2016 – Caitlin Hanley, Current MSIS Student 
About the INI-EWF Fellowship
The INI has partnered with the Executive Women's Forum, sponsored by Alta Associates, to offer the INI-EWF Fellowship to graduate students. The INI-EWF Fellowship supports full tuition costs in order to ease financial worries for these students. In addition, they gain access to mentors who have reached executive levels in their careers. This intense level support has helped to lift these scholars toward success. Major companies, such as Microsoft, Hewlett-Packard, Lexmark and Ernst & Young, have recruited previous recipients of the INI-EWF Fellowship.