December 01, 2015
INI director visits alumnus Innocent Habiyaremye's family in Rwanda
By Jessica Corry jcorry(through)andrew.cmu.edu
The essence of Innocent Habiyaremye is captured right there in his first name.
"Innocent had this huge smile. He could light up a room," said Dena Haritos Tsamitis, director of the Information Networking Institute (INI).
When the alumnus died suddenly in 2012, the INI community was stunned. "This was a young man who overcame tragic circumstances in his life, yet still exuded such goodness and grace," Tsamitis said. "He was lost far too early."
During a trip to Carnegie Mellon Rwanda in June 2015, Tsamitis had the opportunity to visit Innocent's hometown of Kigali. "Innocent's family was as warm and welcoming as I remember him to be," said Tsamitis. "They feel both honored and humbled that their son touched so many lives."
In an effort to keep his memory alive, the INI established the annual Innocent Habiyaremye Memorial Award. It is presented to an INI graduate student who embodies the sense of community spirit for which Innocent was well known.
Innocent grew up in Kigali, Rwanda, and was among a handful of eager students Carnegie Mellon recruited from Rwanda. He moved to the United States in 2008 to pursue the INI's Pittsburgh-Silicon Valley Master of Science in Information Technology (MSIT)-Information Security (IS) program.
"There are some people that you can tell are special from the first moment you meet them. That's how it was with him," said Marullus Williams, a 1995 graduate who worked closely with Innocent on the INI's Alumni Council. According to Williams, Innocent's courage was an inspiration. He overcame difficult circumstances in war-torn Rwanda and not only was accepted to Carnegie Mellon, but excelled in a highly competitive program.
Through it all, Innocent demonstrated a desire to give back. "You would never hear him say no," added Williams.
Indeed, says Alain Kajangwe, Innocent was exceptional. A fellow member of that first cohort of Rwandan students, Kajangwe observed firsthand how Innocent balanced demanding course work with deep involvement in Carnegie Mellon's community. Together in 2009, they organized a commemoration in Silicon Valley of the 15th anniversary of the Rwandan genocide, in which Innocent lost a brother.
"Alumni donations are a way to give back to an institution that has given us a lot, and Innocent found a way to start giving back, even before he left CMU," said Kajangwe. "And I am sure, today, he would be among to first to contribute to a similar fellowship."
Fighting back tears, Tsamitis presented the first annual Innocent Habiyaremye Memorial Award to Alberto Cursack at the 2015 graduation ceremony. Those who nominated Alberto emphasized how he had invested extensively in giving back to his community, aspiring to be a good person who set an example for others.
It is a description that echoes how Innocent is remembered, as an individual with extraordinary impact on the community.
"Innocent was a shining example of someone with incredible community spirit, and his memorial fund allows us to honor him every year by recognizing a student with similar qualities," said Tsamitis.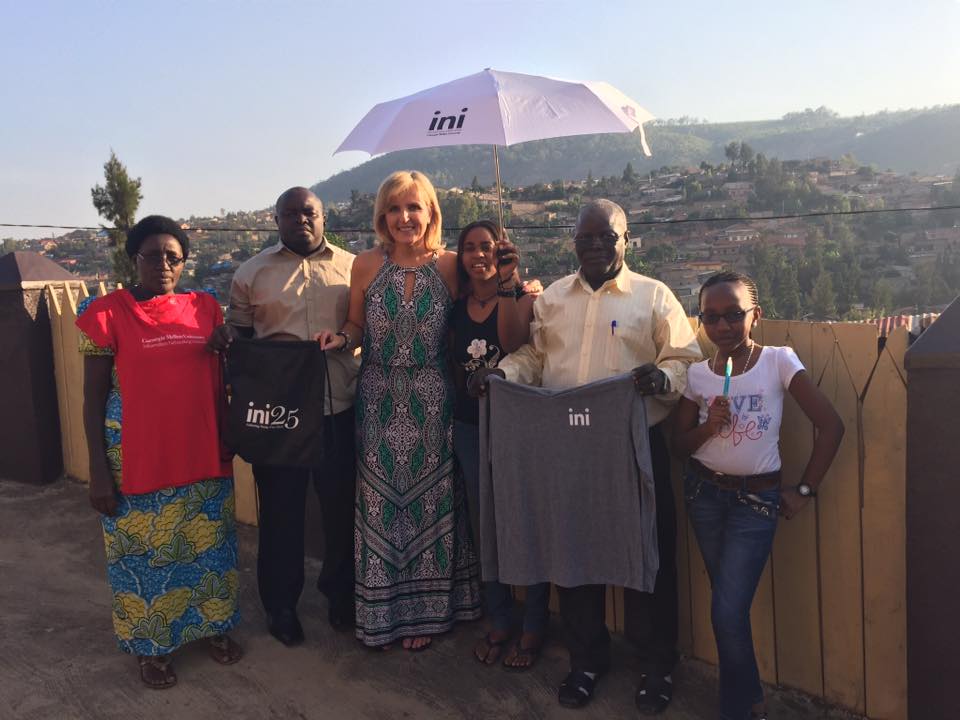 Pictured Above: Innocent's family in Kigali displayed their INI pride with Dena Haritos Tsamitis, director of the INI, during her visit to Rwanda.