Catherine Fang
Adjunct Professor
Contact
Address
Mountain View, CA
Bio
Catherine Fang is an entrepreneurial product leader who is passionate about building intelligent software products powering social networking at both large-scale and enterprise platforms. She has 18 years of product management, go-to-market strategy, and software development/architect experience managing products with globally distributed resources (U.S., UK, Hungary, India, China, Japan, Brazil, etc). Catherine specializes in areas including: machine learning-based social network content recommendations, global digital audience targeting strategy for content marketing and advertising, and audience look-alike modeling.

In addition to her role at the Integrated Innovation Institute, Catherine works as an Chief AI Product Manager at AICare partnering with Stanford Medical School and Stanford Hospital on biomedical platforms. She is the co-founder and CEO of ECAdvisor, an educational platform for software product strategy consulting and personalized recommendations. Previously, she had worked as Group/Senior Product Manager at
 LinkedIn, Yahoo, and BlueKai (acquired by Oracle), 
and as software architect/developer 
at Sun Microsystem.
Areas of Expertise
Product management
Go-to-market strategy
Software development/architecture
Integrated Innovation Courses
Software Product Definition
Software Engineering Management

Artificial Intelligence for Product Managers
Education
Master of Science in Software Management, Carnegie Mellon University
Doctor of Philosophy (PhD) in Computer Engineering, Northwestern Polytechnic University
Bachelor of Science in Information Management, Peking University
Patents
U.S. Patent "Multi-Profile Tracking Identification of a Mobile User" in 2014 (US20140372224) - Methodology proposed to and partly adopted by industry standard organization "Interactive Advertising Bureau" (IAB), a standard org to conduct research and provide legal support for online advertising industry globally.
U.S. Patent "Client Caching Identification Tracking" in 2014 (20140372225)
U.S. defensive publication "A Mail Categorization System for Displaying Advertisements" in 2011 - View details
U.S. patent "Advertising Exchange System to Share Online Audiences" in 2011 (US20110119128) - Implemented in Yahoo Global Advertising Exchange Platform serving 400+ US newspapers generating multi-million dollars revenue.
Awards
Machine Learning System used to power 2012 Summer Olympic digital campaigns and Presidential Election digital campaigns.
Cross-organization award on product innovation: Automated Advertising Inventory Classification, Yahoo, 2010-2011 - The solution was launched to Yahoo! Mail and Yahoo! Global News in production with positive impact to revenue.
Company Tech Talk on Product innovation, Yahoo, 2009 - Audience Sharing from Incubation Idea to Revenue Generating Solution
Featured Stories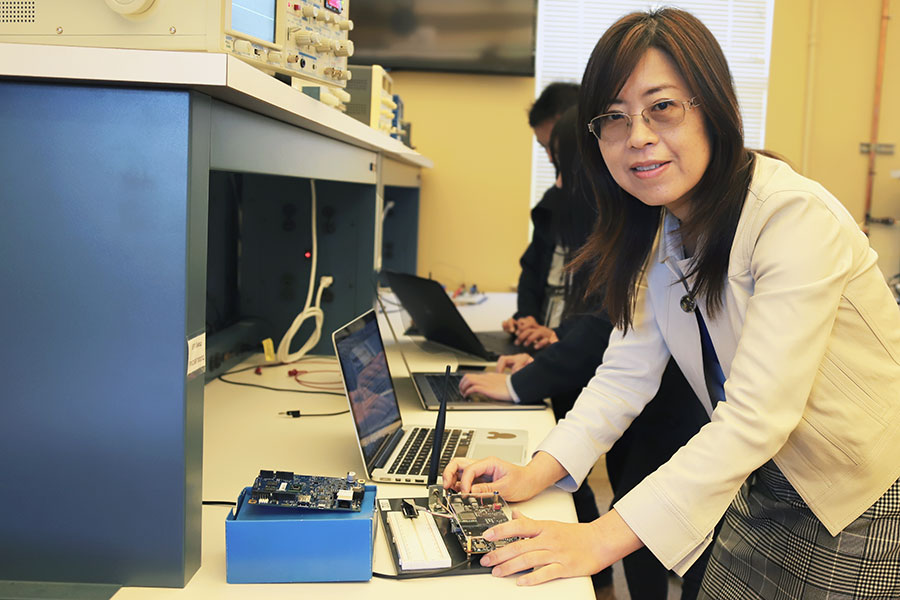 Dr. Catherine Fang explores the impact of new technologies on the role of product manager.
In a new course, students learned essentials for programming for the Internet of Things, especially the Web of Things, the application, and user-facing layer, while applying their knowledge to solve real-world challenges through final projects. 
Faculty and former product manager Catherine Fang presents to students on how to land a PM position at Silicon Valley's top tech companies. 
At MVHacks, Integrated Innovation students decode the path to tech careers for local teens.