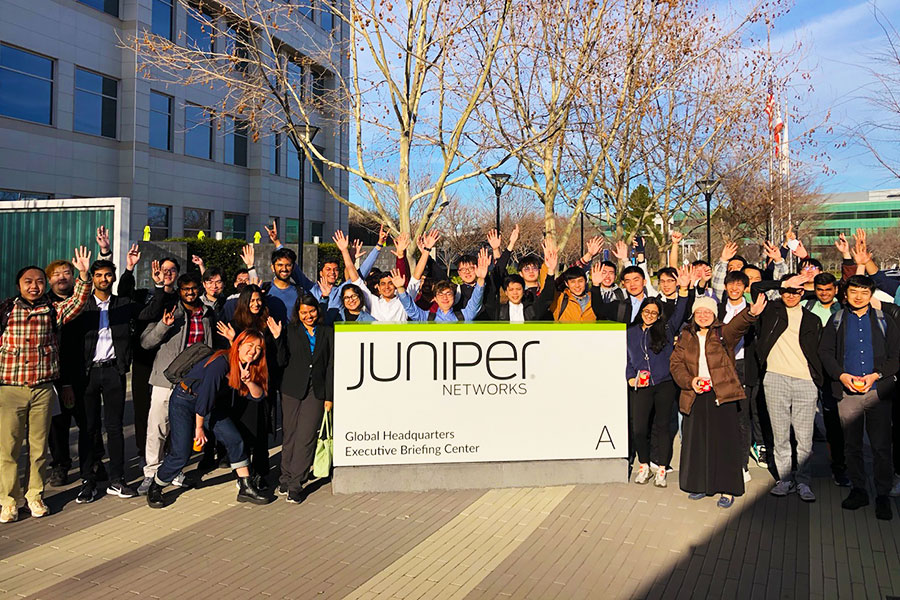 The Networking Industry of Tomorrow: A Tech Trek to Juniper Networks
By Utkarsh Khandelwal ukhandel(through)andrew.cmu.edu
Students at the CMU-Silicon Valley location recently had the opportunity to take a tech trek at Juniper Networks. This unique and exciting experience allowed students from the Master of Science in Software Management and Master of Science in Technology Ventures to gain a better understanding of the company and the networking industry. 

Students on the trek learned about Juniper Networks' products and services and how they use them to help customers transform their businesses. A leading provider of networking and security solutions for the enterprise and service provider markets, Juniper Networks, is working to help to drive the future of the networking industry.


"The tech trek at Juniper Networks was an incredible opportunity. I was able to see first-hand the cutting edge technology that Juniper is working on and learn about the future of the networking industry."
Additonally, students were able to explore the Juniper global headquarters in Sunnyvale, which was a highlight of the trek. They were able to see the company culture in action and get a sense of what it's like to work at Juniper Networks, while forging new CMU connections with alumni who are currently employed at Juniper Networks, a valuable networking experience.

One such connection was Pradeep Sundhi, Juniper Networks founder and CMU alumi. Students were able to see real-world proof that individuals in the CMU alumni community are leading innovations in the industry and attemping to enact positive change around the world. 



"The tech trek at Juniper was an amazing experience, I learned about the networking industry from experts, and was impressed by the company culture and the passion of the employees."
Another highlight of the tech trek was learning about the current and future state of the rapidly evolving networking industry. As technology continues to impact individuals across the globe daily, organizations, like Junper Networks, must evolve, innovate and push the boundaries to meet user demands.

The tech trek at Juniper Networks proved to be a valuable experience for CMU-Silicon Valley students and it provided them with a glimpse into the future of the networking industry.