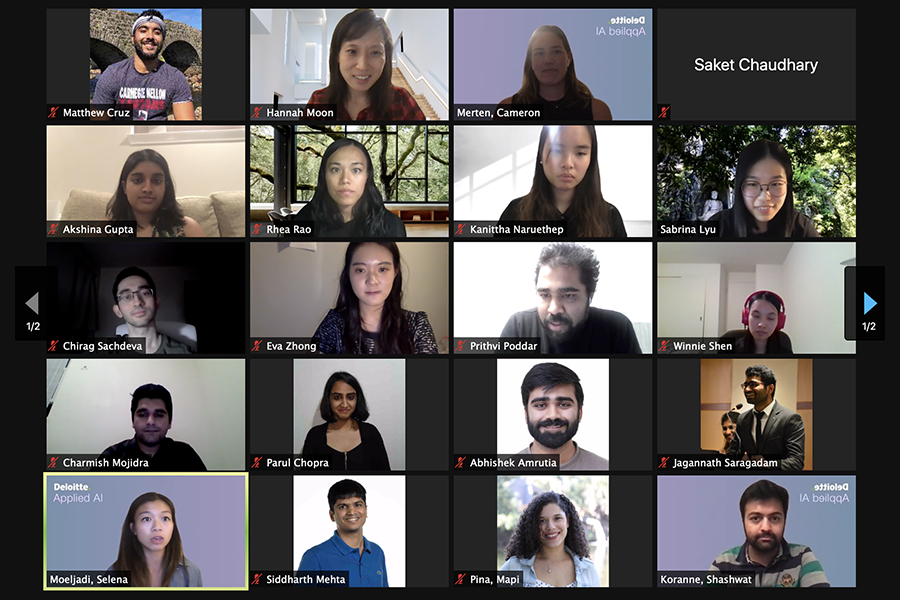 October 27, 2020
One Hour, One Solution, One Top Prize at the Deloitte JAM
By Elizabeth Donaldson edonalds(through)andrew.cmu.edu
At the Deloitte JAM, students are given sixty minutes and a lot of data to solve a nuanced problem.
"We had one hour to come up with an idea that improves audience virtual engagement for college football games," says Hannah Moon, student of the Master of Integrated Innovation for Products & Services, Advanced Study program.
Working alongside six other Carnegie Mellon students from across the University, Moon and her team analyzed the data supplied by Deloitte and dissected the problem: in our COVID-driven virtual world, how can universities increase student viewership of college football games?
"We spent some time reframing the question and found ourselves asking how might we increase viewership by optimizing interactive experiences," Moon explains. "The judges from Deloitte really liked how we reframed the problem statement. Other teams focused solely on either technology or design, but we embodied a human-centered design methodology to frame the problem."
Moon's team of six was diverse, including students from information and data sciences backgrounds. The varied skillsets strengthened the team, notes Moon: "IPD made the problem-solving process really easy for me, and my teammates from data science backgrounds were great at exploring the target viewers."
By reframing Deloitte's needs, Moon's team created a precise and narrow scope for their solution. The team focused on opportunities for gamification, recommending the development of playful at-home experiences to engage and inspire viewers.

A screenshot of Moon's slides describes the team's process and recommended solution
The Deloitte judges were impressed. Moon and her team had concisely reframed the problem and developed a creative, data-backed solution. At the end of the hour, her team was announced the competition winner.
"It was a great experience and a really friendly environment," Moon says, noting that the Deloitte Head of Design spent time visiting with each team, answering questions, and offering feedback. "Even though we were competing, it was a friendly, comfortable atmosphere."
The competition was unique, too, because the top prize wasn't just a title: it was an opportunity to interview with Deloitte. As Moon prepares to graduate this December, she says the experience has influenced her career goals. She looks forward to defining her career through collaboration with diverse teams and by solving complex problems.