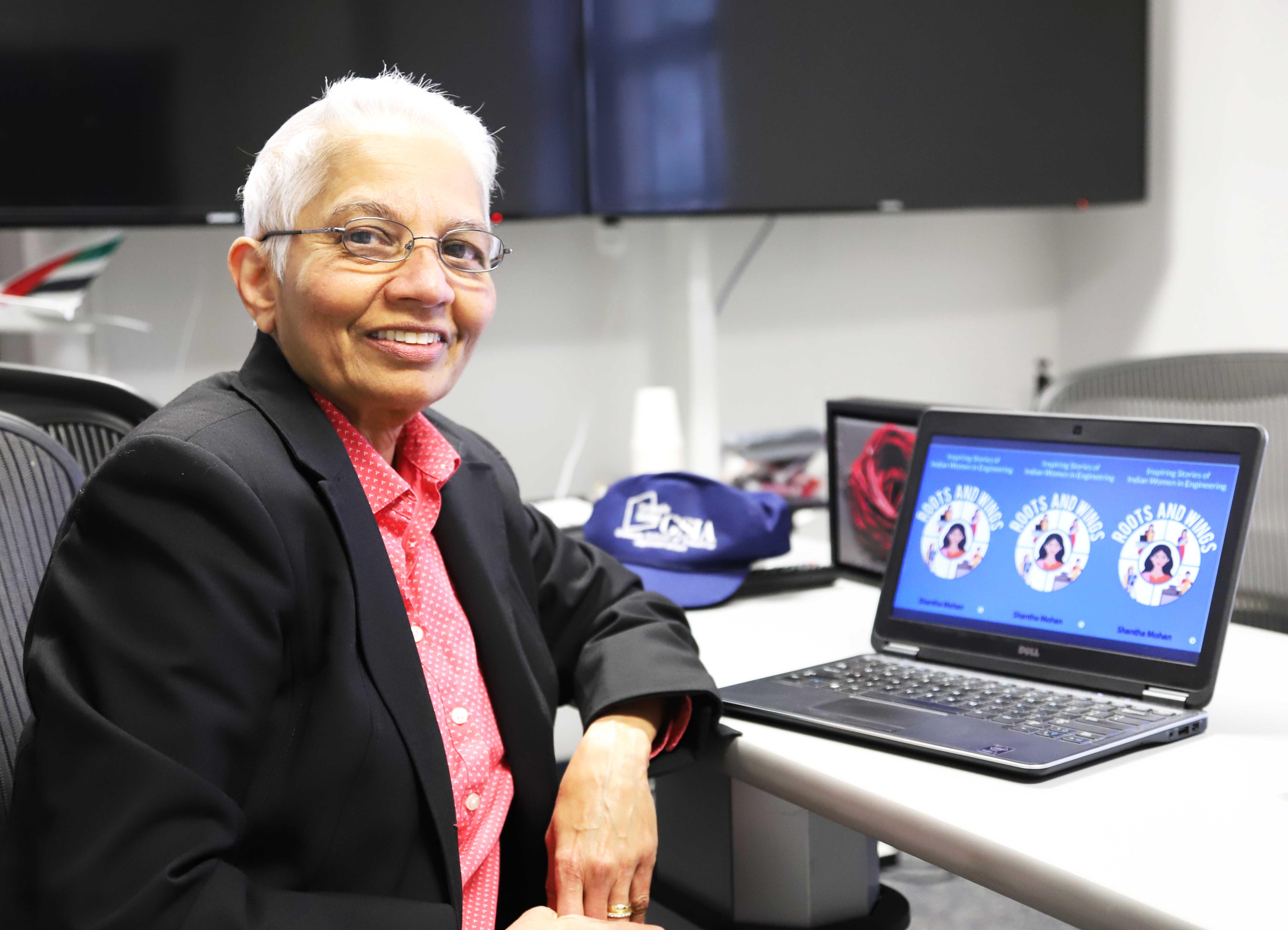 April 17, 2019
Dr. Shantha Mohan: Uplifting Engineers Through Storytelling
As the Integrated Innovation Institute celebrates its fifth anniversary, faculty share what's next in their field of expertise. Dr. Shantha Mohan, a senior software engineering leader and entrepreneur, mentors students as Executive In Residence at the Integrated Innovation Institute. In 2018, Mohan released her book "Roots and Wings: Inspiring Stories of Indian Engineering Women," sharing the experiences of alumnae from India's oldest engineering college.
Q: Why did you decide to write "Roots and Wings?"
A: At the end of 2016, I retired from Retail Solutions, the company I co-founded in the Silicon Valley, and decided to spend my time mentoring, and giving back to the educational institutions which made my career possible. While doing my undergraduate in engineering at College of Engineering, Guindy (CEG), Chennai, the oldest engineering college in India, I was focused solely on my studies, and was oblivious to the rich history of my alma mater, and the special place the very few women in college held among the thousands of male engineering students. Now, with a high awareness of the importance of encouraging women to participate in the technology fields, I wanted to put female role models in front of girls and women to promote STEM education, and decided a good way to do that was to write about the CEG alumnae who started it all in India. I wrote this book for girls back in India. There are some girls who know what they want from a very early age and there are some who aren't so decided. They may have no idea what it means to be an engineer. I thought about girls who don't grow up with any professionals as role models.
Q: How did you collect stories for the book?
A: The book took more than a year to write, and covers the stories of twenty-nine women who graduated from 1943 to 1971. I started by reaching out to my alumni connections and getting a list of female alumni by year of graduation. Once I had the names, I reached out to other alumni via Facebook pages, and LinkedIn connections to find out more. I also used extensive internet searches. I must say that I am pretty good at it, and I am persistent. Once I had a contact for an alumna, I contacted them or their families through different means – emails, phone calls, Facebook messaging, LinkedIn messaging - to collect information. This was quite challenging, since the time difference made it very difficult to have a phone conversation.  I posted each story on my website, after getting the buy-in from the families of deceased alumnae, and the living alumnae. The book is a collection of these stories.
Q: You feature alumnae who graduated decades before you. What did you learn from women of different generations? How were their experiences different or similar?
A: Many of the very early Indian women engineers pursued engineering because their fathers or families wanted them to do so. As we approach the recent decades, that had changed. Many women took up engineering in spite of opposition from their families. For early women alumnae, just the effort to get to the college was huge. They were disadvantaged because the men had dorms, but there was no place for women on the campus. So they had to stay off-campus and commute. This continued even to my days where we had to stay in a women's hostel outside the campus.
The one outstanding quality of women in the book is that they were all high achievers, and simply ignored any put-downs and went about reaching their goals, irrespective of the generation. And another important characteristic of the women is their resiliency in the face of adversity, irrespective of the generation they were part of. I advise my mentees to be resilient by following what they've set out to do! That can be hard, so you have to find a support system, a fellow traveler, and get the strength to keep moving.
What also struck me as I was writing was that life is not all about what you decide when you're sixteen or seventeen. Sometimes, you come across opportunities that look like something you may be interested in, so you have to try it out. I wanted to tell young girls that flexibility is probably the most important characteristic that you can have. Be flexible, be resilient, and things will work out.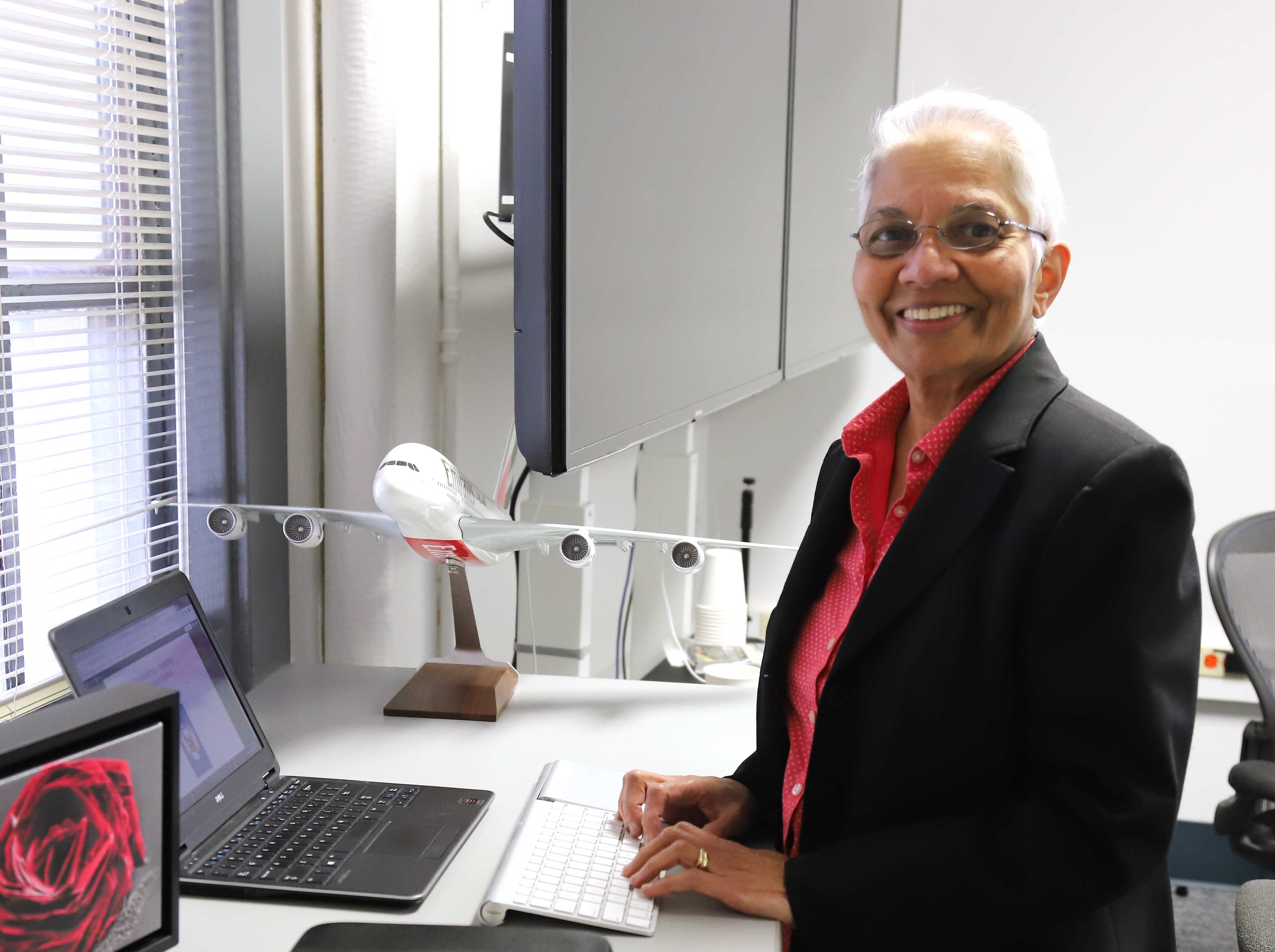 Dr. Shantha Mohan at Carnegie Mellon University in Silicon Valley
Q: What advice do you have for women navigating careers in male-dominated fields?
I believe it is a wonderful time to be entering the workforce. The corporate environment has become more aware of the importance of cultivating women leaders.  Corporate cultures are becoming more inclusive, more diverse. Today's women have grown up in a world that values gender equality much more than in the past, and are much more confident, independent, knowledgeable, and driven to succeed.  There are amenities available to working women today – someone to do your shopping, services to deliver food etc. that make it possible for women to spend more time on their careers, if they choose to. There is also more support for women, from women, with the understanding that together, we go far.
When it comes to your career, ignore gender. Be focused. Have great aspirations, and work towards them. Put excellence and quality into everything you do. Stay current on technical advances. Build yourself a strong support network – starting with your spouse, if you have one. Find a mentor, a sponsor, who can help you grow. Let your work speak for itself, but make sure you are visible in the organization, and your chosen industry. Don't be afraid to beat your drum.
My mentoring style is all about listening and figuring out what my mentees want to get from our mentoring relationship. It's important to develop both immediate picture and long-term goals. I've learned that, if you don't have a few small wins in the short term, you can be get discouraged or lose sight of long-term goals.
Q: Who were some of the people or mentors who influenced you in your career?
A. When I was growing up, my father was my hero. He used to tell a story that he had always wanted to be an engineer, but couldn't. He had a widowed mother to take care of. When he applied to colleges he had the option between engineering and medicine, but to study engineering, he would have to move and live on campus. So, he decided to stay home and study medicine. That story always stuck with me and, coupled with my interest in how things worked, I always knew I would be an engineer.

I also had a fantastic advisor for my PhD, Gerald Thompson. He helped me understand the process, what it means to be a risk-taker, and how to write.

At my first job in the USA, I had a wonderful boss who saw what I could do and was supportive of promoting me to a project lead, then, a manager. The CEO of the company noticed my capabilities and mentored me in my career progression to become head of software development. Later he asked me to join him in co-founding a company, and that's when I became an entrepreneur.

I've also learned a lot by being a mentor. I've always had this engineering mind that tries to solve every problem. When I hear someone say, "I have a problem with this, I'm not sure how to address it," my reaction is to say, "You can do x, y, or z." Over time, I've learned to ask more, to listen more to what people are thinking.