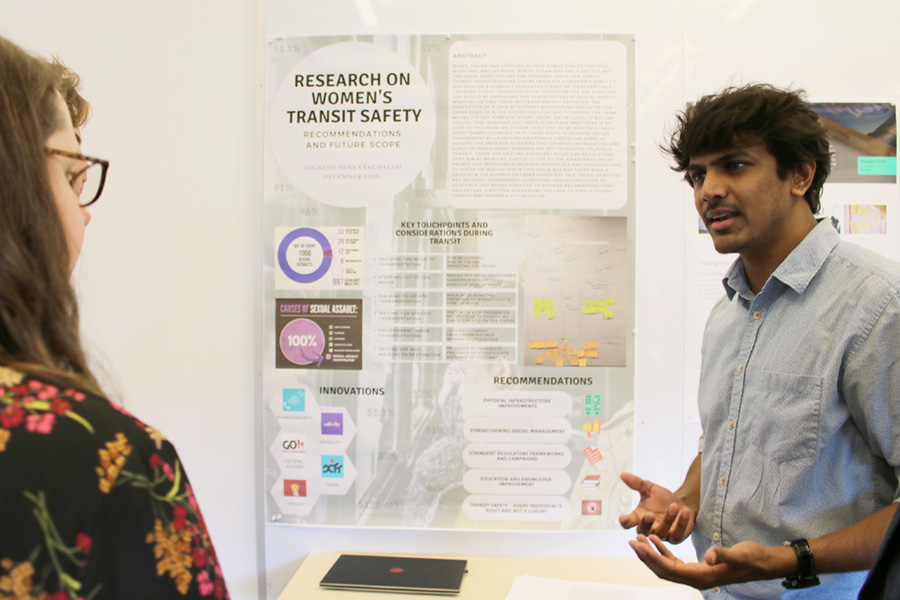 December 12, 2018
Presenting What's Next: MIIPS Advanced Study Master's Essays
By Elizabeth Donaldson edonalds(through)andrew.cmu.edu
Students of the Master of Integrated Innovation for Products & Services - Advanced Study program spend their final semester working on the master's essay, a culmination of their experience. The essay is an application of the teachings of the program and the summer internship as well as a deep exploration of current and potential innovations for a topic of the student's choice. 
On December 7, MIIPS Advanced Study students presented their work at a poster session, inviting III faculty, staff, and classmates to ask questions and learn about their research. 
Explore our 2018 master's essays by topic
Artificial Intelligence & Machine Learning

With the combination of voice and visual interactions, how will the future home assistant benefit the lives of humans?
By Hongyu Chen
"People worldwide are increasingly accepting home assistants in their daily life. Current home assistant products can help people finish many things, however, they also show some limitations as users apply them to wide range of scenarios. With the popularization of home assistants in the coming future, users will expect more tasks to be done through their home assistant. By then, the home assistant will be combined with different interaction modes to serve people. What's more, it probably will be integrated with other smart devices or sensors for building an IoT ecosystem which brings unexceptionable living experience for users. Exploring new interaction ways for future home assistant to address these problems is becoming a necessary topic to research."

What is the future of conversational interfaces?
By Cansu Tanatmis
"Conversational interfaces, voice assistants, and chatbots offer a paradigm shift from traditional human-computer interaction to interacting with a device on human terms. Hence, it is important to understand the best use of conversational interfaces to improve everyday life and complement everyday human behavior. The boundary between conversational interfaces and users can be taken one step further if social abilities of conversational interfaces improve to an extent where there is still a clear distinction between humans and machines. Sense of memory, empathy, trust, way of communication, emotional support, and clear intentions are significant improvement areas for future conversational interfaces. I developed a smart voice assistant POC for my internship during summer; that project inspired me to dive into conversational interfaces and understand how to create better ones."

The future of the hardware product design industry in the context of machine learning generation models
By Shenghui Jia
"Through solid case studies review, in this essay, I discuss Machine Learning's key advantages in the creative industry in general and the design industry (in specific). I've drawn the picture of the product design industry in context of Machine Learning generation technology and find several key merits of designer who will win in future; delivering integrated innovation will become more important for designers. I was inspired to pursue this topic by the fast development of Machine Learning technology that's occurred in recent years."
Experiential & Gamification

A look into the meaning of experience: How we measure and design it
By Janice Chen
"Everyone is using the word "experience" as part of our everyday vocabulary, now and businesses are selling it back to us: but do we fully understand it? As part of this investigation, I pull apart the meaning of experience, how experience is measured, and take a deep dive into the philosophy of design and how experience is designed, and, ultimately, what designers do to effectively design our intended experience."

Gamification in design of services promoting healthy habits:
Key considerations, concerns, and guidelines
By Michael Brough
"Implementing game design and mechanics to the process of habit formation can increase user motivation, enhance ability, and improve the effectiveness of cementing action-trigger automatic responses in order to build lasting habits. With the advent of the internet, smart devices, and app games, "gaming" is becoming more and more an integral part of our reality, whether that be in a very involved way, like Call of Duty games, or in a lesser way, like playing Candy Crush on the bus.  I learned about the psychological mechanics behind behavior change and decision, habit formation, how games can be used to introduce new motivations and how all of these areas can interact."

The implications of design interactions with physical affordances
By Kashyap Nishtala
"My essay focuses on present software interactions and the benefits of embedding physical interactions to provide a better experience. I have been doing research in the field of Human-Computer Interaction and was always fascinated by the way people function and do everyday things with ease; providing effective interactions makes people's lives easy and efficient. In the future, software interactions will have more connection with the physical world in the form of multi-reality interactions."
Industry Investigations


Understanding the subscription box industry
By Nandita Adityan
"My paper focuses on understanding the complex back-end network of subscription boxes and the core strategies required to thrive in this over-saturated market. My internship project at Chewy.com was to convert their pet gift box named Goody Box into a subscription model. After realizing the complexities of such a model, I decided to further explore it through my master's essay. I've learned it is very difficult to strike a balance between standardization and customization when it comes to subscription boxes, and that, in the future, we'll need a scalable model that customizes the need of every customer and provides an extremely personalized experience."

Prioritizing common design principles in the video game console industry: An exploration and recommendation
By Ben Fisher
"This project explores whether there are, or can be, any common principles informing console design across the industry. Aside from learning what is inside each of the consoles, I found that satisfying consumers while keeping up with competitors is of primary importance; it is imperative to heed the voice of the customer and to show that the innovation associated a new console's design has kept the consumer base's preferences in mind. Furthermore, product managers must keep up with design, gameplay, and platform trends and invest the necessary resources into predicting the future desires of their target market."

Metal additive manufacturing: The future, challenges, and opportunities
By Gokul Suryamurthy
"3D printing is everywhere. In order to realize its full potential of empowering every individual, organization to enjoy its design freedom, it's imperative to identify ways to standardize, to overcome key constraints and develop a framework for integration into the manufacturing industry. The ideal future is a hybrid manufacturing line where traditional and additive manufacturing processes work together. The thought of having unparalleled design freedom that comes with additive manufacturing inspired me to find ways to make this technology an industry standard."

From papers and coins to pixels
By Woo Kim
"My essay is an exploration of human factors in adopting FinTech (Financial Technology) to push a cashless society. I was inspired to research this topic by the wave of digitization of products and services. My research reveals the importance of user-centered design in adopting and the diffusion of new technology."
Innovation Guides & Theories

It is time to step away from analog procession: A guide for digital innovation
By Hua Fan
"'Things' no longer matter as much as they did before. It is important to realize that the value technology adds to our life is moving away from physical possessions into digital contents. I was inspired by 'The Matrix' and other sci-fi stories which have depicted a world completely constructed virtually. Is it really a bad thing? Why do we still cling to physical things? What is our ultimate goal? A better way to innovate and design technology product is to focus on content instead of the material, and in the future, our possessions will be gradually digitalized until eventually, 'things' will disappear."

Democratizing innovation: Best practices for large-scale organizations
By Anna Lawn
"The future of creating climates of innovation is exciting. Large organizations across the US and the globe are beginning to adopt the mindset of innovation and support initiatives that make it a strategic advantage. As innovation practice continues to evolve, a strong innovation climate will remain in the center. My research centers around creating and sustaining a climate of innovation at large scale organizations through democratizing innovation. I've learned so much about what makes a large organization tick, and what components of that make innovation possible."

Wayfinding in hospitals – how can we use IoT and human-centered design to improve the patient's experience
By Manchit Rajani
"During my internship at Highmark Health over the summer, I noticed a haphazard wayfinding system at Allegheny General Hospital. My research shows that this problem is plaguing hospital systems throughout the U.S. and that effective wayfinding systems go a long way in improving the patient experience.There is no doubt that IoT is the future of Healthcare Industry. It has a wide scope of application and using it to build improved wayfinding systems is one of them. But in order for these systems to be effective, a human centered approach is a must. Patients' needs differ, as they have varying capabilities and disabilities, so certain best practices can be followed when designing wayfinding systems in hospitals that can drastically improve the patient experience."

Evaluation on design process: How to innovate through design in the healthcare industry
By Xiaolin Yang
"My essay looks into how design is carried out in healthcare, learning from other industries to help healthcare products be more usable and user friendly. In the future, healthcare will have increased usability and utilize strengths from mature techniques and adjust based on the uniqueness of certain fields. The design process will be more clearly oriented to provide a better experience for medical staff, patient, or even the daily healthcare service user. I decided to explore this topic based on my previous experience in the healthcare industry as well as what I learned at CMU."

Design for a global audience
By Xi Zhang
"My essay is a brief introduction for designers to get to know current situations in the developing world, stating the needs of people and the major challenges designers might face. It is important because lack of connectivity in some areas is still a big social issue, and designers' role in this issue is to design good applications that differ from those in developed world to meet the new internet users' unique needs. My research was inspired by my internship as a UX Designer Intern at Ona Data where I designed software for developing countries and organizations like UNICEF. Technologists can learn from the needs of people in low-resource settings to further design intuitive interactions."
Virtual Reality & Augmented Reality

Developing successful location-based experiences utilizing virtual reality
By Mark Davidson
"When creating Location Based Entertainment, many developers look at technology rather than looking at and understanding their venues. When considering Virtual Reality within the context of Location Based Entertainment, considerations must be made based on guest experience, integration into a sustainable business model, and the strengths of the venue itself. By pairing Virtual Reality with seasonal and limited-run experiences like plays and haunted houses, there is an opportunity to utilize existing space to provide unique Location Based Entertainment that promotes the other entertainment offered at the venue. There are also ways to mitigate the problems current VR experiences have with high operational costs stemming from low output, staffing, and concerns with hygiene through a physical redesign of current Virtual Reality Headsets."

A Four-tier framework for accessing user experience in VR digital interface
By Xitong Deng
"Although VR practitioners are actively evaluating user experience in VR digital interface in order to improve their designs, there is a heavy focus on the physical ergonomics and a lack of systematic qualitative measures. Therefore, I've introduced a user-centered framework to assess user experience in VR digital interface. The framework is based on the 4-level hierarchy of user needs including physiological need, safety need, a sense of control, and a sense of achievement. Virtual Reality is offering designers with both exciting opportunities and new challenges and can enlarge the scope of design and create wonderful experiences."

Mapping applications of reality technologies (AR, VR) in manufacturing
By Kedi Zhang
"In my paper, I review the VR/AR applications in manufacturing with three perspectives: timeline, application scenarios and technologies behind the applications. By doing so, we can obtain more systematic and comprehensive understanding on how technology has evolved, how we use them now, and potentially how we can do better in the future. I was inspired to research VR/AR in manufacturing after completing my internship as an Enterprise UX Designer at Alibaba Cloud."