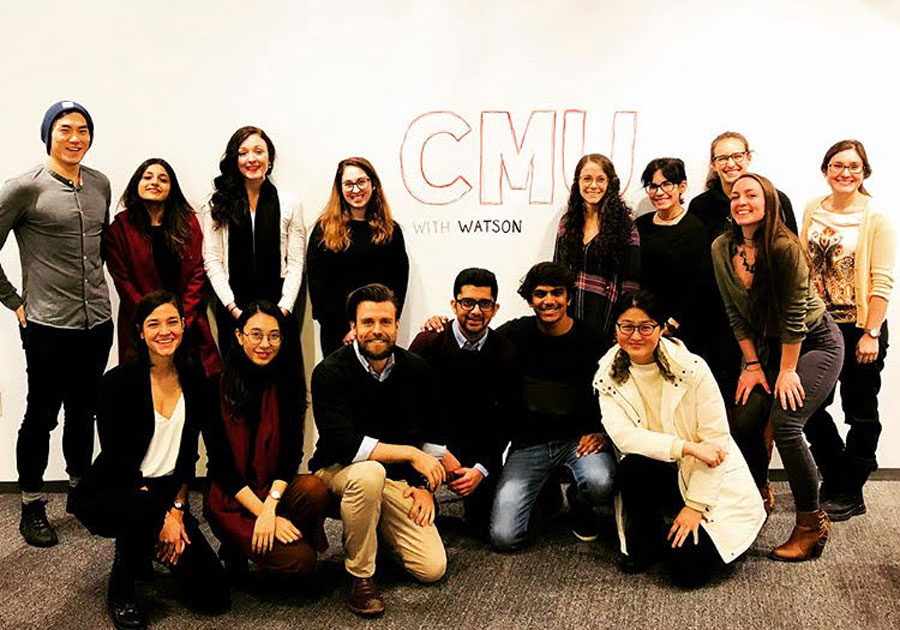 February 06, 2018
Students Gain Industry Insights with NYC Innovation Trek
By Allison Hodsdon allisonh(through)andrew.cmu.edu
While on winter break, iii students decided to explore one of the largest innovation scenes on the East Coast: New York City.
The NYC Innovation Trek was organized by students of our Master of Integrated Innovation for Products & Services (MIIPS) program. From January 8 to 11, an interdisciplinary group of engineers, designers, and business professionals visited the headquarters of top companies including Spotify, Google, IBM Watson, Frog Design, THINX, as well as startup accelerator TechStars. 
"We chose these companies because they were the most innovative, exciting, and convention-breaking," explains Isabelle Mills-Tannenbaum (MIIPS '18), who organized the trek along with her classmates Xenia Kolesnikov (MIIPS '18) and Kira Mulshine (MIIPS Advanced '18).
On these visits, the group heard from product designers, engineers, founders, and creative directors about the methodologies that their companies use to drive innovation. They discovered that companies adopted a unique set of techniques and practices to innovate within their industry.
Mills-Tannenbaum and her classmates saw many parallels between their master's experience and the practices in industry, especially in regards to designing products and services that are truly meaningful and useful, "'In the MIIPS program, we approach solving problems by looking at people's actual needs and avoid the temptation to create products with the latest technology just because it is popular. That seems to be a big focus point for companies as well."
Overall, the students were pleased by the feedback they received from these industry innovators, feeling hopeful for the future as they begin the hunt for internships and jobs this spring. 
Reflecting on the NYC Innovation Trek, Mills-Tannenbaum feels prepared with the training she's received in the MIIPS program, "The trek gave me a sense that companies are looking for people who think differently and across disciplines, which is exactly what we're doing here in the program."