October 10, 2017
Travel hacks: Using data to transform the airline industry
By Allison Hodsdon allisonh(through)andrew.cmu.edu
Media Inquiries
Allison Hodsdon
Integrated Innovation Institute
In late September, Silicon Valley's rising talent settled in for 24 hours of data-crunching and hacking, working toward solutions to disrupt the business of travel.
The travel hackathon was the third hosted by the CMU-Emirates iLab, a collaboration between Emirates Group and Carnegie Mellon University's Integrated Innovation Institute. Held over the weekend of September 30, the event challenged participants to transform robust sets of data and leverage the latest platforms in machine learning (ML) and artificial intelligence (AI).
"This was a different kind of hackathon," explains Dr. Stuart Evans, Distinguished Service Professor and Director of CMU-Emirates iLab. "By using a data-driven approach, we saw an incredible difference in the intellectual engagement of our participants. People weren't just talking about ideas; they were sitting and working with data, using ML and AI to deliver actionable insights."
Attracting more than 600 applicants, the CMU-Emirates iLab team welcomed 175 talented students and professionals from diverse backgrounds, including data science, machine learning, design, and software development. Several of the participants came from the Integrated Innovation Institute and other departments of Carnegie Mellon.
Over two days, teams hacked through ideas to improve the business of travel, covering three topics proposed by the iLab. Unlike a typical ideation hackathon, interdisciplinary teams were given topic areas two weeks ahead of time, ensuring that they came prepared to deliver. They were also given unique access to large datasets provided by Emirates and JetBlue. 
To help compute large amounts of data, experts from several Silicon Valley companies presented and answered questions on how to use their cutting-edge platforms for AI, ML, and cloud computing. This sophisticated suite of technology included Salesforce Einstein Discovery, Intel Nervana, DaVinCI Labs, Databricks, Splunk, Microsoft Azure, IBM Watson, Tensorflow, and XGBoost.
"Intel Nervana was honored to be a sponsor of the CMU-Emirates Hackathon," explains Katie Fritsch, Sr. Manager at AI Products Group at Intel. "The developers created novel solutions to tough AI problems and had a blast doing it."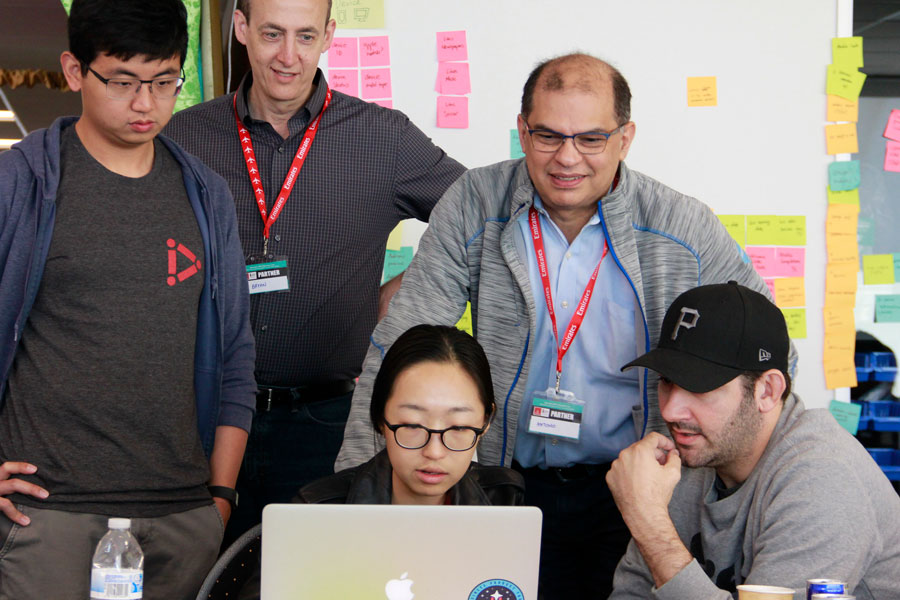 Under the guidance of industry experts, hackathon participants used machine learning and artificial intelligence to analyze data and develop solutions.
Of the 38 teams, a panel of experts chose 15 to advance to the final presentation round. The team to take home the grand prize was Thunderbirds, who ambitiously tackled all three of the topic challenges. The team included M.S. in Software Management students Chong Chong Wang and Gary Peters, as well as Stanford PhD students Ben Whittle and Gabriel Maher.
The judges were impressed by all of the teams' data-driven solutions and gleaned various insights. Overall, the panel learned that airlines could support frequent fliers by identifying patterns in their origin and destination airports. To better price flights, they saw that companies could find more opportunities by analyzing price elasticity and market share. Finally, they discovered that airlines could improve their attribution models by better allocating marketing resources to predict which impressions would lead to conversions. 
Based on its continued success, the CMU-Emirates iLab will undoubtedly host future hackathons. The event is a win for industry and student innovators alike looking to reshape the future of travel.