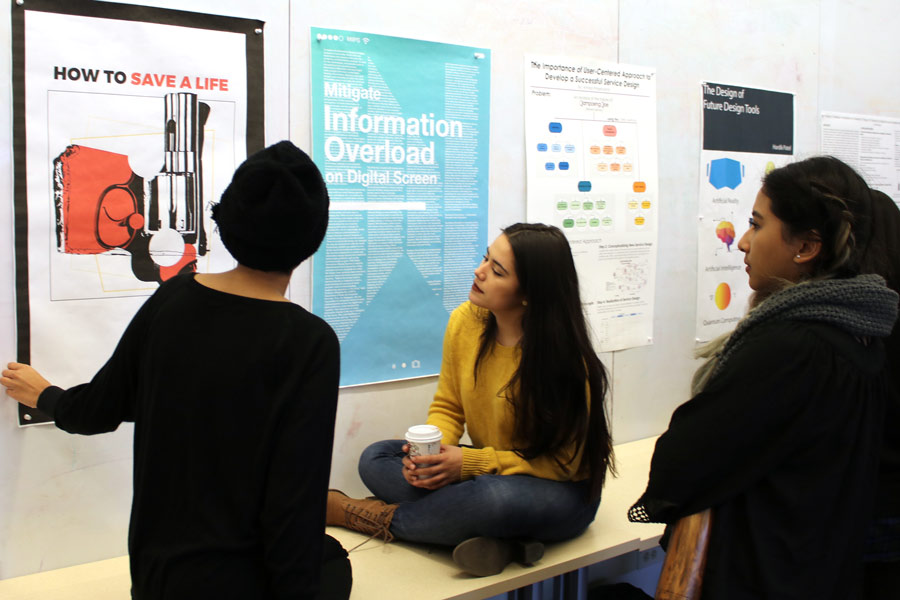 December 11, 2017
Mastering Innovation: Essays from the Class of 2017
By Allison Hodsdon allisonh(through)andrew.cmu.edu
In their final semester, students of the Master of Integrated Innovation for Products & Services - Advanced Study program deliver a master's essay, delving into complex innovation problems with an impact on our future. To share their findings, MIIPS Advanced students presented their work during a poster session at the Integrated Innovation Institute.
Expore the master's essays from our MIIPS Advanced Study graduates, Class of 2017:
Christian Alexandra Baca
Gendering of Products in the Toy Industry
Mark Andrew James Byrne
How will interaction design principles evolve to meet the future trends of ubiquitous computing?
Aditi Chalisgaonkar
Prevention of Child Sexual Abuse in Indian Schools
Jamie K. Curran
Product Design vs Consumerism. Exploring the Ethical Product Designer's Relationship with Our Consumerist Culture
Runzi Jack Gao
Innovation vs. Imitation for Successful Businesses
Yifei He
E-commerce web design – a study in Japanese online shopping and local culture
Menghui Hu
Implementation of front-end language in web user experience design
Pengyuan Huang
Future of Input Technologies for Mixed Reality Applications
Daksh Jayaswal
Leveraging Historical Designs to Solve for the Future
Dennie Vance Jones
An Introductory Assessment of the Relationship between Private Sector Innovation and Metropolitan Region Demographic Factors
Alok Suhas Joshi
Design of feedback mechanisms for Internet of Things (IoT) devices to mitigate the user's problems that inhibit their widespread adoption
Sujay Kotwal
Innovation in digital media technology
Xuejiao Liu
How can design thinking be better integrated with business practices to improve outcomes for e-commerce enterprises?
Ammani Nair
The Future of Responsive Architecture
Haorong Ou
Research on Market Innovation Strategies Based on Different Product Life Cycle and Product Models
Hardik Patel
User-Centered Research and the Fashion Industry
Ananda Annisa Prasetyanto
The Importance of User-Centered Approach to Develop a Successful Service Design: A Case Study of the Failure of QampoengQoe Delivery Service
Rebecca Radparvar
The Convergence of Theater & Human-Centered Design
Reggie Raye
Mid-Term Effects of AI on G7 Labor Markets. Or, an Entrepreneur's Guide to the 21st Century
Surabhi Sakhalkar
Re-evaluating strategies for curbing self-inflicted gun suicides: How can designers save lives?
Vagisha Singh
Changing user interaction for the future of mobility – Autonomous Ridesharing Vehicles
Ran Tao
Infrastructural Ecosystem for the Survival of Innovation-based Startups
Jacob Thomas Davidson
Horses, Motorcycles, Segway. What's next?
Shuang Wendy Wei
Enhancing Products with Big Data Mindset
Guanqiao Yin
How real does the prototype need to be in order to test it with users?
Yifei Yin
Designing augmented reality interfaces
Brandon Zepeda
Parent-child Play and the Internet of Toys
Meilin Zhang
How to Avoid Investing in Internet of Stupid Home
Ke Zheng
Designing digital information display: A new direction to mitigate information overload