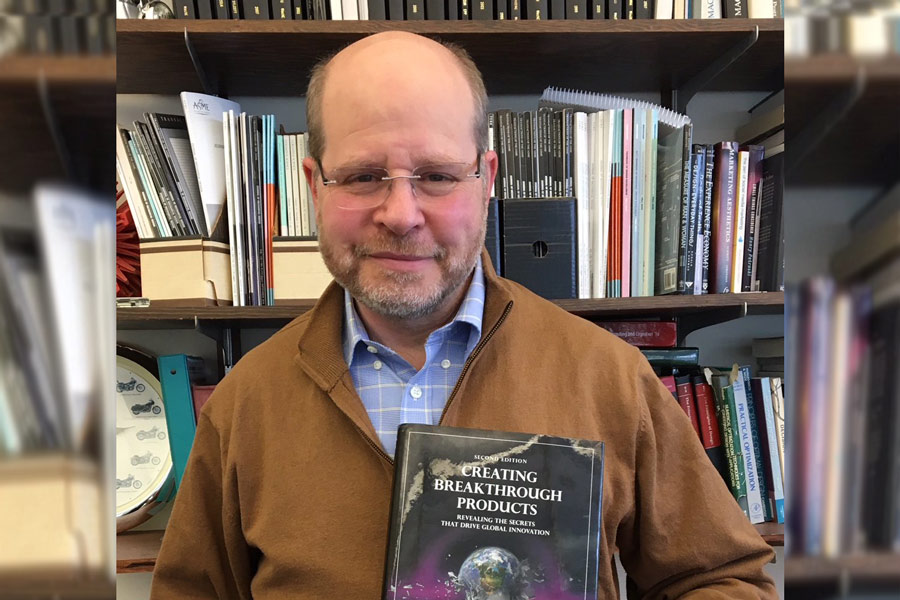 January 17, 2018
Faculty share the key to creating innovative products and services
By Allison Hodsdon allisonh(through)andrew.cmu.edu
The faculty behind the classic book Creating Breakthrough Products have now made the text free to download, sharing their innovation methodology with the world.
"We want everyone to be successful and contribute to society by solving hard problems. This is why we decided to make Creating Breakthrough Products freely available to students, teachers, and practitioners across the world," explains co-author Jonathan Cagan, Ladd Professor of Mechanical Engineering and Associate Dean for Carnegie Mellon's College of Engineering. Cagan, along with co-author and former CMU faculty Craig M. Vogel, released the online edition of the book earlier this month.
Carnegie Mellon University's role as a pioneer of interdisciplinary innovation education began in 1986 when it launched the Integrated Product Development (IPD) capstone course. Inspired by the writings of Nobel Laureate and professor Herbert Simon, the course cross-trained engineers, designers, and business professionals to develop a formal process to innovation. In 2003, the course won American Society of Mechanical Engineers (ASME)'s Curriculum Innovation Award.
Cagan and Vogel originally published Creating Breakthrough Products in 2001 while serving as faculty for the IPD capstone. At the time, it was common for students and professionals to work in isolation throughout the product development process. Both the IPD capstone and the book pioneered the concept of integrating teams and disciplines to create valuable and impactful products and services. 
"When we first released Creating Breakthrough Products, it was completely novel to practice these innovation methods," says Cagan. "Companies are now realizing the importance of integrated innovation, and we're seeing how innovation thinking has become much more prevalent."
After more than than 17 years and two editions, the book's values and lessons have been widely adopted across industries in both public and private sectors. Companies including Procter & Gamble, Kraft, and Boeing have effectively applied the concepts and approaches. It has also made a global impact, influencing innovators from countries like Belgium, Finland, England, China, and Singapore. In a notable example, students and faculty collaborated with Navistar to redesign the long-haul truck, a design that in 2009 won the American Truck Drivers Truck of the Year Award.
The book's co-authors have continued to successfully implement its tried-and-true methodology to a variety of initiatives at CMU and beyond. Since publishing the book, Cagan co-founded the Integrated Innovation Institute, cross-training more than 600 graduates and alumni innovators. Now at the University of Cincinnati, Vogel launched the Live Well Collaborative, an initiative partnering with Procter & Gamble to connect multidisciplinary student teams with industry.
"From a capstone, to a book, to an institute, our work in integrated innovation never ceases to expand," says Cagan. "By releasing our book online, we aim to inspire innovators across the world to make an impact and tackle industry and society's biggest challenges."
Creating Breakthrough Products is now available for free download and online reading on Carnegie Mellon's new institutional repository, KiltHub.