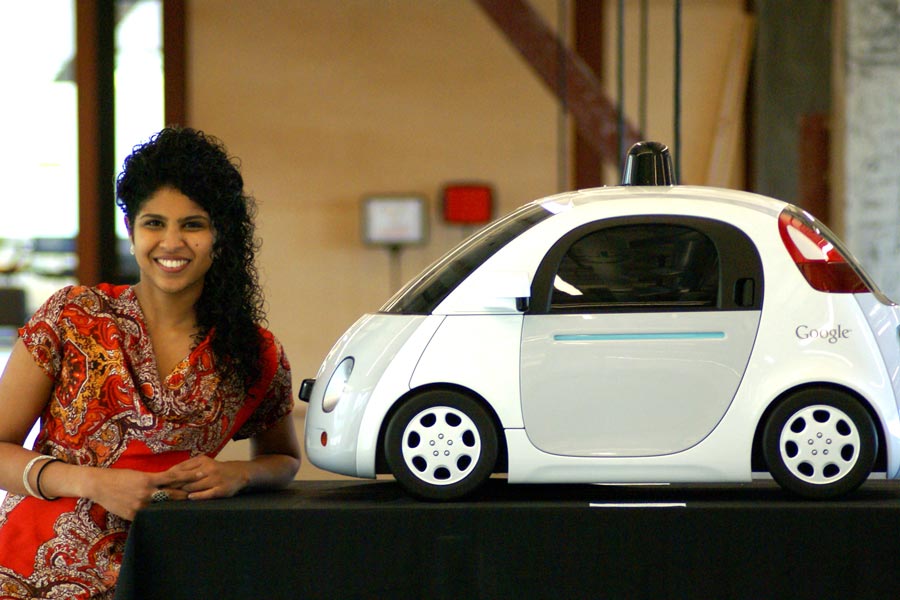 February 16, 2016
Karishma Shah (MSSM '17) Honored with Forbes 30 Under 30 for 2016

Karishma Shah (MS '17), a current student of the Integrated Innovation Institute's part-time MS in Software Management program, has been selected for Forbes 30 Under 30 2016 list in the Consumer Technology category. Selected from a list of more than 15,000 of today's best and brightest, this prestigious honor is given to just 600 individuals across 20 sectors each year, whom according to Forbes are considered, "America's most important young entrepreneurs, creative leaders and brightest stars."
Impact at Google & Beyond
Shah was Google [x]'s youngest hire, brought on at the age of 21. As program manager of the Rapid Evaluation team, a small team charged with ideating and prototyping new moonshots for Google [x], she has been a critical early team member cracking challenges to defictionalize moonshots across five industries. Her contributions include cofounding a natural language processing moonshot and leading operations for the Project Wing drone delivery service in Australia. With a founding team that included Astro Teller, CEO of Google [x], and Megan Smith, now CTO of the White House, she launched and led global partnerships for we.solveforx.com, a platform that aims to accelerate progress on technological and scientific moonshots around the world. She also founded Google's 10x Thinking Team which facilitates workshops globally to spread the "10x thinking" philosophy and ideation process of coming up with radical solutions to global challenges.
It's no wonder that as Forbes combed through the brightest young people in tech to create its 30 Under 30 Consumer Technology list, Shah was chosen from the cast of hundreds. After narrowing the nominations down to forty, a panel of three expert judges picked the top 30 finalists. This year the panel of insiders included Phil Libin, founder of Evernote and managing director at the venture firm General Catalyst, Tina Sharkey, partner at SherpaFoundry, and Alan Schaaf, founder of image platform IMGUR and an Under 30 alumnus.
"It's surreal to be a part of the 30 Under 30 community with so many people who have inspired me, like Mark Zuckerberg. I'm humbled and honored." Shah adds, "The outpouring of support from across the world has been touching. I'm receiving thoughtful emails from people in languages that I can't even read without Google Translate! It's given me more motivation to work on technologies that can better the lives of people globally."
Shah on Software Management & Leadership
Shah joined our part-time MS in Software Management program last fall and has already been using her experiences from the program in her work. "My skills are being sharpened in the SM program; particularly, having focused on R&D in my career thus far, I'm learning a tremendous amount by diving into the scaling of technology products as they become more mature. I hope to apply these skills to continue to solve problems in the world and eventually become an angel investor and mentor to future entrepreneurs," Shah explains.
We asked Shah for her views on leadership and what the important qualities and motivating factors are of a good leader. Shah responded, "A leader envisions possibilities and brings them to reality through empirical problem solving and the power of collaboration. I believe diversity of thought is the single most important driver of innovation. [W]ith empathy, humility, and drive, a strong leader can assemble and empower a team with a variety of perspectives to accomplish a common goal. A quote by Wilferd Peterson that I have hanging in my room reads, 'Walk with the dreamers, the believers, the courageous, the cheerful, the planners, the doers, the successful people with their heads in the clouds and their feet on the ground. Let their spirit ignite a fire within you to leave this world better than when you found it.' I find myself surrounded in the technology industry by people igniting such a fire within me to lead and leave this world better than when I found it."
View the entire 30 Under 30 List on Forbes.com
About Shah
Shah was born in London and raised in the suburbs of Philadelphia, where her family still lives today. She was educated at the University of Pennsylvania where she was Co-President of the Wharton Private Equity & Venture Capital Association, captained an Indian dance team called Penn Raas, produced the Bollywood America dance competition, and founded a startup. With her startup, SkillHub, she earned a Global Entrepreneurship Week Award, won Mark Cuban's Movers & Changers entrepreneurship reality TV show, and rang the NYSE opening bell. In her free time, she enjoys dancing, playing tennis, serving on boards of nonprofits, and doing anything DIY.