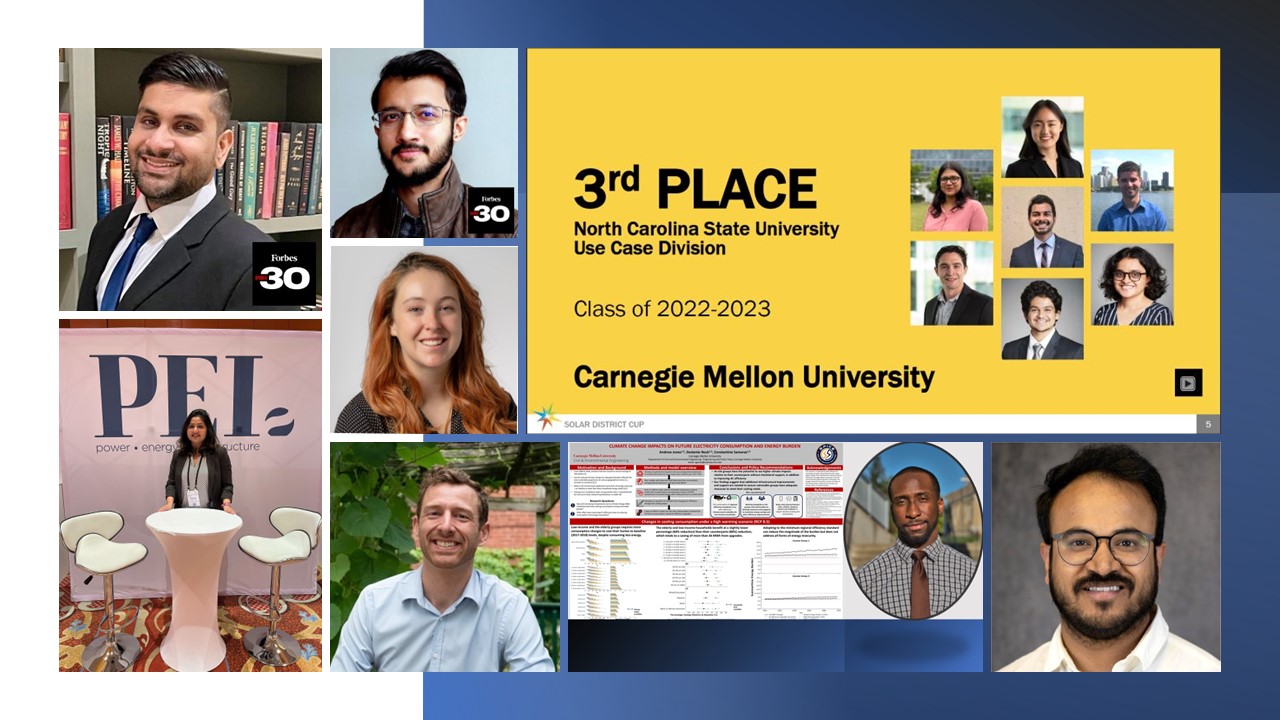 July 10, 2023
Alumni Spotlights
We are proud to have a network of over 250 EST&P alumni. It is always exciting and rewarding to follow what they are doing and accomplish after their time in the program. Take a look at some of the spotlights from the 2022-2023 year so far:
Raafe Khan (MS '16) and Shashank Sripad (MS '16)
Were nominated by Forbes as 2023, 30 Under 30 honorees in the Energy Category.
Read Full Article
Ankit Kalanki (MS '18)
Ankit has been working at RMI and served multiple teams within the organization with a focus on innovation and commercialization of building technologies. He has been quoted multiple times in top tier media like the Washington Post, Vox, NPR, Canary media and most recently an industry media in Australia, for his work. His research and publications have been picked up in a variety of outlets including the World Economic forum, Economic times in India as well as trade publications.
Prathit Dave (MS '22), Sruthi Easwaran (MS '22), Gokul Krishnan (MS '22)
These three alumni were apart of the Carnegie Mellon University team that placed 3rd in the division for the U.S. Department of Energy Solar District Cup by the National Renewable Energy Laboratory this year!
Read Full Article
Alexandra Kramer (MS '22)
Alex had her first publication this past April. She first became exposed to clean energy workforce research when she was part of Dr. Valerie Karplus's research group (LEO Group) during her final semester at CMU. This research at NREL was sponsored by the DOE Solar Energy Technology Office looking into the solar workforce, workforce wellbeing, and the impact of workforce wellbeing on solar installations. "The first publication, the literature review, looks at the current solar workforce and various factors impacting workforce wellbeing. Additional research is being conducted by our team on this topic - including a case study analysis and a techno-economic analysis - that will be finished in Fall 2023 and published shortly after," Kramer says. As an interdisciplinary program, ESTP had already taught her about the importance of including energy justice, policy analysis, and stakeholder voices in the technical research process.
Read Publication
Aaron Simon (MS '21)
The Department of the Air Force is conducting energy resilience readiness exercises to determine if installations can meet mission objectives during loss of power and water events. Aaron is managing the execution and coordination of the ERRE program with a small team.
Gokul Krishnan (MS '22)
Gokul joined ICF full time six months ago after graduating from the EST&P program. He just recently received the Ruby Award for consistently exceeding expectations on project execution and delivery with his duties at ICF.
Poorna Mujumdar (MS '20)
Poorna attended, with her colleagues from PEI, S&P Global Platts Global Power Markets Conference in Las Vegas this past spring. Her team discussed industry trends and connected with other organizations.
Poorna was also a speaker at Women's Energy Network Greater Pittsburgh first educational session of 2023 where she introduced the world of solar development in the US.
Andrew Jones (MS '19)
Andrew was one of the prize winners at the Steinbrenner Institute for Environmental Education and Research's Annual Sustainability Symposium back in March.
Read Full Article
Stay connected with EST&P via our LinkedIn page.
Please contact Nicole Rihn (LinkedIn) if you're an alumni of the EST&P program and would like to be represented in our spotlights!