EST&P graduates are furthering their career goals in different industries, market sectors, consultancies, non-profits/NGOs, universities, etc. in locations all around the world. To learn what several alumni are doing read their spotlights below; for more information click on the drop-downs by academic year or visit the listing of companies page. 


Dhruv Bhatnagar
(M.S. '11)
EST&P alum Dhruv Bhatnagar began his career as a Process Engineer, and now focuses on grid technologies and efficiencies for the Massachusetts Department of Public Utilities as an Energy Regulatory Analyst.
---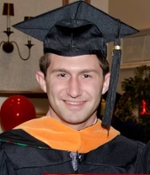 Joshua Bordin
(M.S. '11)

EST&P alum Joshua Bordin focuses on process safety in hydrocarbon processing plants at Siemens Energy.  In his words, "Hydrocarbons plants are like pressure cookers and you have to maintain the vents to let steam out. This involves designing the vents for large vessels so that they do not blow up".

Read more here>>
---
Daniel Hochman
(M.S. '14)

EST&P alum Dan Hochman credits the EST&P program for helping him help Sealed get where they are today in the energy efficiency space.  

Read more here>>
---
Jessica Lyman

(M.S. '12)
EST&P alum Jessica Lyman stated that she chose CMU and the EST&P program since it effectively balances teaching the highly technical concepts applicable to the energy industry while also focusing on the motivating factors like policy and business interests that drive the direction of the industry.
---

Ratiporn (Noey) Munprom 
(M.S. '11)
EST&P alum Noey Munprom felt the interdisciplinary nature of the EST&P program allowed her to meet and interact with students from different majors, concentrations, and cultures leading to rich and diverse energy insights and experiences from all over the globe.
---
Daniel Wetzel

(M.S. '11)
EST&P alum Daniel Wetzel focuses on Emerging Technologies and Communication in the grid at the Rocky Mountain Institute. Dan is currently proposing micro-grids and battery storage for the Caribbean Islands and placing them with companies that can help them get to that point.

Read more here>>
---
EST&P Graduates: Academic Year 2017-2018
Ashwin Kumar Balaji (EST&P Ambassador)
Position upon EST&P graduation: Research Intern, Scott Institute for Energy Innovation, CMU- Pittsburgh, PA
M.S. EST&P-AS, concentration: Engineering & Public Policy
B.S. Electrical Engineering, Heriot-Watt University, Dubai Campus             
Pedro Benedicto Martínez
M.S. EST&P-AS, concentration: Electrical and Computer Engineering           
M.S. Electrical Engineering, Comillas Pontifical University
Nathan Cheng    
Position upon EST&P graduation: Fuel Cell Engineer, GM- Detroit, MI
M.S. EST&P-AS, concentration: Mechanical Engineering
B.S. Mechanical Engineering, University of Michigan Ann Arbor
Lauren Davis
M.S. EST&P, concentration: Engineering and Public Policy
B.S. Mechanical Engineering, University of Pennsylvania 
Adilla Fatimah
M.S. EST&P-AS, concentration: Civil and Environmental Engineering    
B.S. Environmental Engineering, Institut Teknologi Bandung       
Wenchuan Gu
M.S. EST&P-AS, concentration: Mechanical Engineering   
B.S. Energy Science and Engineering, City University of Hong Kong
Yoolhee (Hailey) Kim
Position upon EST&P graduation:  Data Scientist – San Francisco, CA
M.S. EST&P-AS, concentration: Mechanical Engineering       
B.S. Engineering Physics, University of California Berkeley              
Akhil Mathur
M.S. EST&P-AS, concentration: Electrical and Computer Engineering      
B.S. Electrical, Vellore Institute of Technology 
Mikael Matossian
Position upon EST&P graduation:  Green Energy Intern, United Nations Development Program- Los Angeles, CA
M.S. EST&P-AS concentration,: Engineering and Public Policy            
B.S. Environmental Science, University of California Los Angeles  
Saurabh Mishra
M.S. EST&P-AS, concentration: Engineering and Public Policy
B.S. Electronics & Comm., Uttar Pradesh Technical University       
Vasudevan Nambeesan
Position upon EST&P graduation: Research Assistant, Mark Bier Research Laboratory, CMU- Pittsburgh, PA
M.S. EST&P-AS, concentration: Mechanical Engineering
B.S. Mechanical Engineering, Amrita Vishwa Vidyapeetham           
Akshay Sanjeev Patil 
Position upon EST&P graduation: Data Analytics Associate, PwC- Fairfax, VA
M.S. EST&P-AS, concentration: Engineering & Public Policy      
B.S. Electronics, University of Mumbai                    
Anand Krishnan Prakash
M.S. EST&P-AS, concentration: Electrical and Computer Engineering
B.S. Computer Science and Mathematics, Bits Pilani        
Aravind Retna Kumar
Position upon EST&P graduation: Market Research Analyst, Mitsubishi Hitachi Power Systems Americas- Lake Mary, FL
M.S. EST&P-AS, concentration: Mechanical Engineering      
B.S. Mechanical engineering, National Institute of Technology, Kurukshetra           
Andrew Sams
Position upon EST&P graduation:  Energy Consultant, West Monroe Partners- Chicago, IL
M.S. EST&P-AS, concentration: Mechanical Engineering     
B.S. Petroleum Engineering, Pennsylvania State University-University Park
Zeal Shah
M.S. EST&P-AS, concentration: Electrical and Computer Engineering             
B.S. Elec Power & Energy, Pandit Deendayal Petroleum University              
Isabella Solari
M.S. EST&P, concentration: Engineering and Public Policy
B.S. Industrial Engineering, Pontifica University Catolica Chile
Kalyani Tembhe
M.S. EST&P-AS, concentration: Mechanical Engineering
B.S. Mechanical Engineering, Dr. Babasaheb Ambedkar Technological University
Janani Venkatraman
M.S. EST&P-AS, concentration: Electrical and Computer Engineering
B.S. Electrical, Anna University
Zhikang Xu
M.S. EST&P-AS, concentration: Materials Science and Engineering           
B.S. Materials Physics, Nanjing University             
Pengji Zhang
M.S. EST&P-AS, concentration: Civil and Environmental Engineering      
B.S. Environmental Planning, Nanjing University  
**More to come in May 2018!**
EST&P Graduates: Academic Year 2016-2017
Guillaume Bence-Hebert
Position upon EST&P graduation: Consultant, LeighFisher - Toronto, Canada
M.S. EST&P, concentration: Civil and Environmental Engineering               
B.S. Civil Engineering, University of Toronto
Lujia Cao
Current Position: Reasearch Anayst, Institute of International Energy, NDRC, ICC- Beijing, China
Position upon EST&P graduation: Intern, Electrical & Computer Engineering dept., CMU
M.S. EST&P, CONCENTRATION: Engineering & Public Policy
B.S. Industrial Engineering, Nanjing University
Lobna El Gammal             
M.S. EST&P, CONCENTRATION: Engineering and Public Policy
B.S. Chemical Engineering, University of Toronto
Jal Desai
Position upon EST&P graduation: Engineer II, NREL – Denver, CO
M.S. EST&P, CONCENTRATION: Electrical & Computer Engineering             
B.S. Electrical Engineering, NIRMA Institute of Technology
Varun Deshpande (EST&P Ambassador)
Position upon EST&P graduation:  Electrical & Computer Engineering Researcher, University of Massachusetts - Amherst, MA
M.S. EST&P, CONCENTRATION: Engineering & Public Policy
B.S. Electronics Engineering, Veermata Jijabai Technology Institute
Ayush Garg
Position upon EST&P graduation: Data Operations Intern, EnerNOC- Boston, MA
M.S. EST&P, CONCENTRATION: Electrical & Computer Engineering    
B.S. Industrial Engineering, University of Delhi
Rohit Garg
Position upon EST&P graduation: Research Assistant, Electrical & Computer Eng. at CMU- Pittsburgh, PA        
M.S. EST&P, CONCENTRATION: Electrical and Computer Engineering
B.S. Electronics, Manipal Institute of Technology                
Adam Goldstein
Position upon EST&P graduation: Consultant, West Monroe Partners- NYC, NY
M.S. EST&P, CONCENTRATION: Engineering and Public Policy
B.S. Economics, Hobart/William Smith College
Pranav Goray
Position upon EST&P graduation: Energy Engineer, EcoMetric- Exton, PA
M.S. EST&P, CONCENTRATION: Engineering & Public Policy
B.S. Chemical Engineering, University of Mumbai Sanghvi
Huizi Guo
M.S. EST&P, CONCENTRATION: Materials Science & Engineering
B.S. Materials Chemistry, Beijing Institute of Technology
Coral Keller (EST&P Ambassador)
Position upon EST&P graduation: Consultant, West Monroe Partners- Chicago, IL
M.S. EST&P, CONCENTRATION: Materials Science and Engineering         
B.S. Materials Science, Cornell University               
Raafe Khan        
Position upon EST&P graduation: Energy Production & Performance Analyst, Mortenson- Minneapolis, MN
M.S. EST&P, CONCENTRATION: Electrical & Computer Engineering
B.S. Electrical & Electronic Engineering, Manipal Institute of Technology
Sehun Nakama
Position upon EST&P graduation: Energy Engineer, Hawaii Energy
M.S. EST&P, CONCENTRATION: Engineering and Public Policy  
B.S. Mechanical Engineering & Korean, University of Hawaii Manoa
Benjamin Neiman            
Position upon EST&P graduation: Analyst, Alco Investments- Seattle, WA
M.S. EST&P, CONCENTRATION: Materials Science and Engineering
B.S. Materials Science, Carnegie Mellon University
Siddharth Padmanabha  
M.S. EST&P, CONCENTRATION: Mechanical Engineering
B.S. Mechanical Engineering, Birla Institute of Technology Pilani  
Abigail Sah
Position upon EST&P graduation: Fellow, Breakthrough Institute - Oakland, CA
M.S. EST&P, CONCENTRATION:  Engineering and Public Policy
B.S. Chemical Engineering, Tufts University                          
Karthik  Shetty
M.S. EST&P, CONCENTRATION: Mechanical Engineering    
B.S. Mechanical Engineering, R.V. College of Engineering 
Parangat Shukla
Position upon EST&P graduation: Intern, SparkMeter- Washington, DC
M.S. EST&P, CONCENTRATION: Engineering and Public Policy
B.S. Mechanical (Energy), VIT University
Pradeep Somi Ganeshbabu       
Position upon EST&P graduation: Energy Consultant, Navigate Power – Pittsburgh, PA
M.S. EST&P, CONCENTRATION: Mechanical Engineering  
B.S. Mechanical Engineering, VIT University-Vellore
Shashank Sripad 
Position upon EST&P graduation: Research Assistant, CMU – Pittsburgh, PA           
B.S. Chemical Engineering, National Institute of Technology Karnataka
M.S. EST&P, CONCENTRATION: Mechanical Engineering
Akanksha Tyagi 
Position upon EST&P graduation: Business Technology Analyst, Deloitte – Pittsburgh, PA
M.S. EST&P, CONCENTRATION: Engineering & Public Policy
B.S. Environmental Management, Hong Kong University of Science & Technology   
Gabriel Vizcaino
Position upon EST&P graduation:   Innovation Project Manager, Celsia Energia – Medellin, Columbia
M.S. EST&P, CONCENTRATION: Engineering & Public Policy            
B.S. Universidad De Los Andes, Operations Research          
Yin Kay Wong 
M.S. EST&P, CONCENTRATION: Mechanical Engineering   
B.S. Mechanical Engineering, Boston University
Ming-Lun Wu    
M.S. EST&P, CONCENTRATION: Mechanical Engineering
B.S. Resources Engineering, National Cheng Kung University 
Hengyu Xue
Position upon EST&P graduation: Electrical Engineer, China State Grid Co. – Beijing, China
M.S. EST&P, CONCENTRATION: Electrical & Computer Engineering        
B.S. Electrical Engineering, Tongji University
Rushil Zutshi 
Position upon EST&P graduation: Ph.D. in Policy Analysis at Pardee RAND graduate school- Santa Monica, CA
M.S. EST&P, CONCENTRATION: Electrical & Computer Engineering    
B.S. Electrical Engineering, VIT University-Vellore 
EST&P Graduates: Academic Year 2015-2016
Abdullah Agab
Position upon EST&P graduation: Bahrain Petroleum Company- Manama, Bahrain
M.S. EST&P, concentration: Engineering & Public Policy
B.S. Chemical Engineering, University of Texas at Austin
Nicolas Cerquera Cajamarca
Position upon EST&P graduation: Teaching Assistant for Energy Systems Modeling, MechE, Carnegie Mellon University- Pittsburgh, PA
M.S. EST&P, concentration: Engineering & Public Policy     
B.S. Mechanical Engineering, Universidad De Los Andes
Chayanit Choomwattana
Position upon EST&P graduation: Energy Analyst Intern, Quadlogic Controls Corp.- New York, New York
M.S. EST&P, concentration: Chemical Engineering
B.S. Chemical Engineering, Chulalongkorn University
Rushil Desai
Position upon EST&P graduation: Engineer, Atelier Ten- New York, New York
M.S. EST&P, concentration: Civil & Environmental Engineering
B.S. Energy Science & Engineering, Indian Institute of Technology
Yutong Guo
M.S. EST&P, concentration:  Civil & Environmental Engineering
B.E. Building Environment and Equipment Engineering, Tsinghua University
Griffin Harbach
M.S. EST&P, concentration: Civil & Environmental Engineering
B.S. Civil & Environmental Engineering/Engineering & Public Policy, Carnegie Mellon University
Yasha Jain
Position upon EST&P graduation: ECE Research Assistant, Carnegie Mellon University- Pittsburgh, PA
M.S. EST&P, concentration: Materials Science & Engineering
B.S. Materials Science, Visvesvaraya National Institute of Technology Nagpur
Tanut Khositprasert
Position upon EST&P graduation: Project Manager, Nortis Energy- Thailand
M.S. EST&P, concentration: Civil & Environmental Engineering
B.S. Environmental Engineering, Chulalongkorn University
Woranon Leelasvatanakij
Position upon EST&P graduation: Lead Test Engineer, Thales Inc. - PA
M.S. EST&P, concentration: Engineering & Public Policy
B.S. Telecommunications Engineering, King Mongkut's Institute of Technology Ladkrabang
Sakshi Mishra
Position upon EST&P graduation: Transmission Planning Engineer, American Electric Power- Tulsa, OK
M.S. EST&P, concentration:  Electrical Engineering
B.S. Electrical & Electronics Engineering, Vellore Institute of Technology
Daniel Felipe Noriega Perdomo
M.S. EST&P, concentration: Civil & Environmental Engineering 
B.S. Civil Engineering, Universidad De Los Andes
Sidharth Raghu
Position upon EST&P graduation: Leadership Devleopment Program Fellow, Niagra Bottling Company - Ontario, CA
M.S. EST&P, concentration: Mechanical Engineering
B.S. Mechanical Engineering, Amrita Vishwa Vidhyaapeetham
Jayant Sharma 
Position upon EST&P graduation: Electrical Engineer, Genko Robotics Inc. -Pittsburgh, PA
M.S. EST&P, CONCENTRATION: Engineering & Public Policy
B.S. Electronics and Communications , Tharpar Insititute of Engineering and Technology    
Uroš Simović
Position upon EST&P graduation: Experienced Consultant, West Monroe Partners - New York, NY
M.S. EST&P, concentration: Engineering & Public Policy
B.S. Electrical Engineering, McGill University
Ashish Sreedhar
Position upon EST&P graduation: Engineering Intern, Aquion Energy- Pittsburgh, PA    
M.S. EST&P, concentration: Mechanical Engineering          
B.S. Mechanical Engineering, R. V. College of Engineering              
Keshika Vasudevan
Position upon EST&P graduation:  Financial Analyst, Dynamic Energy - Philadelphia, PA
M.S. EST&P, concentration: Mechanical Engineering
B.S. Mechanical Engineering, Anna University
Haoyu Wang
Position upon EST&P graduation: Intern, Shanghai Marine Diesel Engine Research Institute - Shanghai, China
M.S. EST&P, concentration:  Mechanical Engineering
B.S. Thermal Energy & Power Engineering,  Hanghai Jiao Tong University
EST&P Graduates: Academic Year 2014-2015
Oluwatobi (Tobi) Adekanye
Position upon ESTP graduation: PhD student, Engineering & Public Policy, Carnegie Mellon University- Pittsburgh, PA
M.S. EST&P, concentration:  Electrical & Computer Engineering
B.S. Electrical Engineering, University of Lagos
Alexander (Keola) Akaka
Position upon EST&P graduation: Consulting Engineer, InSynergy Engineering Inc. - Honolulu, HI
M.S. EST&P, concentration:  Mechanical Engineering
B.S. Mechanical Engineering, Carnegie Mellon University
Shashank Donthi
Current Position: Controls Engineer, XL Hybrids - Somerville, MA
Position upon EST&P graduation: Electrical Design Engineer, Dynamo Micropower - Boston, MA
M.S. EST&P, concentration: Electrical & Computer Engineering
B.S. Electrical Engineering, RV College of Engineering
Evelyn Fairman
Position upon EST&P graduation: Marketing & Innovation Development Engineer, The Linde Group - Murray Hill, NJ
M.S. EST&P, concentration: Chemical Engineering
B.S. Chemical Engineering, University of Maine
DeVynne Farquharson
Position upon EST&P graduation: PhD student, Engineering & Public Policy, Carnegie Mellon University - Pittsburgh, PA
M.S. EST&P, concentration: Engineering & Public Policy
B.S. Mechanical Engineering, Carnegie Mellon University
Janak Gahlot
Position upon EST&P graduation: Energy Engineer II, CLEAResult- Indianapolis, IN
M.S. EST&P, concentration: Electrical & Computer Engineering
B.S. Electrical Engineering, Doon Valley Institute of Engineering & Technology
Carlos Alberto Giron
Position upon EST&P graduation: Electrical Design Engineer, Niagara Bottling- Los Angeles, CA
M.S. EST&P, concentration:  Mechanical Engineering
B.S. Mechanical Engineering, Universidad Rafael Landivar
Lipeng Gong
Position upon EST&P graduation: Energy Data Scientist Intern, kWantera- Pittsburgh, PA
M.S. EST&P, concentration:  Mechanical Engineering
B.S. Thermal Engineering, Tsing Hua University
Saakshi Gupta
Position upon EST&P graduation: Energy Consultant, Argus Information & Advisory Services - New York, New York
M.S. EST&P, concentration: Civil & Environmental Engineering
B.S. Chemical Engineering, Carnegie Mellon University
Aris Hartono
Current Position: SSO QA/QC Perusahaan Gas Negara (Persero) Tbk.- Jakarta, Indonesia
Position upon ESTP graduation: Senior Specialist Engineer in Infrastructure Project Management Office Natural Gas, Perusahaan Gas Negara (Persero) Tbk.- Jakarta, Indonesia
M.S. EST&P, concentration: Materials Science & Engineering
B.S. Chemical Engineering, Gadjah Mada University
Priyanka Khatri
Position upon ESTP graduation:  Intern, Envirolution
M.S. EST&P, concentration: Engineering & Public Policy
B.S. Civil Engineering, National Institute of Technology, Silchar
Hicham Knayo
Position upon ESTP graduation: Consultant, Peppers & Rodgers - Lebanon
M.S. EST&P, concentration: Engineering & Public Policy
B.S. Civil Engineering, American University of Beirut
Anirudh Kshemendranath
Current Position: Analyst Intern, Strategen Consulting- Berkeley, CA
Position upon EST&P graduation: Systems Development Intern, Bosch Energy & Building Solutions - Palo Alto, CA
M.S. EST&P, concentration: Materials Science & Engineering
B.S. Materials/Metallurgy Engineering, Visesvaraya National Institute of Technology, Nagpur
Zijie (ZJ) Lin
Position upon EST&P graduation:  Software Engineer/Co-Founder, GoLorry- San Mateo, CA
M.S. EST&P, concentration:  Electrical & Computer Engineering
B.S. Electrical Engineering, Nanyang Technological University
Xi (Lucius) Liu
Position upon EST&P graduation: Materials Science & Engineering Research Assistant, Hong Kong Universty of Science & Technology - Hong Kong, China
M.S. EST&P, concentration: Materials Science & Engineering
B.S. Materials Science & Engineering, Wuhan University of Technology
Carlos Marin
Current Position: Project Manager/Consultant, UN Economics Commission for Europe - Switzerland
Position upon EST&P graduation: Buisness Development Advisor, Earthed B.V.
M.S. EST&P, concentration: Engineering & Public Policy
B.S. Industrial Engineering, Universidad Catolica Chile
Jake McIlvaine
Position upon EST&P graduation: Assistant Operations Officer for Naval Engineering Command Europe, Africa, & SW Asia - Naples, Italy
M.S. EST&P, concentration: Engineering & Public Policy
M.S. Systems Engineering, Naval Postgraduate School
Bob Mirzabeigi
M.S. EST&P, concentration: Engineering & Public Policy
B.S. Mathematics, University of Pittsburgh
Paripat Pajayakrit
Position upon EST&P graduation: Energy Engineer, The Siam Cement Group Co., Ltd. (SCG) - Bangkok, Thailand
M.S. EST&P, concentration: Mechanical Engineering
B.S. Electrical Engineering, Chulalongkorn University
Suraj Peri
Current Position: Assistant Specialist, Energy & Climate, University of California, Berkely
Position upon EST&P graduation: Energy & Climate Data Analyst, University of California, Berkely
M.S. EST&P, concentration: Engineering & Public Policy
M.S. Chemical Engineering, Osmania University
Bharat Ramkrishnan
Position upon EST&P graduation:  Senior Analyst, Energy, Environment & Network, NERA Economic Consulting - Washington, D.C.
M.S. EST&P, concentration: Engineering & Public Policy
M.S. Chemical Engineering, National University of Singapore
Anushree Srinivas
Position upon EST&P graduation: Intern, Wellbore Specialties - Austin, TX
M.S. EST&P, concentration: Engineering & Public Policy
M.S. Chemical Engineering, University of Mumbai
Tanachai Tadsanawiwat
Current Position: Sr. Automation Engineer, Western Excelsior Corp.- Mancos, CO
Position upon EST&P graduation: Quality Control Engineer, SWN Son - Knoxville, TN
M.S. EST&P, concentration:  Electrical & Computer Engineering
B.S. Electrical Engineering, Chulalongkorn University
Gorkem (Yusuf) Topcu
Current position: Energy Expert at Auditing Department, Energy Market Regulatory Authority of Turkish Republic - Turkey
M.S. EST&P, concentration: Engineering & Public Policy
M.S. Business Administration, Ankara University
Yogesh (Yogi) Venkata Gopalan
Position upon EST&P graduation: Design & Development Engineer, Lutron Electronics - Coopersburg, PA
M.S. M.S. EST&P, concentration: Electrical & Computer Engineering
B.S. Electrical Engineering, Anna University
Ting Wang
Position upon EST&P graduation: Engineer, State Grid Corp. - Beijing, China
M.S. EST&P, concentration:  Mechanical Engineering
B.S. Energy Resources Engineering, Peking University
EST&P Graduates: Academic Year 2013-2014
Seiichi Arai
Position upon ESTP graduation: Assistant Manager in Central Japan Railway Company - Tokyo, Japan
M.S. ESTP, concentration: Electrical & Computer Engineering
B.S./M.S. Engineering, Keio University
Xieming (Robbie) Chen
Current Position: NERC Compliance Consultant, Burns & McDonnell - Kansas City Missouri
Position upon ESTP gradution: Transmission Planning Engineer, Entergy - Jackson, Mississippi
M.S. ESTP, concentration: Electrical & Computer Engineering
B.S. Engineering Science, University of Toronto
Sidharth (Sid) Choudhary
Current Position: Project Engineer, Center for Sustainable Energy Systems, Fraunhofer USA - Boston, MA
Position upon ESTP graduation: Research Assistant, Engineering & Public Policy, Carnegie Mellon University- Pittsburgh, PA
M.S. ESTP, concentration: Engineering & Public Policy
B.S. Electrical Engineering, PES Institute of Technology

Disha Giridhar
Position upon EST&P graduation: Energy Engineer I, Enpowered Solutions- Los Angeles, CA
M.S. ESTP, concentration: Mechanical Engineering
B.S. Mechanical Engineering, BMS College of Engineering


Chimere (David) Harbor
Position upon ESTP graduation: Marketing Officer, Integrated Solutions - Boston, MA
M.S. ESTP, concentration: Electrical & Computer Engineering
B.S. Electrical Engineering, Geneva College
 
Daniel (Dan) Hochman
Current Position: Director, Technical Services, Sealed - New York City, NY
Position upon ESTP graduation: Pilot Manager, Sealed
M.S. ESTP, concentration: Engineering & Public Policy
B.S. Political Science, Johns Hopkins University
Richa Khosla
Current Position: Energy & Development Engineer, DNV GL - Bengaluru Area, India
Position upon ESTP graduation: CMU Research Assistant - Pittsburgh, PA
M.S. ESTP, concentration: Chemical Engineering 
B.S. Chemical Engineering, Carnegie Mellon University 


Pei-Chun (Andrew) Kuo
Current Position: System Software Engineer, Smart Grid Interoperability Panel (SGIP)- Washington D.C.
Position upon ESTP graduation: Guest Researcher at National Institute of Standards & Technology
M.S. ESTP, concentration: Electrical & Computer Engineering 
B.S. Electronic Engineering, Chang Gung University 


Bryan Lewis
Current Position: Program Director, Youth Energy Squad, Ecoworks - Detroit, MI
Position upon ESTP graduation: Executive Associate, Energy & Environment Initiatives, Office of the Executive Vice President, Carnegie Mellon University - Pittsburgh, PA
M.S. ESTP, concentration: Engineering & Public Policy
B.S. Civil and Environmental Engineering and Engineering & Public Policy, Carnegie Mellon University


Albert Liang
Position upon ESTP graduation: Propulsion Engineer at Boeing Commercial Airplanes - Seattle, WA
M.S. ESTP, concentration: Mechanical Engineering
B.S. Chemical Engineering, Carnegie Mellon University

Yan (Elaine) Liu
Current Position:  Research Assistant, Washington State University
Position upon ESTP graduation: Ph.D. studies in Civil and Environmental Engineering, Washington State University
M.S. ESTP, concentration: Chemical Engineering
B.S. Environmental Science & Engineering, Shanghai Jiao Tong University

Manasa Seshadri
Position upon ESTP graduation: Research Intern, SSN
M.S. ESTP, concentration: Electrical & Computer Engineering
B.S. Electrical & Computer Engineering, SSN College of Engineering

Dennis Voegele
M.S. ESTP, concentration: Engineering & Public Policy
M.S. Mechanical Engineering, King's College, London

Michael Wiehagen
Position upon ESTP graduation: Captain, US Army Corps of Engineers, Assistant Project Manager at Los Angeles District with Duty at Fort Irwin, CA
M.S. ESTP, concentration: Engineering & Public Policy
B.S. Mechanical Engineering, Case Western Reserve University 
EST&P Graduates: Academic Year 2012-2013
Sweta Agarwal
Current Position: Energy Project Engineer, University of California-Davis - Davis, CA
Position upon ESTP graduation: Research Engineer, National Energy Technology Laboratory (NETL) - Pittsburgh, PA
M.S. ESTP, concentration: Engineering & Public Policy
B.S. Mechanical Engineering, BITS PILANI

Ahmad Alsaawy
Current Position: Manager of Product Dev.- Eng. & Tech. Services, Taqnia Services - Saudi Arabia
Position upon ESTP graduation: Communication Engineer, Center of Excellence for Wireless Application (CEWA)
M.S. ESTP, concentration: Engineering & Public Policy
B.S. Electrical Engineering, KING SAUD UNIVERSITY

Shantanu Chakraborty
Current Position: Engineer Data Analyst, Bloom Energy - Mumbai, India
Position upon ESTP graduation: PhD student in Electrical Engineering at University of Vermont
M.S. ESTP, concentration: Electrical & Computer Engineering
B.S. Computer Engineering, Rajiv Gandhi Institute of Technology

Tianchai Chunsiripong
Current Position: Assistant Manager- Waste to Energy, Siam Cement Group (SCG)- Thailand
Position upon ESTP graduation: Energy Engineer, Siam Cement Group (SCG)- Thailand
M.S. ESTP, concentration: Mechanical Engineering
B.S. Mechanical Engineering, Chulalongkorn University
Mengpin Ge
Current Position: Research Analyst, World Resources Institute - Washington D.C.
Current Position: Helms Fellow, World Resources Institute - Washington D.C.
Position upon ESTP graduation: Policy Intern, Climate and Energy Group at the Environmental and Energy Study Institute (EESI)- Washington D.C.
M.S. ESTP, concentration: Civil & Environmental Engineering
B.S. Environment Science, NANJING UNIVERSITY

Peishi (Bob) Gu
Position upon ESTP graduation: PhD Student in Mechanical Engineering & Research Associate, Center of Atmospheic Particle Studies at Carnegie Mellon University - Pittsburgh, PA
M.S. ESTP, concentration: Engineering & Public Policy
B.S. Thermal Energy and Power, TONGJI UNIVERSITY
Fraser Kitchell
Current Position: Program Manager, Astrobotic Technology Inc. - Pittsburgh, PA
Position upon ESTP graduation: Robotics Engineer, Astrobotic Technology Inc.
M.S. ESTP, concentration: Mechanical Engineering
B.S. Biology, AMHERST COLLEGE

Mehment Kurkcu
Position upon ESTP graduation:  Energy Expert, Energy Market Regulatory Authority, Petroleum Market Department - Turkey
M.S. ESTP, concentration: Engineering & Public Policy
M.S. & B.S. Chemical Engineering, MIDDLE EAST TECHNICAL UNIVERSITY

Kishore Mahbubani
Current Position: Sustainability Specialist, Alcoa - Pittsburgh, PA
Position upon ESTP graduation: Enviromental Sustainability Intern, PepsiCo - Pittsburgh, PA
M.S. ESTP, concentration: Engineering & Public Policy
B.S. Civil & Environmental Engineering, Carnegie Mellon University

Parvathy Jayaprakash Menon
Position upon ESTP graduation: Sustainability Intern, NRG Energy- Princeton, NJ
M.S. ESTP, concentration: Engineering & Public Policy
B.S. Instrumentation Engr, Cochin University of Science & Tech

Aravind Mohan
Current Position: Data Analyst, Abercrombie & Fitch - Columbus, OH
Past Position: Data Analyst, SolarCity and Co-Founder of Footpryntz - San Francisco, CA
Position upon ESTP graduation: Energy Analyst CenterPoint Energy and Co-Founder of Footpryntz
M.S. ESTP, concentration: Electrical & Computer Engineering
B.S. Electronics & Communication Engineering, ANNA UNIVERSITY
Vinay Radhakrishnan
Current Position: Consultant, Deloitte Transactions & Business Analytics LLP - Pittsburgh, PA
Position upon ESTP graduation: Field Service Engineer, Aquatech International Corporation- Pittsburgh, PA
M.S. ESTP, concentration: Mechanical Engineering
B.S. Mechanical Engineering, College of Engineering, Guindy

Kenta Sano
Position upon ESTP graduation: Engineer, Osaka Gas - Japan
M.S. ESTP, concentration: Civil & Environmental Engineering
B.S. Systems Innovation, UNIVERSITY OF TOKYO

Skyler Shatkin
Position upon ESTP graduation: PhD student in Electrical and Computer Engineering at University of Wisconsin-Madison
M.S. ESTP, concentration: Electrical & Computer Engineering
B.S. Environmental Engineering, COLUMBIA UNIVERSITY

Ashesh Srivastava
Position upon ESTP graduation: Strategic Planning Intern at Consol Energy
M.S. ESTP, concentration: Engineering & Public Policy
B.S. Civil Engineering, Motilal Nehru National Institute of Technology Allahabad

Srikant Subramaniam
Current Position: Energy Engineer/Sustainability Consultant, R3 Energy Management -New York, New York
Position upon ESTP graduation: Energy Engineer, Bright Power, Inc.
M.S. ESTP, concentration: Mechanical Engineering
B.S. Mechanical Engineering, BITS PILANI

Sanchit Waray
Current Position: Co-founder, StartEz - Pune Area, India
Position upon ESTP graduation: Research Intern, Saint-Gobain Abrasives, Northborough MA
M.S. ESTP, concentration: Engineering & Public Policy
B.S. Polymer and Surface Engineering, Institute of Chemical Technology (ICT, formerly UDCT), Mumbai

Chenlu Zhang
Current Position: PhD Student, Building Performance & Diagnostics Program, Carnegie Mellon University - Pittsburgh, PA
Position upon graduation: Intern for Robert L. Preger Intelligent Workplace
M.S. ESTP, concentration: Engineering & Public Policy
B.S. Electrical & Computer Engineering, Hebei University of Technology

Haoran Zhang
M.S. ESTP, concentration: Electrical & Computer Engineering
B.S. Electrical Engineering, TIANJIN UNIVERSITY

Wanbing Zhu
Current Position: Specialist, Apple- China
Position upon ESTP graduation: Sales Administrator, Samsung Techwin - Pittsburgh, PA
M.S. ESTP, concentration: Engineering & Public Policy
B.S Geology, Sun Yat Sen University
EST&P Graduates: Academic Year 2011-2012
Prabhu Adie
M.S. ESTP, concentration: Mechanical Engineering
B.S. Aerospace Engineering, University of Virginia


Gautam Ashok
Current Position: Sr. Technical Consultant, Accenture- San Fransico, CA
Position upon ESTP graduation: Business & Systems Integration Analyst, Accenture- San Fransico, CA
M.S. ESTP, concentration: Engineering & Public Policy
B.S. Chemical Engineering, University of California, Los Angeles


Tim Biederman
Position upon ESTP graduation: Enviromental Engineer, TrendTec - San Franciso, CA
M.S. ESTP, concentration: Materials Science & Engineering
B.S. Biological & Environmental Engineering, Cornell University


Yihan Julia Ju
Current Position: Consultant, Environmental Resources Management (ERM) - Hong Kong, China
Position upon ESTP graduation: Assistant Consultant, Environmental Resources Management (ERM) - Hong Kong, China
M.S. ESTP, concentration: Mechanical Engineering
B.S. Chemical Engineering, Hong Kong University of Science & Technology


Rashaan Keeton
Current Position: Energy Engineer, FirstFuel Software - Lexington, MA
Position upon ESTP graduation: Project Engineer, Demand Management Institute, Inc. - Boston, MA
M.S. ESTP, concentration: Mechanical Engineering
B.S. Chemical & Biomolecular Engineering, Cornell University


Vasileios Krassas
Position upon ESTP graduation: Analyst, Accenture's Management Consulting department- Greece
M.S. ESTP, concentration: Electrical & Computer Engineering
B.S. Mechanical Engineering, National Technical University of Athens


Kevin Li
Position upon ESTP graduation: Analyst, Utility Services at Oracle - Oakland, CA
M.S. ESTP, concentration: Civil & Environmental Engineering
B.A. in Statistics, University of California, Berkeley


Xiaoti Liu
Current Position: Project Engineer, E.ON - San Fransico, CA
Position upon ESTP graduation: Financial Analyst, GCL Solar Energy, Inc.
M.S. ESTP, concentration: Engineering & Public Policy
B.S. System Engr. & Management, Chinese Univ. of Hong Kong


Jessica Lyman
Current Position: Consultant, Black & Veatch - Washington D.C.
Position upon ESTP graduation: Internship with the White House Council on Environmental Quality, Energy & Climate Change
M.S. ESTP, concentration: Engineering & Public Policy
B.S. Mechanical Engineering, Drexel University


Bishal Mazumdar
Current Position: Founder/Executive, del2infinity and Energy & Dev. Engineer, DNV GL - Bangalore, India
Position upon ESTP graduation: Research Engineer, Center for Study of Science, Technology and Policy - Bangalore, India
M.S. ESTP, concentration: Materials Science & Engineering
B.S. Metallurgical & Materials Engineering, National Institute of Technology, Durgapur


Jorge Moncayo
Position upon ESTP graduation:  Energy Industry Analyst, US Federal Energy Regulatory Commission (FERC) - Washington D.C.
M.S. ESTP, concentration: Engineering & Public Policy
B.S. Mechanical Engineering, Carnegie Mellon University


Atul Mudaliar
Current Position: Associate- Power Sector, Shakti Sustainable Energy Foundation - New Delhi, India
Position upon ESTP graduation: Program Associate, Energy Access & Renewables, Shakti Sustainable Energy Foundation - New Delhi, India
M.S. ESTP, concentration: Mechanical Engineering
B.S. Mechanical Engineering, Maharashtra Institute of Technology

Phi Nguyen
Position upon ESTP graduation: R&D Engineer, Bell Helicopter- Dallas, TX
M.S. ESTP, concentration: Engineering & Public Policy
B.S. Mechanical Engineering, Texas Christian University


Kurt Poropatich
Position upon ESTP graduation: Energy Engineering Consultant, G.A. Wozniak & Associates - Washington D.C.
M.S. ESTP, concentration: Civil & Environmental Engineering
B.S. Civil Engineering, Case Western Reserve University


Kulachat Wongwan
Current Position: Engineer at Siam Cement Group - Thailand
Position upon ESTP graduation: Optional Practical Training assignment, Andritz Group- Alpharetta, GA
M.S. ESTP, concentration: Mechanical Engineering
B.S. Electronics Engineering, King Mongkuts Institute of Technology


Lian Xue
Position upon ESTP graduation:  Data Analyst, Ctrip - Shanghai, China
M.S. ESTP, concentration: Civil & Environmental Engineering
B.S. Environmental Engineering, Peking University


Nan Zheng
Current Position: Business Developement Manager, GreatPoint Energy - Chicago, IL
Position upon ESTP graduation: Project Engineer, GreatPoint Energy
M.S. ESTP, concentration Chemical Engineering
B.S. Environmental Science & Engineering, Fudan University
EST&P Graduates: Academic Year 2010-2011
Jay Bartlett
Position upon ESTP graduation: Legislative Intern for Texas State Senator Rodney Ellis; Energy & Environment Policy
M.S. ESTP, concentration: Engineering & Public Policy
B.S. Electrical & Computer Engineering, Carnegie Mellon University


Abishek Bharadwaj
Position upon ESTP graduation: Senior Associate, cKinetics - South Delhi, India
M.S. ESTP, concentration: Mechanical Engineering
B.S. Mechanical Engineering, Jawaharlal Nehru Technology Univ.


Dhruv Bhatnagar
Current Position: Energy Regulatory Analyst, Massachusetts Department of Public Utilities - Boston, MA
Position upon ESTP graduation: Technology & Policy Analyst for Energy at Sandia National Laboratories
M.S. ESTP, concentration: Mechanical Engineering
B.S. Chemical Engineering, University of California, Berkeley


Joshua Bordin
Current Position: On-site Process Safety Consultant II to ExxonMobile Researcg & Engineering, Siemens Energy, Inc Oil & Gas Division - Houston, TX
Position upon ESTP graduation: Process Safety Consultant, Siemens Energy, Inc Oil & Gas Division - Houston, TX
M.S. ESTP, concentration Chemical Engineering
B.S. Chemical Engineering, Carnegie Mellon University


Julio Astudillo Campos
Position upon ESTP graduation: Energy Efficiency Engineering (OPT) Intern, Red Star Yeast
M.S. ESTP, concentration: Mechanical Engineering
B.S. Ingenieria Civil Mecanica, Universidad de Chile


Suradech Chanapanpakorn
Current Position: Scholar, Siam Cement Group (SCG) - Thailand
Position upon ESTP graduation: Engineer, SCG
M.S. ESTP, concentration: Mechanical Engineering
B.S. Mechanical Engineering, Thammasat University


Pranav Chopra
Current Position: Sales Executive, View Inc.- New York, NY
Position upon ESTP graduation: Sales Engineer, Lutron Electronics
M.S. ESTP, concentration: Engineering & Public Policy
B. S. Agricultural & Biosystems Engineering, Iowa State University


Noey Ratiporn Munprom
Current Position: MSE Professor, Kasetsart University- Thailand
Position upon ESTP graduation: PhD student and Graduate Research Assistant, Materials Science & Engineering, Carnegie Mellon University- Pittsburgh, PA
M.S. ESTP, concentration: Materials Science & Engineering
B.S. Materials Science, Kasetsart University


Daniel Wetzel
Current Position: Sr. Associate, Rocky Mountain Insititute- Snowmass, CO
Position upon ESTP graduation: Associate Product Engineer at Reckitt Benckiser
M.S. ESTP, concentration: Chemical Engineering
B.S. Chemical Engineering, Carnegie Mellon University