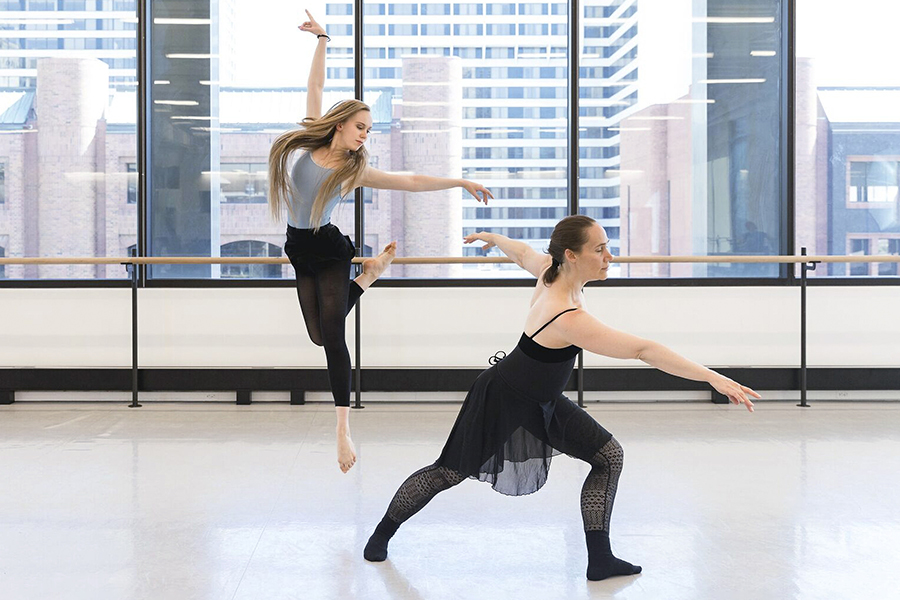 November 09, 2021
Raising the Barre
ACS member Terrel Lefferts dances her way to success
Andrew Carnegie Society member and scholarship supporter Terrel Lefferts seized an opportunity to bring joy and movement to children during the pandemic. Together with her daughter, Kaelyn, she has written and published 16 books that use creative storytelling to inspire kids to dance. Five more books are in production.
Terrel and her husband, Robert, are both Carnegie Mellon alumni. Terrel graduated from the Tepper School of Business in 1993, while Robert earned his bachelor's and master's degrees from Dietrich College of Humanities and Social Sciences in 1991 and 1993. This proud Tartan couple established an ACS Legacy Scholarship in 2019 to support the next generation of Tartans.
We caught up with Terrel to discover what drives her work and philanthropy.
How has your passion for dance influenced your life?
Dance has always weaved in and out of my life. I joined ballet and modern dance classes at CMU and was a founding member of CMU's Dancers' Symposium. Twenty years ago, I quit my job — program manager for a nonprofit helping kids — to focus on teaching dance and my photography business.
How did Once Upon a Dance get started?
My daughter and I originally created movement videos for children, and we eventually switched from videos to books hoping to reach more kids. We have two main series: "Dance-It-Out! Creative Movement Stories for Young Movers" (ages 4+) and "Dancing Shapes: Ballet and Body Awareness for Young Dancers" (ages 6+). We were honored that the first Dancing Shapes book was a 2021 Independent Press Award Winner.
What's your creative process for new books?
The initial book structure is always a pretty physical process; I am still a dance teacher at heart. I actually made up all the movements for "Mira Monkey's Magic Mirror Adventure" on my front sidewalk. I'm sure the neighbors were like, "What the…?"
How do you hope Once Upon a Dance impacts children and families?
We created the books I wished I'd had when I was a mom of a little girl and teaching dance to young kids. If I'd had these books when I was a child, I'm pretty sure the cassette tape would have snapped from overuse.
What are some of your favorite CMU experiences?
As a chemical engineering and public policy double major, CMU would have kicked me out if it weren't for the grades in my dance and photography classes, which were some of my favorites.
While I was not academically strong, I did receive CMU's My Heart Is in the Work Award for my contributions to student life. I was very active in campus organizations: Student Senate, photo editor for the yearbook, resident assistant, desk manager, orientation counselor, undergraduate representative on the University Student Affairs Committee … the list goes on and on.
I wish someone would have pointed out that the things I did for fun could translate to practical career skills. I'd love to write a letter to myself at that time, just to say, "There are jobs that use these skills!" It took me a while, but I guess I finally figured it out. I worked for several nonprofits, which used related leadership talents. I had a burgeoning photography business, as well as a dance program I'd built from scratch. And now, of course, a publishing business, where leadership and networking skills from CMU extracurriculars are highly applicable.
How has your education impacted your career?
At the end of my junior year, I switched majors to business. Senior-year classes went much better: I made the Dean's List for the first time. Classes in marketing and communications were relevant to my occupations, particularly my new author career.
Why did you decide to establish an ACS Legacy Scholarship?
Just like my younger CMU self, I crave connection. Robert and I talked it over and thought this was a great way to give back and connect.
What do you hope this support makes possible for students?
I hope it's empowering for a student to know someone wants them to succeed, like a silent admirer from afar.