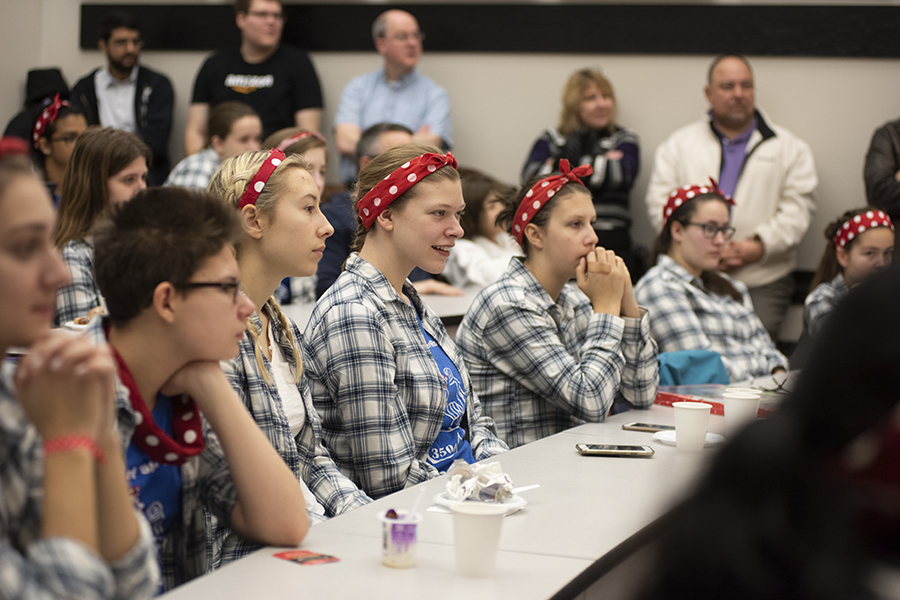 Energy for the Future
Carnegie Mellon is Awarded $175,000 in Grants from EQT Foundation for Regional Educational Initiatives
By Jennifer Pesci-Kelly jpescike(through)andrew.cmu.edu
Anna Nesbitt said she never considered engineering or computer science as a field until the last three years when she started participating in a robotics lab at Carnegie Mellon through Girls of Steel. But working with a team to solve real problems has created new momentum for her future. 
"This has empowered me to go outside of my comfort zone and push myself in fields I don't see girls pushing themselves in," the high school sophomore explains.
To help grow programs like Girls of Steel and prepare the next generation of diverse thinkers in critical STEM (Science, Technology, Engineering and Math) skills, EQT Foundation has awarded Carnegie Mellon University four grants for special educational programs.
EQT Foundation is partnering with Carnegie Mellon University to advance established programs for high school, middle school and elementary school students throughout western Pennsylvania. Totaling $175,000, these grants are focused on initiatives that create more accessibility for girls in middle school and students from under-represented populations to the interactive – and even competitive – learning environments in science, robotics, math and engineering.
"By joining our efforts, we can accelerate these programs to reach more promising students across the region," Dr. Angela Campbell, executive director of the Center for Student Diversity and Inclusion said. "These programs are creating a diverse stream of STEM learners, as well as future researchers and inventors."
EQT Foundation is committed to the Pittsburgh region and these grants reflect its ongoing investment in community and economic development, diversity and education.
Anna said she has also gained an understanding of how these disciplines intersect with her interests in advocacy and public policy. Last year, she spoke at the White House on behalf of her Girls of Steel team at the "Our Pledge to America's Workers" event about the skills she is gaining that will create a talent pipeline for the future.
"Through programs like this, we can continue to support ingenuity and competence from a young age in the areas that need it the most, creating a powerful workforce that can meet the growing demands for critical skills and talents," said Dave Smith, president, EQT Foundation.  "The future is wide open and awaits current students who are facing a landscape of new jobs that will shape society in ways we can't even imagine today."
The four programs that received grants from EQT Foundation are:
A $125,000 grant to the Summer Academy for Math and Science (SAMS) to build the pool of high school students from under-represented groups who pursue STEM-related academic disciplines. This six-week residential summer program offers two distinct cohorts for rising seniors and a smaller cohort for rising juniors to engage in a rigorous curriculum taught by CMU's faculty and staff.
A $20,000 grant to Girls of Steel to advance the work this program does to empower middle and high school girls in the Pittsburgh area to pursue their interests in STEM fields, bridging the critical national shortage of girls and women in STEM education and careers. CMU's Field Robotics Center launched the Girls of Steel Team in 2010, and, after eight consecutive years, 86 percent of Girls of Steel alumnae are majoring or working in STEM fields.
A $20,000 grant to Mixed-Reality STEM Learning, which works in partnership with the Trinity South Elementary School, to help 268 K-5 students bridge physical and virtual worlds to improve STEM learning. The AI-based system facilitates interactive feedback and guidance as students experiment and make discoveries about their physical environment, while being exposed to a variety of STEM subjects.
A $10,000 grant to the Summer Engineering Experience for Girls (SEE) for a two-week summer experience for girls entering the eighth and ninth grades to give them hands-on experience in different engineering fields. SEE focuses on energy and how different forms of energy are efficient and environmentally friendly, and how the students can make a difference through engineering.
About EQT Foundation:
EQT Foundation was established by EQT Corporation, one of the nation's premier natural gas producers, and is committed to the social and economic vitality of our operating regions.  EQT Foundation believes in meaningful engagement with the communities it calls home and takes great pride in the role as both a responsible and responsive corporate citizen.  EQT Foundation has developed strong partnerships with a variety of nonprofit organizations to enrich the diversity and viability of our communities, sustain the principles of continuous learning, and focus on environmental protection efforts. Read more at: www.eqt.com/our-communities/eqt-foundation