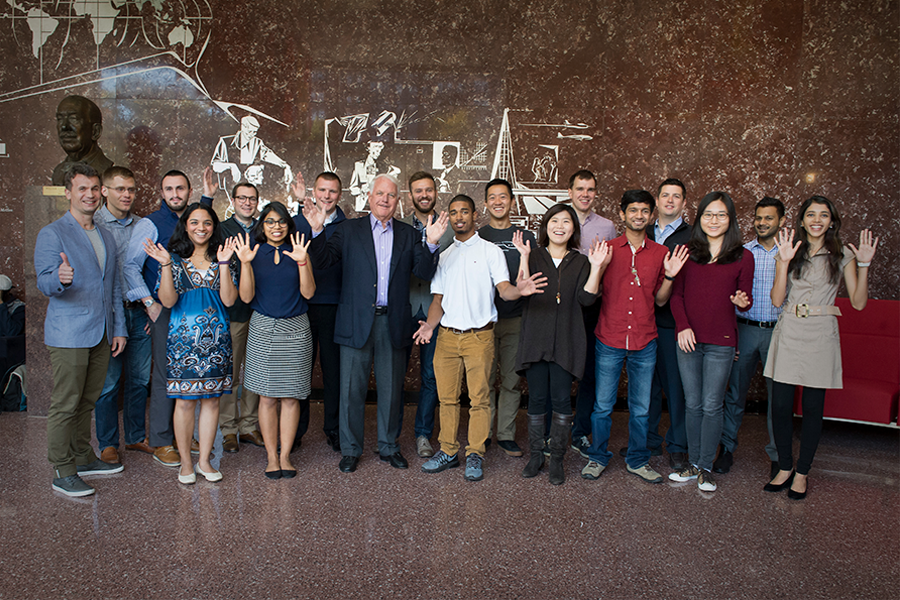 Swartz Center for Entrepreneurship Houses Innovation
To inspire and nurture entrepreneurial ideas, the university launched the Swartz Center with a $31-million gift from venture capitalist James R. Swartz (TPR 66), a CMU alumnus, distinguished entrepreneur and founding partner of the global venture capital firm Accel Partners. The center is a hub for the university's entrepreneurship activities, supporting and bringing together students, faculty, researchers, alumni and local entrepreneurs.
The Swartz Center is a system of programs and activities that offers each entrepreneur a unique path of education, engagement, collaboration and opportunity, creating a truly transformative learning experience.
As founding partner of the Palo Alto, Calif.-based Accel Partners, Swartz has led a global venture capital firm that counts many of the most revolutionary technology businesses among its investments, including Facebook, Veritas Software, Riverbed, Etsy and Dropbox. In 2007, he was honored with the Lifetime Achievement Award from the National Venture Capital Association.
The gift from Swartz includes $13 million in permanent university endowment, which in combination with other resources will support Presidential Scholarships and Fellowships for students, a faculty chair, entrepreneurs-in-residence, an executive director and staff for the center. An additional $18 million will be directed to a number of programmatic and infrastructure projects over the next four years. This includes the $10 million committed in 2014 for the creation of space for entrepreneurship activities in the new David A. Tepper Quadrangle. The remaining $8 million, leveraged with additional support, will fund infrastructure projects at several other locations across campus, new campus-wide curriculum development, a new fund to seed ideas across CMU's colleges and schools, and community outreach to engage local secondary schools in entrepreneurship learning opportunities. 
Explore the Swartz Center for Entrepreneurship's programs, resources and success stories.