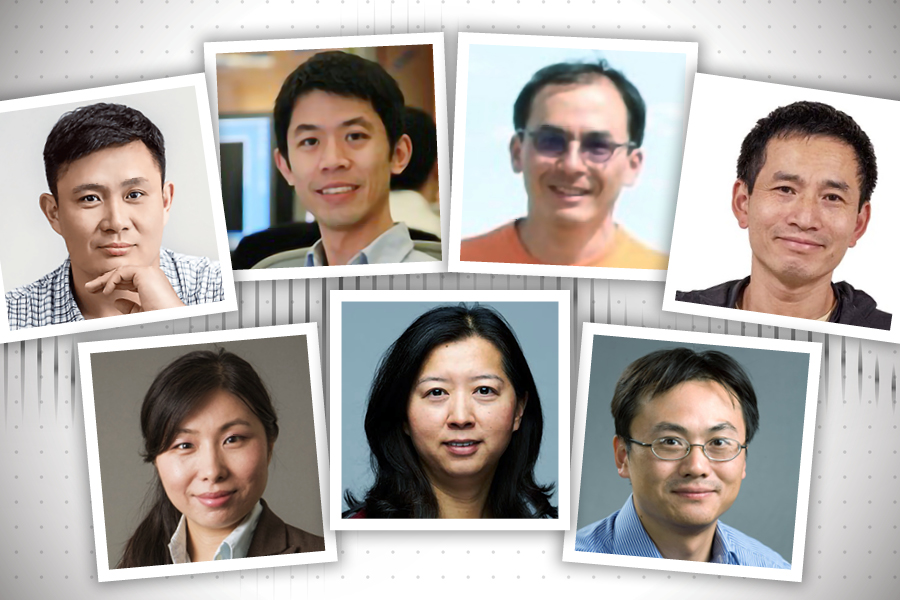 November 29, 2021
Language Technologies Institute Friends Unite To Create Chinese Alumni Fellowship
Collaborative Gift Among Largest in Language Technologies Institute's History, Will Support Students in Need
Ying Zhang took charge of fun activities during his time at Carnegie Mellon University's Language Technologies Institute. It was the early 2000s, and the institute was new, small and close-knit. Zhang, better known as Joy, became fast friends with his fellow LTI students.
Joy organized movie nights and trips skiing, hiking and rafting. He even hosted a party in his tiny apartment to watch the Pittsburgh Steelers win the 2006 Super Bowl.
And 15 years later, looking at a photo of the group celebrating that championship in the streets of Oakland, Joy sees his friends and what they have become. Some founded successful companies. Others are high ranking executives at top firms.
"We had very strong connections back then, and we remained connected even after we graduated," Joy said. "Our careers benefited from these connections, and now we want to help others have the same opportunities."
The friends, all LTI alumni, have come together to make one of the largest donations to the institute in its history. Totaling about $1.2 million, the gift will establish the LTI Chinese Alumni Fellowship, providing valuable funding to LTI graduate students in need.
The alumni behind the gift are:
Ying "Joy" Zhang (SCS 2002, 2009): past CMU faculty and staff; director of engineering and data science, Airbnb
Xin Liu (SCS 1999): principal software engineer, Airbnb
Jiangbo "Max" Miao (SCS 2005): founder, chair and CEO, Zhoupu Data Technology
Yanxin Shi (SCS 2007)
Rong Yan (SCS 2004, 2006): CTO, Verishop; and Yan Liu (SCS 2004, 2006): professor and director of the Machine Learning Lab, University of Southern California
Jian Zhang (SCS 2004, 2006): founder, Alphaton Technologies
Wei Xu (SCS 2000): chief scientist of general AI, Horizon Robotics; and Yi Zhang (SCS 2001, 2005): professor, University of California, Santa Cruz; and co-founder, Rulai.
The idea for the gift started small. Conversations about donating to CMU between Joy and a fellow LTI alum at AirBnB, Xin Liu, led to thoughts of making a joint gift. Emails, Zoom meetings and messages in a WeChat group of Chinese LTI alumni followed. As the group grew, so did the size of the gift.
"This gift demonstrates the character of our alumni and underscores the lasting impact of the relationships fostered in the School of Computer Science," said Martial Hebert, dean of SCS. "These friends, who helped each other through their studies and their careers, are collaborating once again to help students."
Carolyn Rosé, professor and interim director of the LTI, said the new fellowship will fuel innovation among students looking to take the lead in carving out their own research. Research funded through more typical channels comes with more constraints.
"A fellowship offers a student the opportunity to do something new and cutting-edge. If there is an innovative idea, they can just go for it," Rosé said. "It provides freedom. You can do something risky. You have a safety net."
This will be the LTI's first fellowship from former students for current students. And it will come from some of the institute's first master's and Ph.D. graduates, said Jamie Callan, a professor in the institute and a past interim director.
The alumni behind the gift joined the LTI not long after it transitioned from the Center for Machine Translation. Callan said the institute was a small family at that time. Yi Zhang, one of the donors, was Callan's first Ph.D. student.
"Their creativity, dedication and hard work helped establish the LTI as a leader in language technologies research and education," Callan said. "They will always hold a special place in our hearts, and we are humbled by their generosity now."
Joy is proud of the fund the alumni put together, but he hopes it does more than support a fellowship in the LTI. He was inspired by the stories of Andrew Carnegie and Mao Yisheng, who received the first Ph.D. from Carnegie Tech and was a renowned bridge engineer and educator in China. Both were immigrants who benefited from coming to the United States and then gave back.
Perhaps the gift will inspire other alumni to give back, too, Joy said.
"This fund, although small, is a gesture to show that contributing to the university can be meaningful," he said.
Anyone — from alumni to parents and friends — interested in contributing to the LTI Chinese Alumni Fellowship can contact Sandra Zhao, associate director of international development, at sandrazzhao@cmu.edu or through WeChat at sandrazzhao2 for more information.