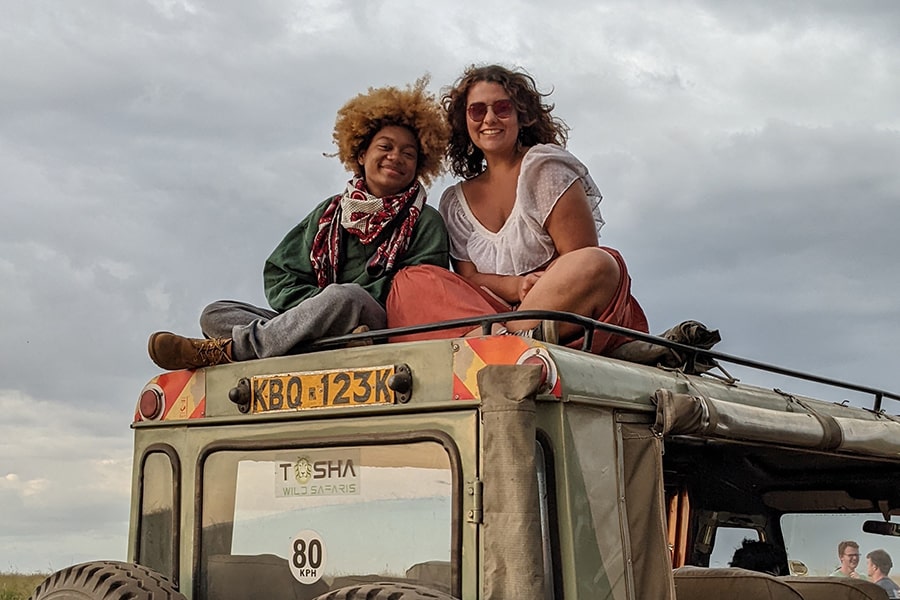 An Inspired Philosophy
Undergraduate research support equips Isabel Brum to explore public health in Kenya
A Dietrich College of Humanities and Social Science philosophy class changed Carnegie Mellon University senior Isabel Brum's perception of public health.
"We read a paper about how we should see public health as something that deals with human rights instead of seeing it as an extension of the medical field because you're dealing with people's education, secure access to food, water, health care, all these things. So public health is really a human rights issue," Isabel says about the course, Health, Human Rights and International Development.
"And that just changed something in me."
Isabel was inspired to explore more of the public health field. She spent the summer interning at a hospital in Kisumu, Kenya, learning about HIV care and the social determinants of health that impact people's quality of life in Western Kenya.
Her time in Kenya was funded by the Jennings Family Brave Companions Award.
Established by Carnegie Mellon trustee and alumnus Larry Jennings Jr. and his wife, Katherine, the fund annually provides students financial support to travel to developing countries during their summer breaks to study, travel, conduct research and/or participate in service work.
"I wanted to do field work, not just sitting in class and learning the theory about a topic. I wanted to actually talk with people, interact with people," says Isabel, who is pursuing a major in cognitive neuroscience and an additional major in ethics, history and public policy.
"I think this experience has just helped me change my perspective. Meeting people from different parts of the world is helpful, but actually going and being there with the community that you're working with, I mean, it's priceless to be able to do something like that."
She spent seven weeks in Kisumu, Kenya's third largest city, as part of the School for International Training's Public Health in the Tropics program. She was drawn to Kenya because of the program's emphasis. Isabel is from Puerto Rico.
"A lot of issues that affect Kenya can also affect Puerto Rico. I was very interested in comparing how both places deal with public health," she says.
Isabel spent her mornings shadowing clinicians at Jaramogi Oginga Odinga Teaching and Referral Hospital, primarily working with patients with HIV, including pregnant women who are receiving treatment to prevent mother-to-child transmission. In the afternoons, she attended Swahili classes and worked on her research project analyzing data from the hospital's central registries to see if the COVID-19 pandemic affected HIV care in Kenya.
"I definitely learned a lot about HIV and AIDS and the struggles different communities face," Isabel says, realizing that "to actually get rid of HIV, you would have to empower women and educate women, empower the economy, all of these things. So, it very much touched on the human rights side of public health." 
Isabel and the other students in her program explored Kenya and neighboring countries on weekends. One of the most memorable excursions was to the Maasai Mara National Reserve, an area of savannah wilderness in southwestern Kenya famous for its lions, cheetahs, elephants and zebras. Her group also visited Uganda where they spent the weekend in the city of Jinja.
There they saw the source of the Nile and kayaked the legendary river.  
Her experience in Kenya has solidified her plans to pursue a career in public health, although now she's considering global public health.
"I think this experience has just helped me change my perspective," Isabel says. "Meeting people from different parts of the world is helpful, but actually going and being there with the community that you're working with, I mean, it's priceless to be able to do something like that."