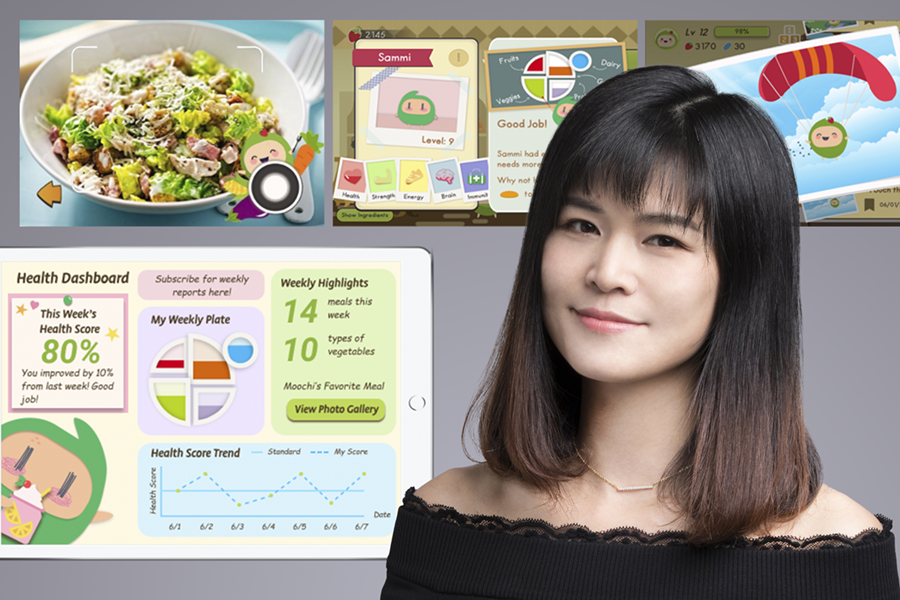 October 30, 2020
Game On for Healthy Habits
Alumna Summer Xia and her app LittleMoochi are tackling childhood obesity by making healthy eating enjoyable and educational
Carnegie Mellon University alumna Summer Xia was tired of fighting daily battles with her daughter at mealtimes.
"Yoyo likes doughnuts and Moochi, the Japanese snack food, and she hates fruits and vegetables," Summer says. "So we started doing trade-offs like exchanging 30 minutes of watching TV to get her to eat vegetables. Most of the time, we'd have to compromise or just give up."
Like many parents, she searched for help online. But she only found apps that centered on calorie consumption and weight — not the healthy eating and body positive lessons she wanted to pass onto her daughter.
Seeing no other option but to tackle the problem herself, Summer, who holds a master's degree in business administration from Tepper School of Business, co-founded LittleMoochi with Yoyo serving as the inspiration for its mission and name as well as its first beta tester.
Launched in January 2020, the app makes healthy eating fun by gamifying it — and adding an adorable virtual pet that relies on a child's wholesome food choices to become stronger, smarter and happier. Along the way, it helps children overcome their fears of trying new things, nurtures open-mindedness and feeds curiosity.
"If I had not come to CMU, I would not have had the chance or the confidence to make LittleMoochi happen. No matter the area, whether it was marketing, finance, business development or product design, I always had an expert to help me with any challenges I faced or sort out any questions I had."
The Prep Work
Summer was no stranger to the virtual world of artificial intelligence and gaming when she chose to move from her hometown of Shanghai to attend CMU and pursue her goal of creating a technology company that would help others.
In her decade as a software engineer and product manager at Hewlett-Packard and Electronic Arts, she gained an appreciation of artificial intelligence and saw the power of gamification to make peoples' lives easier and more fulfilling.
Once at CMU, with the university's interdisciplinary strengths of entrepreneurship, machine learning and artificial intelligence at her fingertips, she soon reunited with a trio of likeminded friends and fellow Tartan students that she'd known since high school.
The team came together again in late 2018 during a Lean Entrepreneurship Course with Zhuyun Dai bringing language and information technologies expertise from the School of Computer Science, Yi Xu adding information systems management skills from Heinz College of Information Systems and Public Policy and Julie Qin bringing business administration savvy from Tepper School of Business.
Accepted into the highly selective Swartz Fellow program that provides participants with hands-on experiences, networking and mentoring, Summer and her team soon turned a vague idea into a fully realized product that same year.
"If I had not come to CMU, I would not have had the chance or the confidence to make LittleMoochi happen," says Summer, who serves as the company's chief executive officer. "No matter the area, whether it was marketing, finance, business development or product design, I always had an expert to help me with any challenges I faced or sort out any questions I had."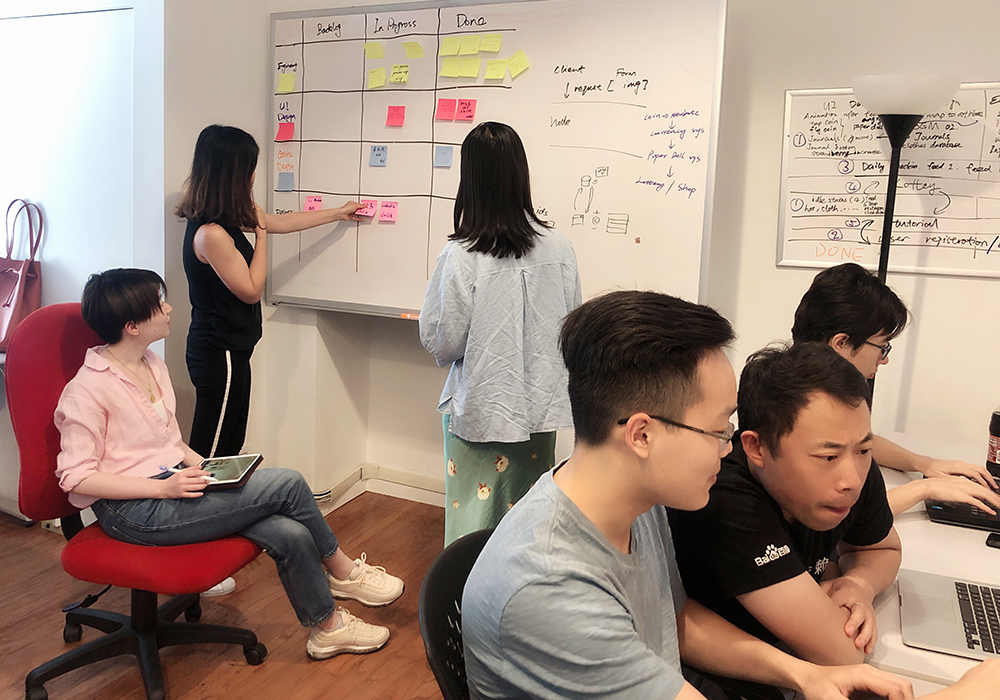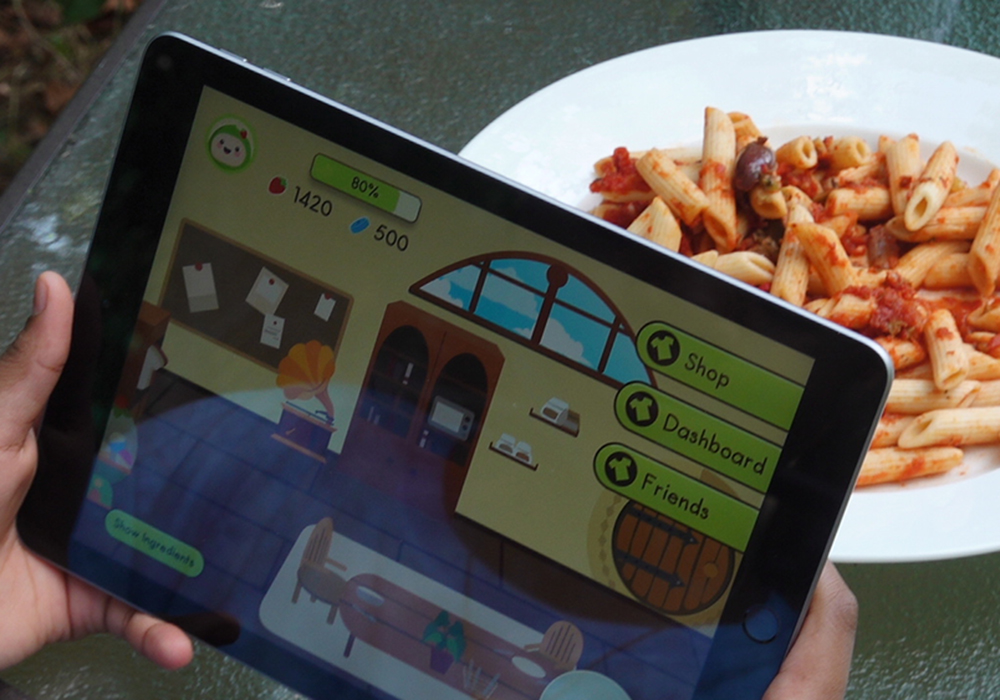 Crafting the Main Dish
Once a child downloads the LittleMoochi app, the healthy living fun begins right away. Each child adopts a Moochi, a virtual pet that they name and feed by taking photos of their meals and snacks. In short, whatever a player eats, their Moochi eats, too. Children get more points when they consume healthier foods like fruits and vegetables or try new items, and less points when they eat less nourishing items like potato chips or candy.
The app utilizes the U.S. Department of Agriculture's MyPlate guidelines to help children eat a healthy balance of fruits, vegetables, grains, dairy and protein, and it provides real-time data to view nutritional strengths and weaknesses.
"By using these guidelines, we don't label food as good or bad. We try to help kids understand what balanced eating looks like," Summer says. "So, if you eat several days of fried chicken nuggets and French fries, your pet won't die, but it will be tired. You'll get an indicator that you should choose some other type of food."
Through their game journey, children can customize their pet, unlock rewards like diaries and stickers to decorate their Moochi's home, and gain new favorite dishes — while also possibly conquering pickiness — through "new food challenges." The learning and information extends to parents, too, as they receive a weekly report with nutritional habits and highlights, predicted growth over time and food suggestions. In turn, adults can share this data with their child's pediatrician to aid in their medical care.
Behind the screens, Moochi's patent-pending AI and machine learning technology uses a multi-modality method to recognize and evaluate each food item.
"The beauty of our technology is that the more kids feed their Moochi, the better we learn their eating habits," Summer says. "Our recommendation engine then gives personalized food suggestions by incorporating an individual's nutritional needs, age, food culture and taste preferences, making each recommendation more meaningful to each user."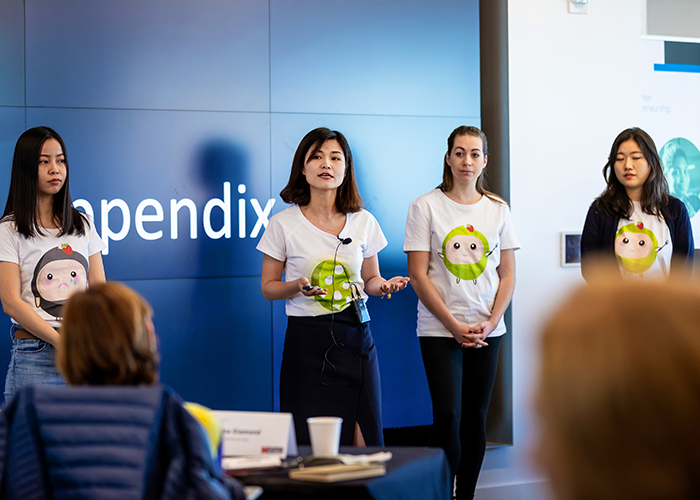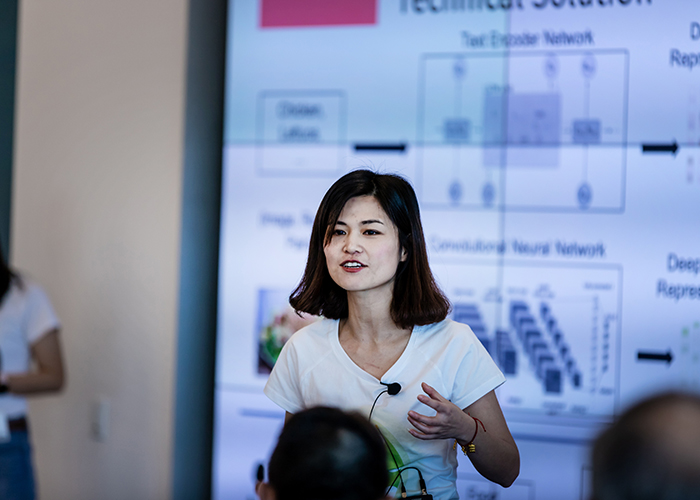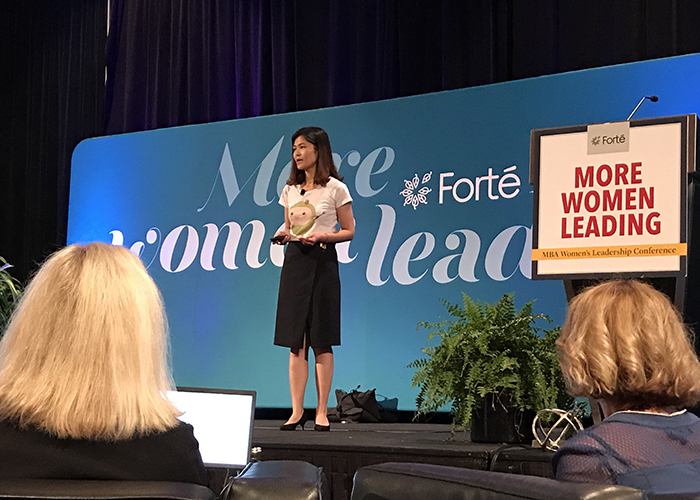 The Finishing Touches
LittleMoochi 2.0 hit the App Store and Google Play earlier this month with a bevy of upgraded features. A new nutrition dashboard shows a child's expanded eating pattern as well as meal fun facts, motivations and next steps. Moochis now have more customization options including outfits as well as expanded activity possibilities like planting a veggie garden. Children also can engage their friends in food challenges for the first time.
"We want to build LittleMoochi in an agile way with suggestions from our customers to help children improve their entire lifestyle by taking care of their virtual pet," Summer says. "While we have a dining room and a garden right now, we'll also be evaluating ways to encourage exercise in a gym room or expand their brains in a reading room."
Looking forward, the company is growing to include more cultures such as Indian and Chinese cuisines on top of the millions of food items already recognized by their algorithm, and they're looking into partnerships with grocery stores and healthcare providers to promote the app.
And as for Yoyo and her pet Uma?
"She checks her plate in the app and tells me things like 'My Uma said she needs some grains, so I will need you to make me some rice or noodles to eat, or Uma needs an apple, can I have an apple?'"
"Yoyo absolutely is still helping us to improve our app design."