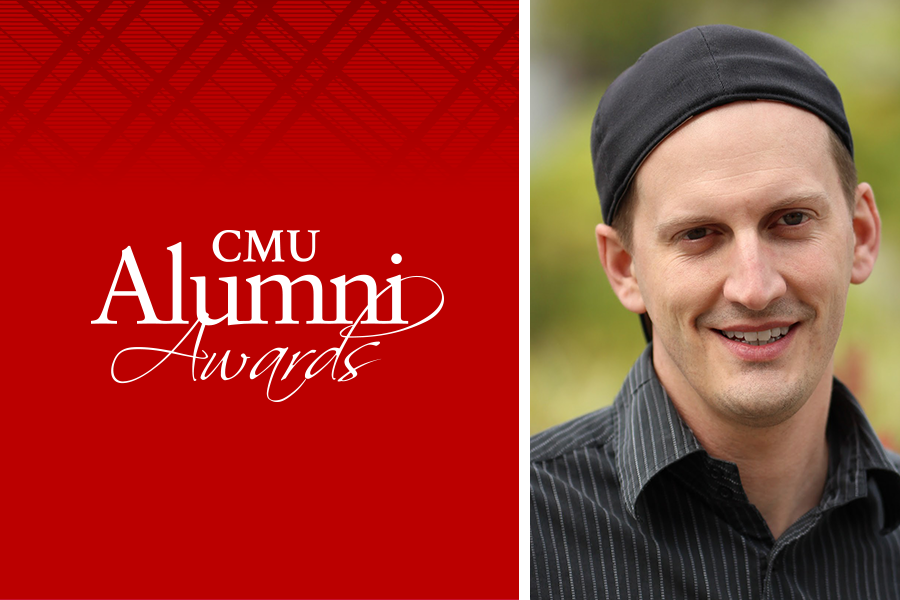 2018 Alumni Service Award Spotlight: Andrew Widdowson
School of Computer Science alumnus' volunteering efforts are a love letter to the university and its students.
Andrew Widdowson fell in love his first semester at Carnegie Mellon University — with a radio station.
As a first-year student, Widdowson, who had high school experience as a newspaper reporter, signed up to be a newscaster with CMU's campus radio station WRCT. He moved through the WRCT ranks over the next four years and spent time as a Fifth Year Scholar at the station.
"Radio is the least of what you learn at WRCT," he explained. "WRCT helped me learn how to manage people, solve interpersonal problems and encourage leadership in others. There was never a boring moment at the radio station."
The skills he learned at WRCT and as a computer science major in the School of Computer Science carried him to his first position following his 2005 graduation at Bose and then onto Google, where he has worked for nearly 11 years. His current position is site reliability engineer, maintaining the performance of Google Search as part of an elite team. 
"If I do my job right, no one notices," he laughed.
Since 2014, he has moved into doing outreach and education with the company, training other engineers on large-scale production systems.
A few years after graduation, Widdowson began working with the SCS Alumni Advisory Board, helping to move it over the years from a passive advisory board to an active alumni engagement role. As an active mentor for students with the SCS/ECE online career mentorship platform, he connects current students with internship and networking opportunities in Silicon Valley. He is using his technical skills on a multi-year project to build a database to assist in SCS engagement and fundraising activities.
"I have such a strong affinity to the Pittsburgh campus, and volunteering gives me a reason to come back to see what's going on," he said. "I like being able to take the time to mentor students because I was that student once. It's exciting to be part of a person's life like that."
His campus volunteering experience over the years sparked the idea to create an endowment for WRCT, as way to ensure its long-term viability. He worked with other radio station alumni to establish the WRCT Forever Fund, an endowment that provides money for non-essential equipment, training and supplies for the station.
"The endowment is a love letter from WRCT alumni to current students," said Widdowson. "We remember how much fun we had and we want to make sure current students have just as great a time."
Andrew Widdowson received a 2018 Alumni Service Award for his service to Carnegie Mellon and its alumni on May 18 during Commencement Weekend. Read more about all of CMU's 2018 Alumni Awards and honorees. Nominate a deserving Tartan for the 2019 Alumni Awards by September 1.