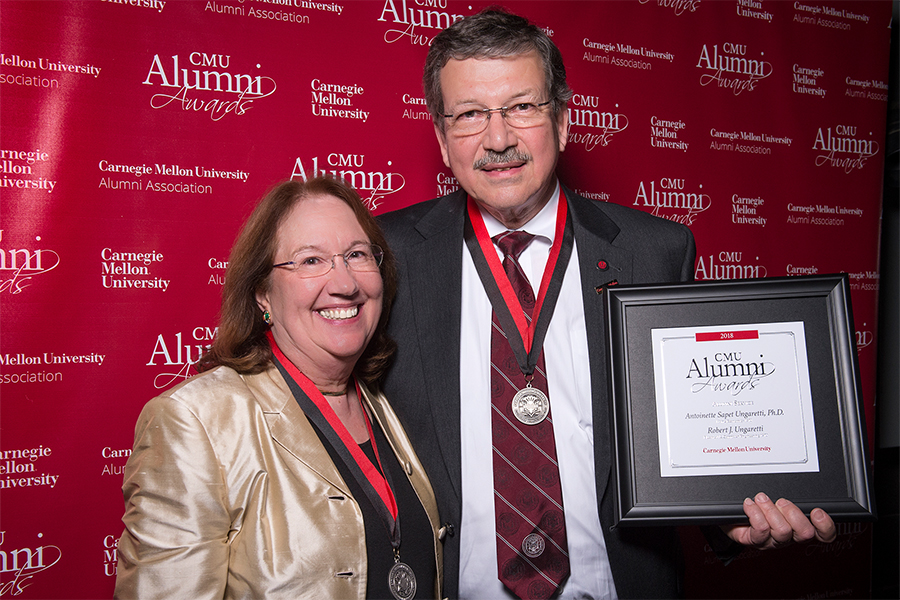 2018 Alumni Service Award: Toni and Bob Ungaretti
Building Relationships That Last a Lifetime
Toni (MM 1970) and Bob (E 1970) Ungaretti are role models for service to Carnegie Mellon. Passionate supporters of the university, they have made their mark through their commitment to building relationships.
Toni and Bob became college sweethearts one month into their freshman year, meeting in the basement of Warner Hall while they were cashing checks. Toni majored in home economics in the Margaret Morrison Carnegie College, and Bob studied electrical engineering in the then-Carnegie Institute of Technology.
Their years after graduation have been filled with impressive careers and family. Bob is currently a principal at both SCO Cloud, a nationwide full-service cloud provider, and Garett Group, an IT services company in the Baltimore-Washington region. Toni is the director of the Master in Education in the Health Professions program at Johns Hopkins University. But when their son, Ryan (E 2003, 2004), enrolled at Carnegie Mellon, Toni and Bob became CMU parents and active alumni.
"We wanted to help Carnegie Mellon make stronger connections and build relationships with alumni so that they would feel connected to the university and want to support it," Toni said.
Their decades of volunteer service have defined them as strong voices for alumni. Toni has been an alumni champion locally and broadly, serving on the Alumni Association Board from 2004 through 2016 and as its president from 2012 through 2014. She focused on positive changes that resonate on campus today, including the development of Volunteer Forum and support for the redevelopment of the Alumni House as a home base and welcome center for graduates who return to campus. 
Toni explained: "There needs to exist a mutually beneficial, lifelong relationship between CMU and its alumni. If the alumni feel that CMU cares about them after graduation and throughout their lives, they will value a deep and sustainable commitment to help advance the university. That idea has driven our work and sparked our efforts to connect and reconnect alumni with CMU."
Bob led the launch of the Baltimore Alumni Chapter and has been pivotal in its 12-year growth and success as it became the Greater Maryland Network. 
"I worked to reengage alumni with the university on a local level," he said. "Toni and I have developed a number of friendships that would not have happened otherwise. We tried to give people the feeling that Carnegie Mellon was still their home and that our events in the Maryland area would allow them to get together and enjoy being a Carnegie Mellon graduate."
When they weren't busy leading their alumni communities, the Ungarettis volunteered for their class reunions, stayed connected to the CMU Greek community and served on the Margaret Morrison Centennial committee.
Toni said: "We are proud and honored to be Carnegie Mellon alumni."