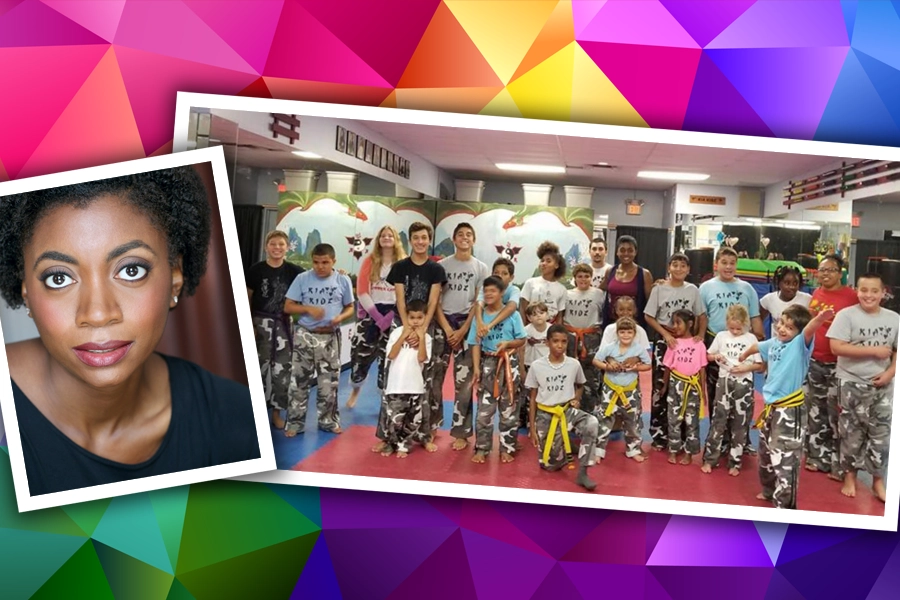 April 03, 2023
Opening Hearts and Minds
Alumna Gena Sims's Autism Theater Project shows the world that everyone has a voice
For Carnegie Mellon University alumna Gena Sims, training at the College of Fine Arts School of Drama was about more than finding her own voice. It was an integral part of her life's work to help and support young people with autism in finding their voices.
"I want people with disabilities to feel like they can look at a video or something in the media and feel like their story is being represented," says Gena, who graduated in 2019 with a bachelor's degree in drama.
Gena grew up in Miami, Florida, where she has helped raise her younger sister who is autistic.
From a young age, Gena was drawn to the arts, and specifically the theater. She recalls being in a play in middle school and experiencing the feeling of an audience truly understanding the complicated character she was portraying. That connection to the human experience and the desire to open hearts and minds through artistic expression continues to drive her work to this day.
Gena founded the Autism Theater Project the summer before her senior year of high school.
What started as community drama classes tailored to meet the needs of young people with autism, has grown into a nonprofit education and production company whose mission is to show the world that everyone has a voice.
The educational component of the Autism Theater Project is rooted in helping young people with autism explore their emotions and put words to what they are feeling. Through exercises like animal work, focus and energy games, and scenario role playing, Gena helps students connect their emotions to a name and an action, and teaches them how their own actions can impact others' emotions.
"I want people with disabilities to feel like they can look at a video or something in the media and feel like their story is being represented."
The production side of the Autism Theater Project came into focus as Gena attended CMU. Gena found a mentor in Raymond W. Smith University Professor of Drama Barbara Mackenzie-Wood, who also has a sibling with autism.
Gena says Mackenzie-Wood's passion for teaching acting is rooted in her desire to help students express themselves, something Gena profoundly understood. During her sophomore year, with the guidance of Mackenzie-Wood, Gena devised a play as part of the School of Drama's annual Playground Festival — a weeklong exploration of student-initiated and student-directed work.
The play, "In the Life of a Child," was inspired by Gena's sister.
It explores the life of a young girl with autism who finds a magical world where her schoolmates are able to hear the voice inside her head. After performing it at CMU in 2016, Gena took the play to Miami in 2018, where it was produced by the Autism Theater Project at Actors' Playhouse at The Miracle Theater and Miami Children's Theater.
Since graduating, Gena has continued to expand the work of the Autism Theater Project.
During the pandemic, Gena homeschooled her now-teenaged sister — an experience that she calls "life-changing." She felt an even stronger call to develop tools and resources to help disabled teens successfully transition into adulthood.
The newest initiative of the Autism Theater Project is a web series called "The Voice Inside," which tells real stories about teens overcoming challenges in their lives, from their own perspectives.
Gena is working with professional autistic playwrights to write "The Voice Inside" and is developing it through Zoom workshops and rehearsals with autistic actors. She hopes the series will reach teens, parents and teachers and inspire them to look beyond a person's challenges to see their true potential.