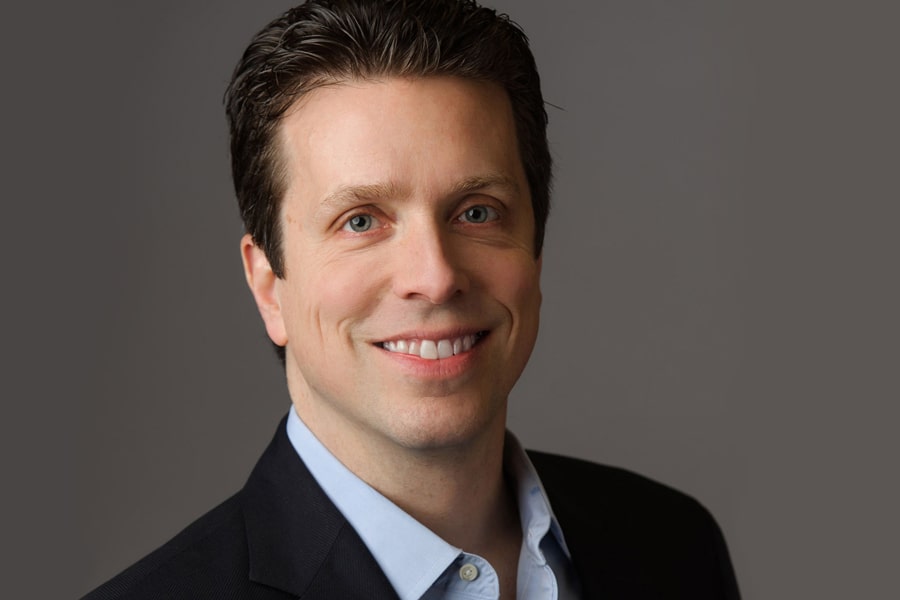 December 09, 2021
Breathing Easier
CMU alumnus keeps clean air flowing during the pandemic and beyond
Before COVID-19, most people didn't give a second thought to the air they were breathing day in, day out.
After nearly two years of living with the pandemic, the importance of indoor air quality has become very clear – and Eric Evans, Carnegie Mellon University alumnus and CFO of Big Ass Fans (BAF), has been there to help make a "return to normal" possible for many.
BAF is an airflow solutions company known for its high-volume, low-speed fans and the world's first UV-C ceiling fan system that eliminates airborne pathogens using ultraviolet light and ionization.
"We have always been really proud to provide healthier and safer environments to our customers," says Eric, who earned his MBA from Tepper School of Business in 2001. "However, to have applied our innovation during the pandemic toward incorporating air disinfection took that pride to the next level."
"Prior to 2020, one wouldn't have expected air circulation to be as critical to safety as it's become, but in the blink of an eye we were put front and center. We embrace being there."
Essential Air Movement
Since COVID-19 spreads through the air via respiratory droplets, proper airflow has become central to how indoor facilities manage the invisible pandemic.
"A lot of people may not realize it, but air movement is essential and critical to everything we do," Eric says. "Being able to provide people a solution to comfort and do it safely with clean air is a very fulfilling thing." 
Innovating efficient air systems isn't new to BAF. In 2019, the company conducted an experiment on the International Space Station, and a few years ago, they worked in Rwanda on a project to kill tuberculosis at Butaro Hospital.
COVID-19, though, posed a unique opportunity to innovate, and Eric's team rose to the challenge.
COVID-19 and Clean Air
In 2020, BAF launched Clean Air System, a full-service air disinfection solution that destroys SARS-CoV-2 and other airborne pathogens throughout an indoor space utilizing the proven technologies of ultraviolet light and ionization. The endeavor initially spawned the world's first UV-C ceiling fan system and now includes an entire line of ionization solutions.
"Once we understood the size of the need and the urgency around it, we took a dozen of our brightest talents across all functions of the business and dedicated them to this mission alone," Eric says. "Fortunately, our folks know a lot about fans and airflow. A lot."
The team revisited its past experience with upper room UV projects (including the Rwandan hospital) and paired the work with a recent project that involved adding a decorative uplight to the brand's Haiku fan. Though the project was originally designed to provide cosmetically appealing, ambient ceiling light, the engineers were able to morph the fan into one that provides ultraviolet germicidal irradiation to the space.
"We sent it for testing to independent labs to prove it killed viruses, specifically testing COVID-19. It did kill it — and the rest is history," Eric says.
Ceiling fans are uniquely suited to provide UV purification: They are on the ceiling and can safely disinfect the air in the upper room before circulating it back to the occupant level.
With any kind of UV light purification of the air, the air must flow through the "kill zone" of the light to receive the proper dose and the most effective way to do this is with a fan. Fans are constantly at work in the room with occupants, unlike with UV lights in ductwork that provide a source of clean air, but they only minimally clean contaminated air being created in an occupied space. 
Returning to Class
Clean Air System customers include Carnegie Mellon University, which purchased 20 Haiku fans with UV-C technology to help bring in-person education back to campus.
"At least half of the value of education is being around other people, interacting with them, being on campus," Eric says. "So rolling out large overhead fans that provide sanitized air in cafeterias or theaters, or Haiku UV-C fans used in classrooms and football locker rooms, is really about getting back to the way school should be — a social affair."
As early as January 2020, CMU was evaluating options for enhancing its HVAC systems to help combat COVID-19 and has since implemented accelerated maintenance programs, modified automation logic, increased operating hours, maximized air ventilation, verified high filtration and deployed portable HEPA air purifiers.
"CMU was well ahead of the curve due to its 20-year commitment to building green buildings, of which indoor air quality is a part. Our past investments in ventilation and filtration were very beneficial as we entered the pandemic," says University Engineer Steve Guenther, assistant vice president of Facilities Management and Campus Services.
Advanced technologies were piloted in seven buildings, including new ultraviolet airflow disinfection and needlepoint bipolar ionization systems. The technologies have proven effective in eliminating the growth of bacteria, mold and spores, and in controlling the spread of airborne viruses.
"Based on the positive results with the seven-building pilot, we expanded in additional buildings with a focus on instructional and large gathering spaces," Steve says. "A total of 24 buildings have these technologies to enhance HVAC systems."
Carnegie Mellon is not alone in its efforts to improve air quality and airflow. BAF saw its products incorporated into even more spaces than before the pandemic, and this growth led to Madison Indoor Air Quality acquiring the company this summer.
"We're so happy to have found a permanent owner for the business that truly believes in the opportunity we have ahead of us," Eric says.