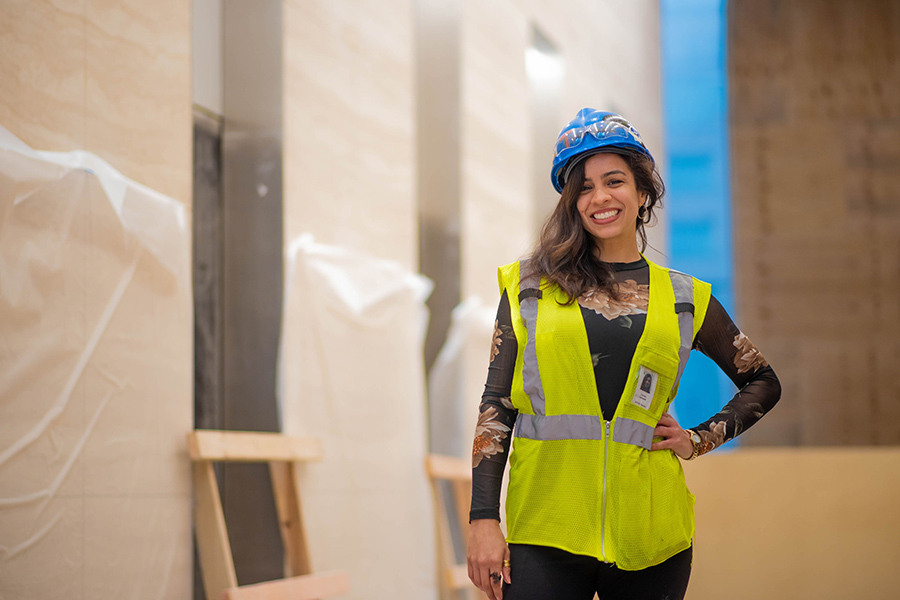 June 11, 2020
Big Apple Builder
Alumna Carolyn Caranante makes her mark on NYC's One World Trade Center and Manhattan West
Staten Island-based Carolyn Caranante, AIA (A 2009, 2010) transitioned her CMU education into a New York City construction career—including working as a Project Manager in core architectural trades for Skidmore, Owings & Merill's One World Trade Center.
Caranante, who has worked for Tishman Construction since 2011, earned her NYC architecture license in 2017. As an undergraduate Bachelor of Architecture (B.Arch) student, she decided to pursue a Master's degree in Architecture–Engineering–Construction Management (AECM). As an undergrad, Caranante discovered that she enjoyed design but had a passion for seeing things get built. The AECM program allowed her to easily evolve from architecture into construction management.
Carolyn Caranante's current assignment is managing the high-end lobby finishes for Manhattan West's Northeast Tower, a 71-floor tower in NYC's Hudson Yards district.
On a visit to Pittsburgh this past fall, Caranante talked with current CMU School of Architecture students about her career path and her current assignment managing the high-end lobby finishes for Manhattan West's Northeast Tower, a 71-floor tower in NYC's Hudson Yards district. She cited her CMU coursework as being integral to her success, including a Project Management for Construction class taught by Dr. Burcu Akinci.
"The course offered a simulated project, where we were responsible for estimating, scheduling, and preparing bids for a medium-sized project in Pittsburgh," Caranante said.
"It helped me to collaborate with my peers, understand budgeting, and handle the actual constraints and inputs required in a project."
Caranante adds that blending architecture and construction made her more marketable to potential employers. "Having a background in architecture is a commodity in the field of construction, and an added advantage. In the construction management industry, there are fewer architects and being one of them increases your value in the company you are working for."
She explained that her first employer and mentor did things the old-fashioned way—drawings were generated by hand. Caranante learned both key values about hand drafting while simultaneously introducing her educational expertise to integrate digital methods of drawing and rendering into the office.
While the technical skills of design and architecture are integral parts of her daily life, Caranante stresses one basic skill for success—strong communication. She describes AECM as a human-oriented business where it's important to know how to dress the part and read people. These skills also helped her while job hunting. "You can go into an interview very well qualified—but if the employer doesn't get the right vibe, it could break [the deal]."
Caranante feels appreciative and empowered to be working in a male-dominated industry. She uses her insight and experience to add new perspective to projects. "I am very well respected—women bring something unique to the table. Women are equally capable of managing construction sites and I use my intellect in the same capacity as any male counterpart." She adds that her "softer instincts" enable her to handle issues well, counsel others through difficult situations, and remain approachable.
She expresses gratitude for the mentors who helped to guide her career path, including late professor Ömer Akin, who recommended that she join the AECM program, and professor Vivian Loftness. "Vivian was a role model to me," Caranante said. "Watching a woman like her, pioneering in her industry, always resonated with me."
Caranante is pleased with her career decision, stating that there will always be a need for some sort of construction or construction management. "No matter what your initial background is, there is a way to fit in the industry. Learning and acquiring knowledge about management can help bring a project dream to fruition."