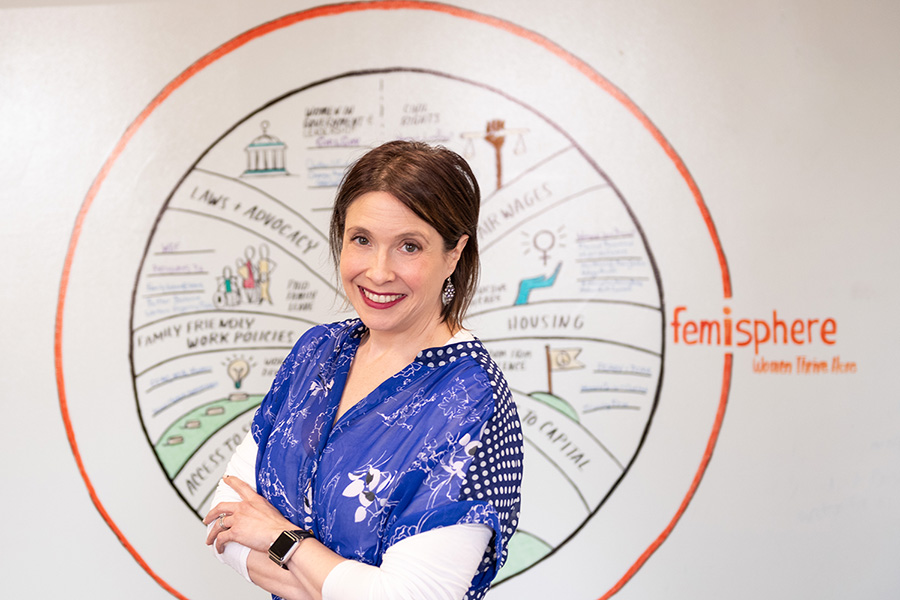 March 03, 2020
Her Life's Work
Alumna Heather Arnet fights for equitable policies for all and empowers other female change-makers
Carnegie Mellon University alumna Heather Arnet (DC 1997) never met her great-grandmother, but for her entire life, she's been inspired by stories of her struggles and success as a suffragette.
"I was raised hearing that you have to work to protect and advance peoples' rights because other people fought and died for the rights you have," Heather recalls. "Feminism and activism have been a part of my life for as long as I can remember."  
As CEO for the Women and Girls Foundation in Pittsburgh, Heather continues the advocacy work of her   great-grandmother and countless other women by pursingequitable public policies and developing the female leaders of the future.  
"F

eminism and activism h

ave

 been a part of my life for as long as I can remember."
Expressing Activism
As a child in Miami, Heather witnessed the gender inequity of her mother's life. A  single mother, she gave up her artistic dreams and earned a degree in accounting from the local community college to better support Heather and her brother.   
"She did what she needed to do and got a practical job working for the government with union benefits, but because she was a woman, she was passed over for promotions again and again," Heather explains.  
Heather came to CMU with the expectation of expressing her views and channeling her feminist activism   through art, while pursuing  a literary and cultural studies major and a drama minor.   
Along the way, she gained valuable — and unexpected — knowledge in HTML design from Professor  Chris  Neuwirth  and in statistics from Professor Joel Greenhouse .  
"At Carnegie Mellon, there is this cross-pollination of arts and sciences and humanities. At the time, I didn't see how I'd use things like statistics and web design to further my artistic and political goals, but now, as an activist and artist, I use those skills every day," she says.  
After  graduating, she took her diverse skill set to New York City. By day, she worked in business  development for advertising, venture capitalist and dot-com firms, and by night, she used theater as a medium to promote female voices and shine a light on topical women's issues.  
In 2000, she returned to Pittsburgh to serve as director of development for City Theatre — merging her dual NYC life into one Pittsburgh position that combined her English, drama and data knowledge from CMU.
She continued writing and directing plays including "Yo Mama," which tells the story of new motherhood through yoga poses and characters with mom-guilt infused names like "Cheating."    
Soon, she heard about a new organization that would  break down barriers to achieve equality for women and girls in all aspects of their lives  — the Women and Girls Foundation.  
"The mission was a perfect fit for me," Heather says.  
"A biosphere is a whole system for life to live and thrive. A Femisphere is a system that has everything in it for women and girls to thrive."
Fostering a Femisphere
Heather believes that every woman and girl should have access to all the tools they need — comprehensive healthcare, reproductive services, affordable higher education and childcare — to achieve their goals and become economically self-sufficient.  
To reach that goal, the foundation launched Femisphere. 
"A biosphere is a whole system for life to live and thrive. A Femisphere is a system that has everything in it for women and girls to thrive," she explains. 
While strides are being made, single mothers — who make up 73 percent of Pittsburgh households living in poverty — continue to struggle, so many Femisphere projects focus on closing gaps in local, county and state systems serving them. 
Through partnerships with organizations like Carnegie Mellon, City of Pittsburgh and Allegheny County, the foundation is working to expand microloans, increase hours at area childcare centers, improve access to higher education courses and create an app to eliminate prohibitive paperwork for vital services.     
At the state-level, their effort to ensure paid family leave for all Pennsylvanians has gained bipartisan support with a hope of moving from bill to law this year.    
"It's an issue that impacts everyone across race, age and socioeconomics," Heather says. "This legislation would help a lot of new parents and decrease the state's infant mortality rate, but it also will help a lot of caregivers, who are assisting their elderly parents." 
For Heather, one of the foundation's most inspiring initiatives is GirlGov, a civic engagement program that includes 135 high school participants from 62 schools spanning seven counties.  
This year, they are advocating to decrease police presence and increase mental health services in schools, close an immigrant detention center in eastern Pennsylvania and expand usage of environmentally friendly cleaning supplies in educational settings. 
"These students speak across lines of difference as they represent urban, rural, and suburban school districts, and are diverse in regards to age, race, religion, sexual orientation, political party, and core values," Heather says. "They come together to find places where they can agree and make positive change in their communities."
"They always inspire me."