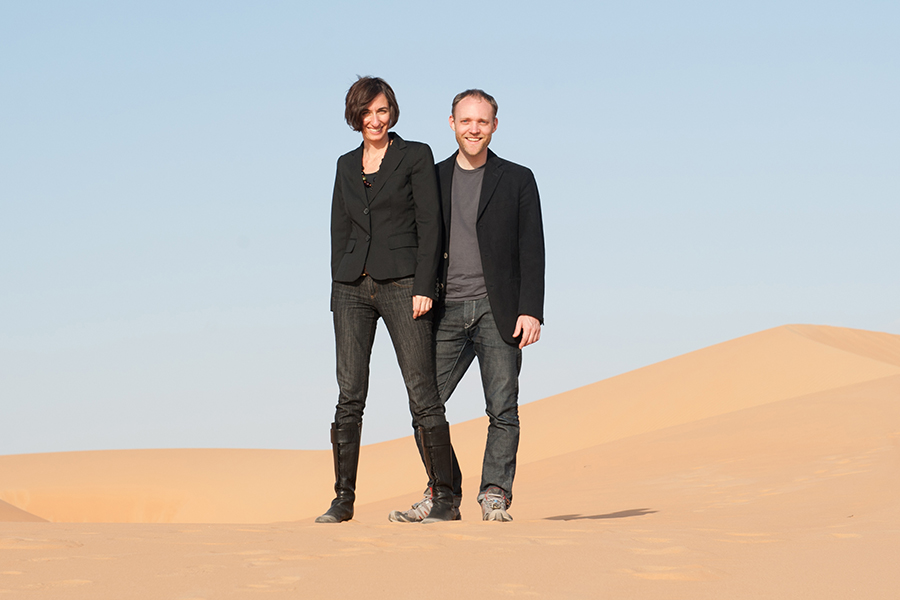 May 31, 2023
Partnering for the Beautiful Sustainable
CMU alumni Elizabeth Monoian and Robert Ferry's Land Art Generator Initiative inspires creativity and innovation globally
By Tricia Miller Klapheke
When Carnegie Mellon University alumni Elizabeth Monoian and Robert Ferry got married in 2008, they knew they wanted a life of adventure.
They moved to Dubai in the United Arab Emirates for Elizabeth's teaching job later that year and fell in love all over again.
But this time, it was with the land art movement.
"I look back on who we were before we got married and who we are today, and we've been so lucky that we've been able to forge a path together doing things we both love," Elizabeth says.
She earned a master's degree in fine art from the College of Fine Arts while Robert graduated in 1998 with a bachelor's degree in architecture from the College of Fine Arts School of Architecture. Together, they soon found a way to contribute to the movement.
"I look back on who we were before we got married and who we are today, and we've been so lucky that we've been able to forge a path together doing things we both love."
Elizabeth Monoian (CFA 2008)
Combining their shared passion for public art and sustainable energy, Elizabeth and Robert founded the nonprofit Land Art Generator Initiative (LAGI) in 2008 to inspire creative thinking and innovation on a global scale.
LAGI began as a global competition for interdisciplinary teams to design beautiful, large-scale art installations that also provide energy to the areas around them.
The competition challenges teams to design a project for a new site every two years. The LAGI 2022 competition featured a former U.S. Army base in the heart of Mannheim, Germany, and the winners are on exhibit at the German Federal Horticulture Show (BUGA 23) through October.
After an initial decade of ideation, Robert and Elizabeth are excited to see projects being built in LAGI's second decade. Prototyping and building is underway at Fly Ranch, which was the site of LAGI's 2020 competition and is near the annual Burning Man festival in Nevada. A pair of solar mural artworks, which are paintings or photographs displayed outside on solar panels, have been completed, and two more are in the process of being built. LAGI also is in the early design stage for a permanent installation in a major U.S. city that will be publicly announced soon.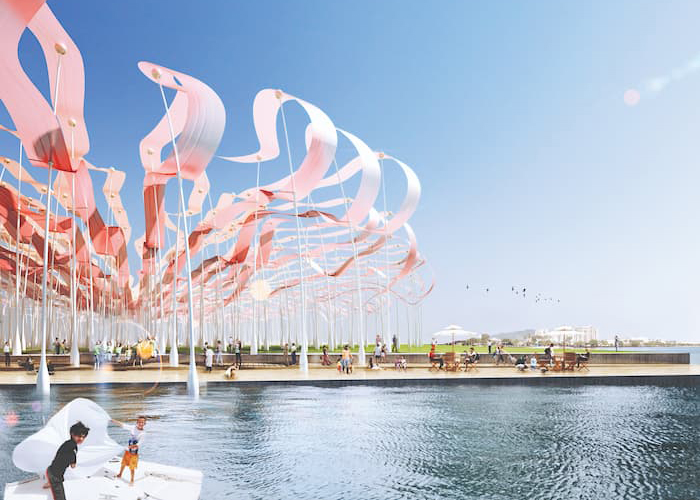 BEYOND THE WAVE: Submission to the 2014 Land Art Generator Initiative design competition for Copenhagen
DESIGNER(S): Jaesik Lim, Ahyoung Lee, Sunpil Choi, Dohyoung Kim, Hoeyoung Jung, Jaeyeol Kim, Hansaem Kim (Heerim Architects & Planners)
ENERGY TECHNOLOGIES: Organic photovoltaic (OPV), kinetic harvesting (piezoelectric)
ANNUAL CAPACITY: 4,229 MWh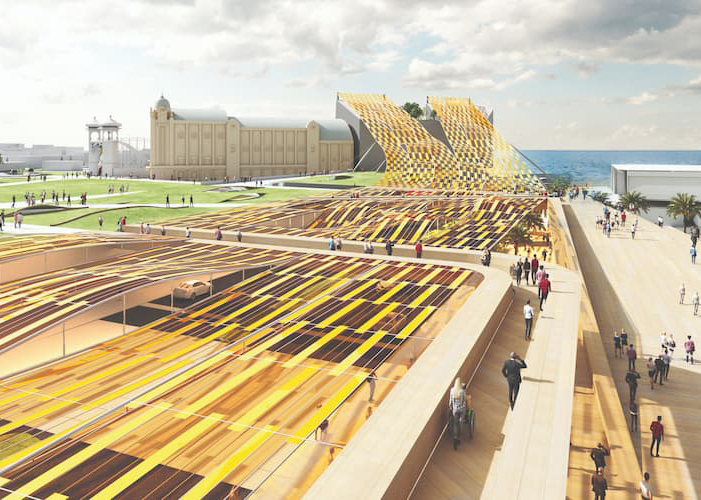 LIGHT UP: Winner of the Land Art Generator Initiative (LAGI) 2018 Competition for Melbourne
DESIGNER(S): Martin Heide, Dean Boothroyd, Emily Van Monger, David Allouf, Takasumi Inoue, Liam Oxlade, Michael Strack, Richard Le (NH Architecture); Mike Rainbow, Jan Talacko (Ark Resources); John Bahoric (John Bahoric Design); Bryan Chung, Chea Yuen Yeow Chong, Anna Lee, Amelie Noren (RMIT Architecture Students)
ENERGY TECHNOLOGIES: Flexible mono-crystalline silicon photovoltaic, wind energy harvesting, microbial fuel cells
ANNUAL CAPACITY: 2,220 MWh
Building Up to This
Seeing this large-scale installation break ground later this year is a dream come true for Elizabeth and Robert.
The couple met not when they were both students in the College of Fine Arts, but years later when they both worked in Downtown Pittsburgh's Gulf Tower. One day, they happened to walk in together, shared a joke about the "wall of death" created by a group of smokers they passed as they came in, and discovered their shared love for art and sustainability on the elevator ride up.
They got married a few months later.
Robert, a Harrisburg, Pennsylvania native, came to CMU in 1993 shortly after the United Nations' Framework Convention on Climate Change was signed.
He remembers that though a lot of people were talking about climate change, Carnegie Mellon had one of the few architecture programs that was incorporating that knowledge into its curriculum.
He benefited from the pioneering work of three educators: Paul Mellon Chair and University Professor Vivian Loftness and Professor Emeritus Volker Hartkopf, a married couple who advanced the state of technology in integrating building performance at the graduate level, and Distinguished Teaching Professor of Urban Studies David Lewis, a favorite professor who taught about walkable cities and passed away in 2020.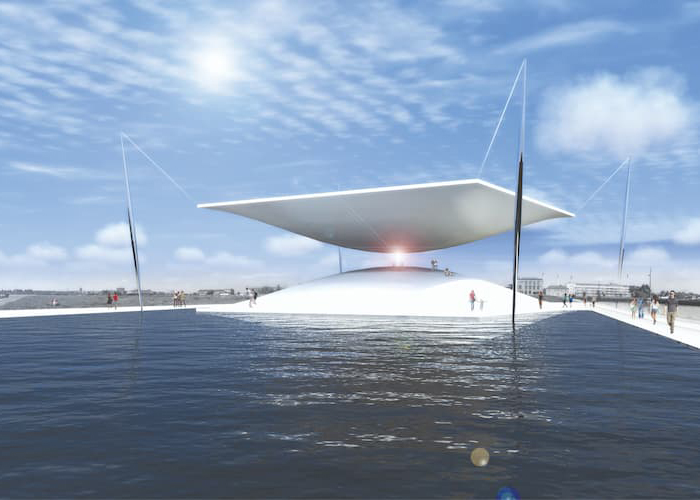 THE SOLAR HOURGLASS: Winner of the 2014 Land Art Generator Initiative design competition for Copenhagen
DESIGNER: Santiago Muros Cortés
ENERGY TECHNOLOGIES: Concentrated solar power (thermal beam-down tower with heliostats)
ANNUAL CAPACITY: 7,500 MWh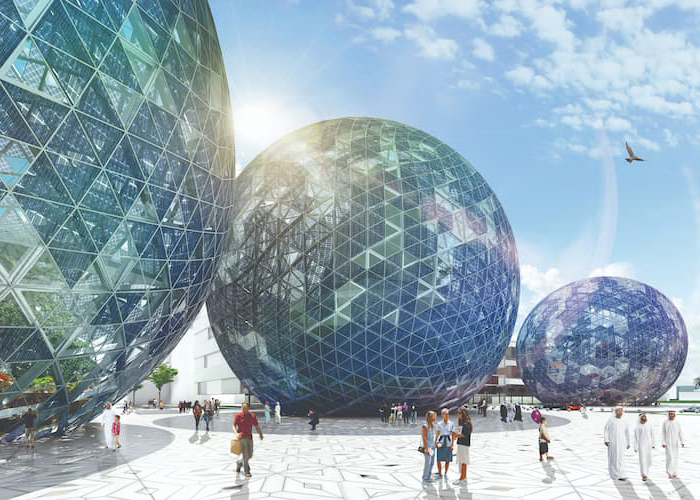 NEST: Submission to the 2019 Land Art Generator Initiative Design Competition for Abu Dhabi
DESIGNER: Robert Flottemesch
ENERGY TECHNOLOGIES: Mono-crystalline bifacial PERC solar modules
ANNUAL CAPACITY: 6,633 MWh
Elizabeth completed her undergraduate degree at Evergreen State College, an experimental interdisciplinary school in her home state of Washington, and was looking for a graduate program in a similar vein when she found Carnegie Mellon. The fine arts graduate program required students to think about how art can intersect with science and engineering and to work with community partners to develop projects.
Those formative years at Carnegie Mellon led the couple to a passion for Pittsburgh, too. They hoped LAGI's first large-scale art installation would be built in the Steel City and worked with local foundations to plan WindNest, a 2010 LAGI entrant, for Schenley Park. While developing the prototype, Elizabeth and Robert did educational outreach in the city, partnering with Pittsburgh Public Schools's STEAM coordinator to provide programming in the schools and helping with a camp in the city's Homewood neighborhood.
In 2015, however, the prototype ran into a challenge from the Pennsylvania State Historic Preservation Office. Ultimately, a full-scale version was instead built in the United Kingdom and opened to the public last year.
"We'd love to come back to Pittsburgh in some other way," Robert says.
The couple hoped more of the designs that have been submitted to the LAGI competition would have been built by now, but they refer to their next 10 years as their "decade of deployment," building connections to the various communities they work with and identifying the opportunities and challenges for implementation.
"If I'm the detail-oriented one, Elizabeth's strength is grounding things in the big picture very quickly. I think my focus on detail and project management, plus her incredible expansive thinking and creativity, makes for a really great partnership."
Robert Ferry (CFA 2008)
The Value of Partners
The couple agrees that the best advice they can give to students is to learn how to collaborate with others, so it becomes a habit. Additionally, branch out to get experience in other disciplines and avoid getting pigeonholed, and keep your eyes on the big picture.
LAGI has followed that advice, partnering with different local sponsors for each of their design competitions, starting with Masdar City in Abu Dhabi in 2010 and again in 2019. They listen carefully to what locals say they need on the site for the competition and encourage design teams to prioritize those needs.
But of course, Elizabeth and Robert's most valuable and enduring partnership is with each other. Fifteen years into their marriage, they've found their strengths are complementary.
"Robert has this incredible ability to absorb every bit of information every day about what's going on in the energy sector and the architecture sector," Elizabeth says.
"If I'm the detail-oriented one, Elizabeth's strength is grounding things in the big picture very quickly," Robert adds. "I think my focus on detail and project management, plus her incredible expansive thinking and creativity, makes for a really great partnership."