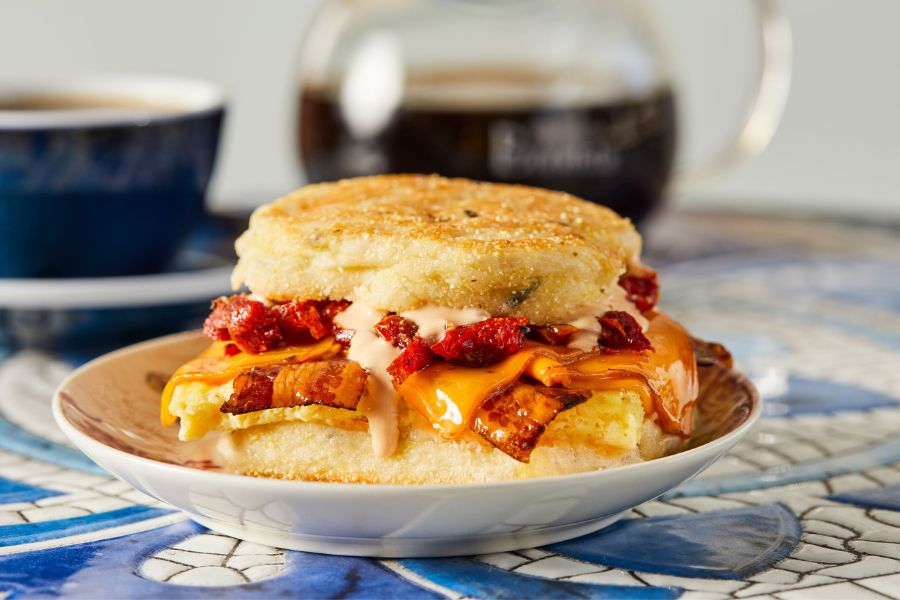 August 29, 2022
What's New in Dining
Photo: De Fer Coffee & Tea's breakfast sandwich
Dining Services welcomes five new restaurants to our program this fall and new menu items at on-campus dining locations!
De Fer Coffee and Tea Co.
De Fer Coffee & Tea will join Carnegie Mellon University Dining Services at the Maggie Murph Café in Hunt Library this fall.
De Fer Coffee & Tea was founded in 2016 by CMU alumnus Matt Marietti, who earned his MBA from the Tepper School in 2010, and his wife, Vanessa. They have since grown to six cafes, including their flagship location in Pittsburgh's historic Strip District, where they roast all of their coffee in-house daily. Operating the café in Hunt library holds special meaning for Marietti, who spent countless hours drinking coffee, studying and preparing for a career that would ultimately lead him back to Carnegie Mellon University. De Fer offers an eclectic menu of specialty coffee, house-made tea blends, paninis, chia pudding and delicious baked oatmeal.
Join us on Friday, September 30, from 1 p.m. - 2:30 p.m. for a grand opening celebration in Hunt Library.
Learn more about De Fer Coffee & Tea
Revolution Noodle
From the creators of campus favorite Hunan Express, Chef Wifi Chen looks to "revolutionize your palate. Revolution Noodle features build-your-own Malatang Noodle bowls with your choice of broth, noodles, vegetables, and proteins. Revolution Noodle also features house-made bao buns, a dough-like pocket filled with a selection of ingredients, and authentic bubble tea and fruit smoothies.
Learn more about Revolution Noodle
The Edge Cafe and Market
Elegant Edge Catering, operators of Tahini, will open their second campus dining location in Tartans Pavilion this fall! This new Vaad-certified dairy café and market features scratch-made flatbread pizzas with a plethora of fresh vegetarian toppings. The Edge menu also includes a new bagel bar and delicious assorted pastries; the lox with cream cheese is sure to be a favorite! Try a potato, spinach cheese or mushroom Turkish boureka - this delicate, savory, flaky treat will have you coming back for more!
Learn more about The Edge Cafe and Market
Wild Blue Sushi
Wild Blue Sushi is a new made-to-order sushi experience in Scott Hall. Expanding on the success of its grab-and-go sushi program throughout campus, Wild Blue Sushi will offer hot rice bowls topped with your choice of seasoned tofu, Asian bbq beef, and orange chicken. To round off their menu, a variety of grab-and-go salads and sandwiches will be available. Don't forget to grab bubble tea or freshly brewed coffee!
Learn more about Wild Blue Sushi
Tartan Express
The Tartan Express Food truck is opening with a new 100% Halal menu this year! Indulge in a quarter-pound all-beef hot dog, a meatball grinder, plant-forward chick'n tenders, waffle-cut fries, or a vegan chili nacho platter. Located in the heart of Legacy Plaza, grab food on the go or relax and enjoy your meal in one of campus' most beautiful outdoor spaces.
Please note that the Tartan Express no longer serves Vaad-certified kosher cuisine. Visit The Edge or Tahini in Tartans Pavilion for kosher dining options. 
Learn more about the Tartan Express Food Truck
Grubhub
Save time and skip the line! Students, faculty and staff can use Grubhub Campus to order food in advance for pick-up at participating dining locations. Learn how to use the Grubhub app on campus