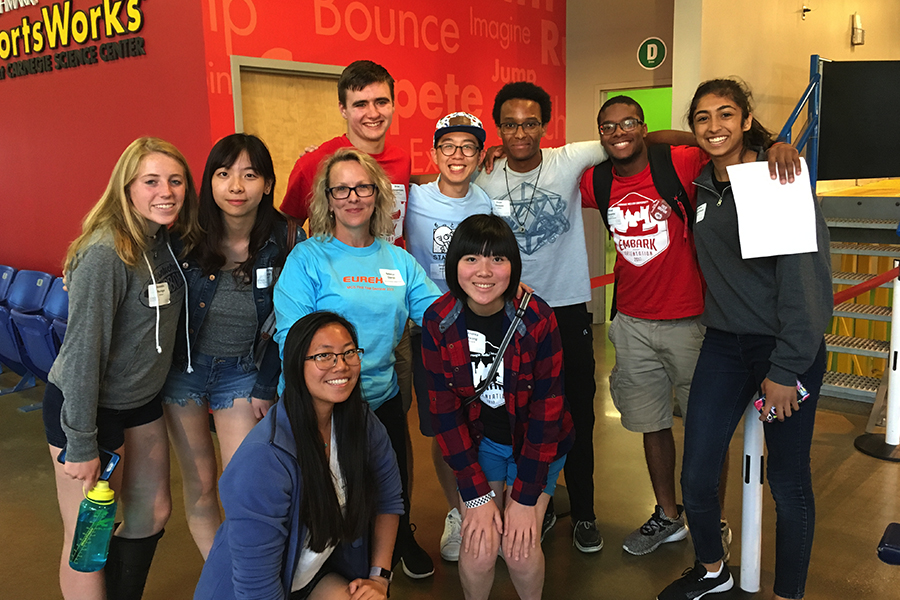 September 19, 2017
Core Education Program Boosts Yield in Mellon College of Science
By Jocelyn Duffy jhduffy(through)andrew.cmu.edu
Drawn by a new core curriculum that complements academics with personal and career skills, record numbers of admitted students chose the Mellon College of Science (MCS) over competitors this year.
The surge in interest has given the college its largest first-year class ever, enrolling 285 MCS students and Science and Humanities Scholars who plan to pursue majors in biological sciences, chemistry, mathematical sciences and physics.
"Our high yield was unexpected, but exciting. It shows that more students want to come to Carnegie Mellon to learn science and take advantage of the exciting opportunities that we provide to them," said MCS Dean Rebecca W. Doerge. "We give them a unique, forward-thinking educational program and access to some of the world's top scientists. Students also have the chance to engage in interdisciplinary coursework and research with the university's top-ranked computer science, engineering and statistics programs."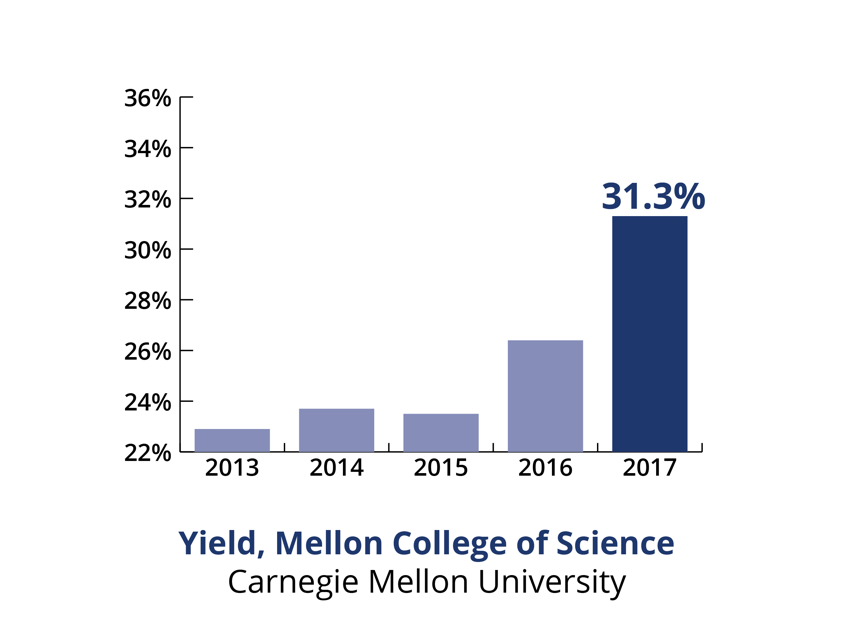 MCS's new Core Education program, instituted for the first time in 2015, prepares students to become 21st century scientists. The program is unique in that it helps students develop as scholars, professionals, citizens and people, providing them with skills that will help them succeed in academics, the workplace and society.
"Employers and graduate schools want students with great technical skills, but they also want students who are prepared for the workplace and are ready to make a difference," said MCS Associate Dean for Undergraduate Affairs Maggie Braun. "We don't know of any university that takes such a comprehensive approach to science education."
The Core Education's holistic viewpoint was developed in part by looking at the college's most successful alumni and the experiences and qualities they developed while at Carnegie Mellon. The common theme among most of the alumni was that they had a well-rounded college experience. They worked hard in their science classes, but also explored the arts and humanities, and they participated in research, community service and outreach.
The program also is soundly based in the latest science of learning research. MCS faculty work closely with Carnegie Mellon's Simon Initiative, which leverages learning science research to improve learning outcomes.
The result is an educational program in which students receive rigorous training in the sciences and their chosen field and are given opportunities to conduct research alongside Carnegie Mellon faculty. Students also participate in self-directed experiences that broaden their knowledge of the arts, help them maintain a balanced life and have them engage with the local and global community.
This year's incoming class will be the third class to participate in MCS's Core Education. They will be introduced to the program through a first-year seminar called "Eureka! Discovery and Its Impact." Through this course, students will learn skills that will help them as they move through their bachelor's degree program and develop into young scientists. The seminar brings together the entire first-year class for seminars on study skills, lectures on personal wellness and discussions with working scientists. First-year students get to know one another better though team building exercises and are mentored by upper class students during recitation sessions.
"I was looking for a program where I could not only learn my discipline but also be pushed to study other sciences. The Core Education at MCS gives me the depth of studies I want, as well as placing me within a larger, interdisciplinary university that excels in diverse subjects such as musical theater, computer science and design," said Hannah Daniel, a first-year student in MCS. "During the admission process, I also talked to some current MCS students. I saw myself in the individuals I spoke with, and even more, I saw them succeeding. I realized that meant I could succeed here too."
MCS faculty look forward to bringing this year's first-year class together, because in addition to being the largest class, it also is one of the college's most diverse. More than half of the students are female. The class also includes students from 10 different countries, including Costa Rica, Great Britain, Hungary, India and Romania.