Recent News
On May 3, faculty, staff and administrators gathered in the Mellon Institute to honor MCS staff members for their dedication and service to the Mellon College of Science.
---
Dadok to be honored in Pittsburgh May 9 at the 2013 Pittsburgh Conference Lectures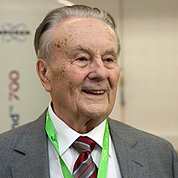 The Central European Institute of Technology (CEITEC) in Brno, Czech Republic has named their national NMR center after Carnegie Mellon University Emeritus Professor of Chemistry Josef Dadok. The Josef Dadok National NMR Centre, one of the most advanced centers of its kind in Central and Eastern Europe, focuses on using nuclear magnetic resonance (NMR) to study the atomic structure of biologically significant molecules. The Dadok National NMR Centre was dedicated in a ceremony held in Brno earlier this year. Dadok will be celebrated in Pittsburgh at the 2013 Pittsburgh Conference Lectures on Thursday, May 9 at 6 p.m. at the Pittsburgh Athletic Association. Dadok will give a lecture titled "My 50 Years in Scientific Instrumentation – Mostly NMR."
---
Ocean Wave Simulator Enables Researchers to Measure Sea Spray's Impact on Climate
A great deal of attention has been paid to the environmental impact of what humans put into the oceans and release into our air. But as waves crash, the ocean itself is releasing tiny particles that can impact cloud formation and climate. Using a 33-meter wave flume, scientists have for the first time accurately recreated sea spray aerosols in a laboratory setting, which allowed an international group of researchers, including Carnegie Mellon University's Ryan Sullivan, to study the chemistry of sea spray aerosols.
---
University Professorship is the Highest Faculty Distinction at Carnegie Mellon
Mathematical Sciences Professor Steven E. Shreve, has received the elite distinction of University Professor, the highest academic accolade a faculty member can achieve at Carnegie Mellon. The rank of University Professor recognizes a faculty member for representing the intellectual leadership of Carnegie Mellon through their expertise and accomplishments in their respective fields of study.
---