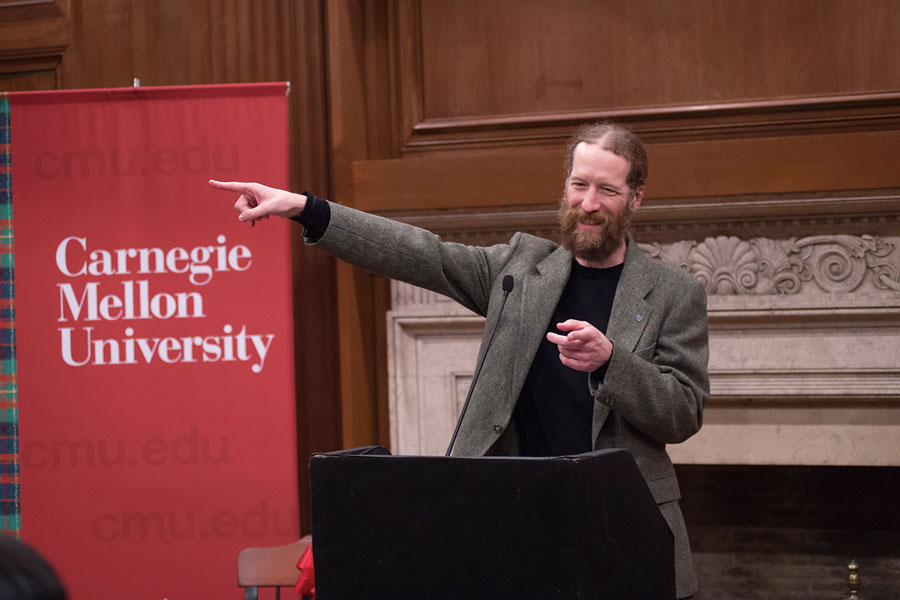 April 28, 2015
Neil M. Donahue Receives Thomas Lord Professorship in Chemistry
By Jocelyn Duffy jhduffy(through)andrew.cmu.edu
PITTSBURGH—Neil M. Donahue, professor of chemistry, chemical engineering, and engineering and public policy and director of the Steinbrenner Institute for Environmental Education and Research at Carnegie Mellon University, has received the Thomas Lord Professorship in Chemistry. The professorship recognizes faculty whose work has a profound impact on the university, research and society.
Donahue is an internationally recognized expert in atmospheric chemistry and air-quality engineering. His research focuses on the behavior of organic com­pounds in the atmosphere, which adversely affect our health and impact our climate. He investigates a number of topics, including fundamental quantum chemistry and the way chemistry forms molecules that stick to particles in the air, such as wood smoke and diesel emissions.
Donahue is a member and was the founding director of CMU's Center for Atmospheric Parti­cle Studies (CAPS), where he collaborates with colleagues and students in science and engineering to understand organic aerosols. His latest research focuses on nucleation of particles in the air as part of the Cosmics Leaving Outdoor Droplets (CLOUD) experiment based at the Proton Synchrotron at CERN in Geneva, Switzerland. The project, which is the first to use a high-energy physics acceler­ator to study atmospheric and climate science, aims to improve the understanding of aerosols and clouds and their impact on the environment.
Donahue is extremely active in the community of atmospheric science and air quality researchers. He has published more than 150 peer-reviewed articles and is one of the most cited scientists in the field of geosciences. Donahue is an associate editor of the Journal of Geophysical Research: Atmospheres and a member of the editorial board for Atmospheric Chemistry and Physics. He served on the board of directors of the American Association for Aerosol Research and as local section chair of the American Chemical Society. He is a fellow of the American Geophysical Union.
The late Thomas Lord was an inventor and corporate leader who was committed to furthering research and innovation at prestigious research universities, including CMU. After completing his bachelor's degree at Yale's Sheffield Scientific School, he began working at Lord Manufacturing Company, which was founded by his father in Erie, Pa. Lord developed an entirely new concept of airplane engine mountings, which would be commonly referred to as a "Lord Mount." He was named general manager of the company in 1932 and chairman in 1968, a position he held until his death in 1989.