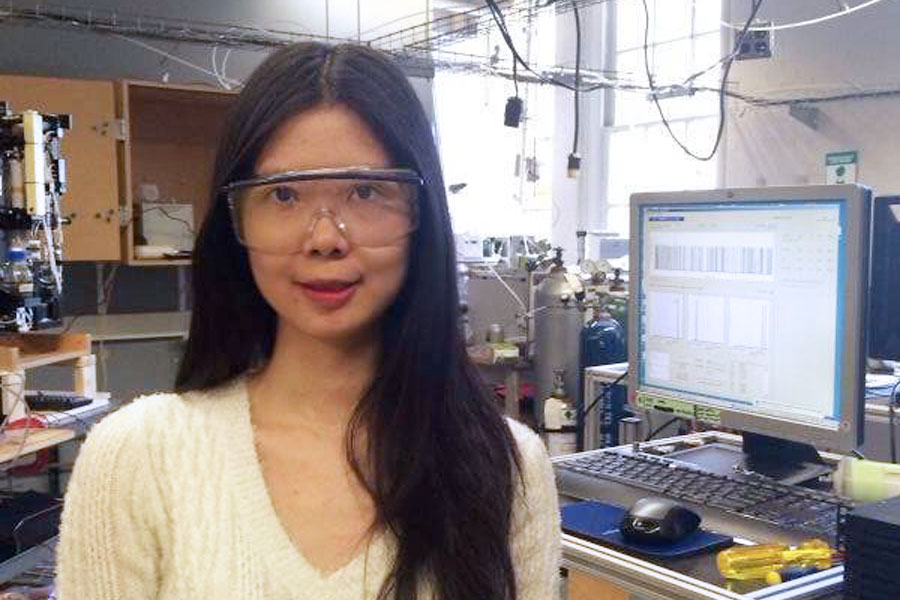 April 08, 2015
Chemistry Graduate Student Qing Ye Wins Prestigious Schlumberger Foundation Fellowship
Chemistry graduate student Qing Ye has received a prestigious Faculty for the Future Fellowship from the Schlumberger Foundation. The fellowships are awarded to talented women from developing and emerging countries who are pursuing advanced degrees in science and engineering at leading universities worldwide. As a fellow, Ye receives a grant of up to $50,000 per year to support her research on atmospheric particles, which adversely affect our health and impact our climate.
Ye, who is from Guangzhou, China, started studying environmental science as an undergraduate student at Sun Yat-sen University, where she became concerned about the air quality in China and around the world.
"Atmospheric particles are strongly correlated with respiratory health problems, and they have a strong climate connection," Ye said. "The particles come from many origins, and they have a lot of complexity in their chemical composition. It's challenging and fascinating to work on understanding what's happening in the atmosphere."
The atmosphere is full of tiny liquid or solid particles. Called aerosols, these particles come from hundreds of different types of sources, including volcanoes, trees, cars and power plants. They get chemically transformed in the atmosphere, which turns them into anonymous mixtures of thousands of molecules. Ye is working to unravel what happens when two types of atmospheric particles—those emitted by natural sources, like trees, and those given off by human activity, like combustion—interact and mix.
"In her first year as a Ph.D. student, Qing mastered the use of one of our most sophisticated mass spectrometers and conducted experiments demonstrating how organic particulate matter derived from human activity can interact with organic particulate matter derived from natural emissions. These experiments will go a long way toward helping us understand how natural- and human-induced emissions combine to form air pollution," said Ye's research advisor Neil Donahue, a professor in the departments of Chemistry, Chemical Engineering, and Engineering and Public Policy, and the director of the Steinbrenner Institute for Environmental Education and Research.
Ye is also being advised by Ryan Sullivan, assistant professor of chemistry and mechanical engineering. Both Donahue and Sullivan are members of CMU's Center for Atmospheric Particle Studies (CAPS), whose reputation drew Ye to CMU.
"CAPS is highly interdisciplinary. People are doing lab study, field study, computational modeling and policy-related research," Ye said. "I'm exposed to many different aspects of atmospheric science, and it's easy to learn from the people around you, who are all experts in their fields."
The Schlumberger Foundation is an independent nonprofit entity that supports science, technology, engineering, and mathematics (STEM) education. Recognizing the link between science, technology, and socio-economic development, as well as the key role of education in realizing individual potential, the Schlumberger Foundation flagship program is Faculty for the Future, which was established in 2004.