Sparking Long-Term Transformation
"Acupuncture Urbanism" as a Catalyst for Community Change
written by
Cally Jamis Vennare
How can inspired urban design serve as a catalyst for community engagement and revitalization? The Urban Collaboratory Studio at Carnegie Mellon's School of Architecture, headed by Associate Professor Stefan Gruber, is leading the way by initiating transformative change among Pittsburgh neighborhoods and residents, as well as CMU's dedicated B.Arch students.
"We provide our students with the opportunity to see a very small project through from conception to realization within only 15 weeks," said Gruber. "In that short period of time, they learn how to combine abstract systemic thinking with very concrete and hands-on action."
In a collaborative setting, students go from exploring and analyzing the urban milieu of a neighborhood, to facilitating participatory design workshops with the community, to developing and implementing a strategic design intervention that promises to act as an urban catalyst for the neighborhood's revitalization. Gruber's teaching philosophy reinforces the concept of "Acupuncture Urbanism" — the use of modest interventions that not only spark long-term transformation, but also allow for observation and refinement of the initial vision over time.
"This is a concept rooted in a more collaborative process. It's really about developing a certain humility about the role of the designer: One that seeks engagement and an equal partnership. One that is not primarily concerned with delivering a final product," he explained.
"We explore design as a tactical and performative tool for encouraging community engagement and setting in motion an incremental transformation process."
Stefan Gruber
Associate Professor, School of Architecture
A distinct example of the Studio's impact is its spring 2019 collaboration with Community Forge (CF), an initiative that is transforming Wilkinsburg's former Johnston Elementary School into a community and youth center. CF is committed to building an equitable economy for Wilkinsburg and the Greater Pittsburgh region by creating opportunities that promote professional development, financial well-being and entrepreneurial growth. As an organization committed to participatory programming that breaks down silos between communities and develops equitable pathways to economic success, CF was an ideal partner for Gruber and his project team. CF Executive Director Michael Skirpan, Ph.D. is also a CMU colleague who serves as a special faculty member in the Institute for Software Research.
Together with community members both young and old, the Studio began transforming CF's former school yard into a playscape — a shared resource for the wider neighborhood with an archipelago of islands that would be implemented in planned phases. The first and largest island realized, "the field," has successfully integrated games and sports in an educational landscape.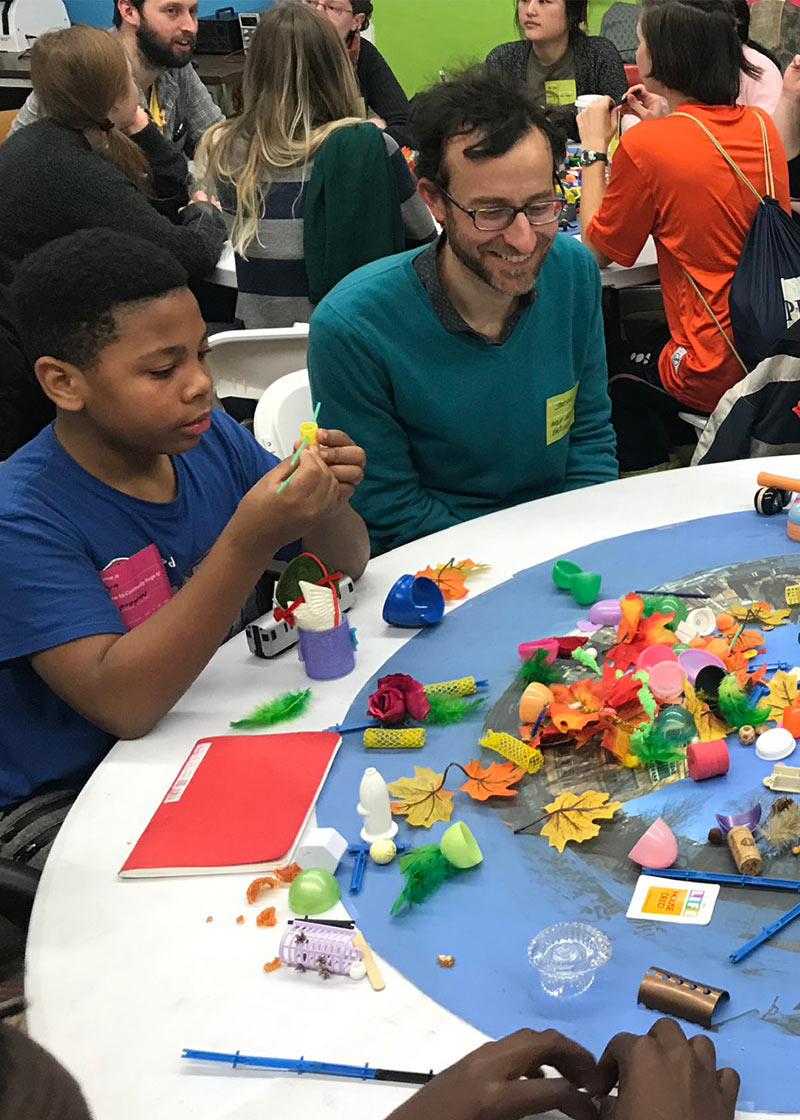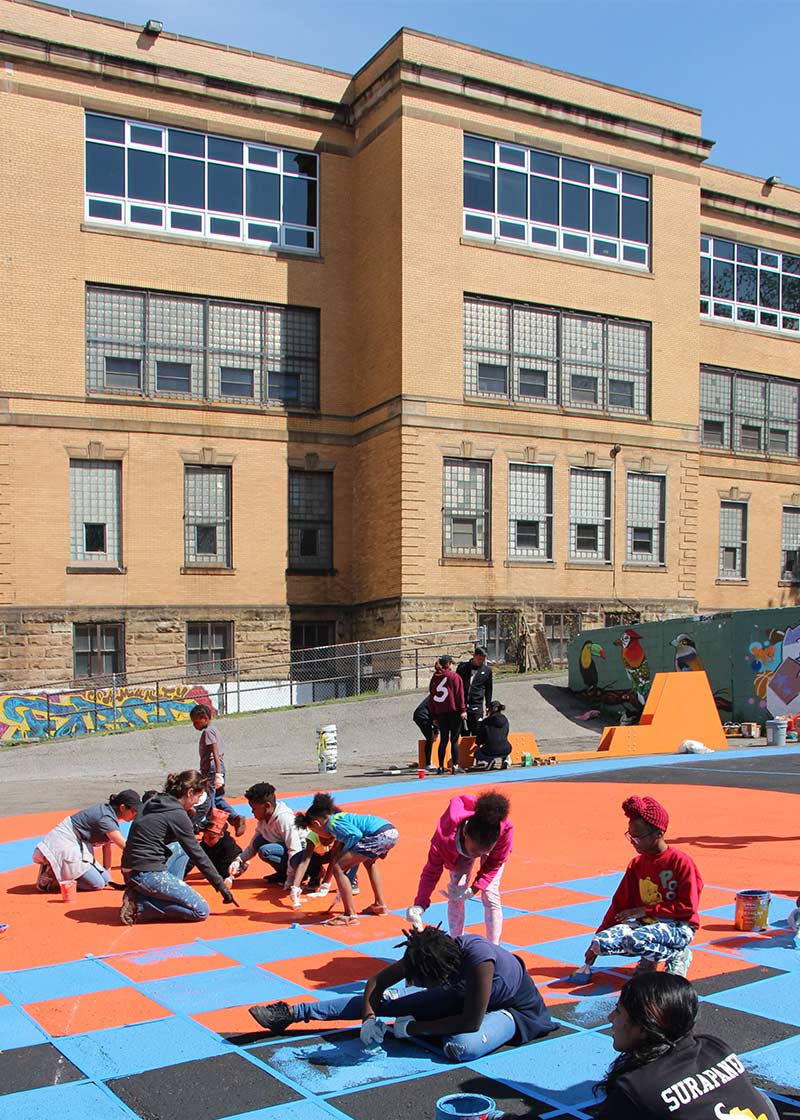 Recognition by the Wilkinsburg community has been "phenomenal," according to Gruber. Playscape phases implemented to date have not only been instantly appropriated by the community, but also significantly increased the use of the outdoors and an awareness for activities happening inside the Forge. Gruber continues to collaborate with CF, most recently envisioning a black box theater and community event spaces. Over time, he hopes the cumulative design interventions will lead to long-term transformation for the former school and the community.
Industry accolades have followed. In 2019, the "Acupuncture for Community Forge" playscape won ULI Pittsburgh's Placemaking Award — the prestigious Urban Land Institute honor recognizing outstanding projects, achievements and leaders in the city of Pittsburgh committed to the creation and celebration of "place" and the responsible use of land. In 2022, CF received a $250,000 grant from the Richard King Mellon Foundation for the future rollout of planned phases for playscape islands and other public spaces.
"'The Urban Collaboratory Studio explores how the university and communities can work together towards more equitable and sustainable neighborhoods," said Gruber. "There's a lot of work to be done. But it's an important part of the educational experience for our students. They need to venture outside the classroom, talk to people and learn about the real struggles, hopes and concerns of Pittsburgh's communities. That's how they'll understand how complicated, and exciting, urban revitalization can be."
---
the CF project team:
Professor: Stefan Gruber. Students: Ghalya Alsanea, Fon Kornrat Euchukanonchai, Mounica Guturu, Min Young Jeong, Ritchie Ju, Rachel Park, Mariana Alberola Rezza, Shariwa Sharada, Gautam Jagdish Thakkar, Scarlet Nga Chin Tong, Chitika Vasudeva.
featuring the following:
project images from "48-410/510: Bricolage at Community Forge: Urban Collaboratory Studio"